March 9, 2019 at 6:47 am EST | by Michael Doan
Still supporting LGBTQ people, despite Methodist division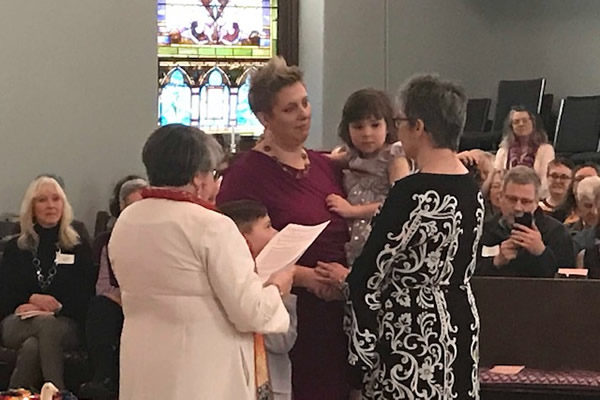 The damage done by the United Methodist Church General Conference finally sank in for me when I saw two women renewing their wedding vows on their 15th anniversary last Sunday, March 3. Not only were Jennifer Stapleton and Amy Stapleton expressing their love, they were nurturing their two small children, who were all dressed up for the ceremony.
This is what the Methodist church wants to prevent? This is supposed to be wrong? Just five days before this beautiful ceremony at Dumbarton United Methodist Church, the denomination's General Conference tightened its ban on same-gender weddings and ordination of LGBTQIA+ clergy. Pastors who conduct these ceremonies will be suspended for a year and ousted if they do it again.
Few, if any, at the Georgetown church would agree with this decision by the General Conference, which was held to settle the issue once and for all. We have gone through a long education process that we wish other congregations had undertaken.
After long and hard discussions, our church decided 32 years ago to be one of the city's first "Reconciling Congregations," openly welcoming gay and lesbian people. Slowly, some gay and lesbian members outed themselves, and newcomers began attending services. Soon, we became friends with them and many were volunteering for major jobs in the church and carrying their weight like the old-timers. Transgender folks came, as well, offering their gifts and taking on leadership positions.
For 10 years I have happily sung next to a transgender person in the choir. I taught the Stapletons' children in Sunday school with my wife. We have enjoyed the Mardi Gras-style parties put on after the annual reconciling service. All are a vital part of the congregation.
In 2010, after same-gender marriages became legal in the District of Columbia, Dumbarton was the first United Methodist church in Washington to vow to conduct such weddings. Various clergy in our denomination married same-sex couples 20 times, risking losing their credentials. We also gave support to LGBTQIA+ individuals from other churches who had been denied their call for ordination.
Our efforts were going along smoothly, but the General Conference decision in St. Louis was a big blow. "On Feb. 26 the United Methodist Church died," declared our pastor, the Rev. Mary Kay Totty. On that day, the General Conference set aside two plans that would have removed the bans from the church's Book of Discipline and let each congregation make their choices. Instead, with a 53 percent majority vote, it added teeth to the rules by voting for the "Traditional Plan," which penalizes pastors who conduct same-gender weddings, tightens its ban on ordination of LGBTQIA+ persons and fails to remove the statement that "homosexuality is incompatible with Christian teaching."
One reason for the sharp division: American churches now make up only 60 percent of the United Methodist Church. A majority of the others are from Africa, many of whose cultural contexts are far less tolerant of homosexuals than in much of the U.S. The "Traditional Plan" was led by conservatives in the U.S., who were joined by global delegates from Russia and several African nations.
So what are churches like ours going to do now? Well, most are still digesting the decision. Many are holding out hope that some of the rules will be overturned by the church's Judicial Council in late April. Others are hoping that minds will be changed by the next General Conference in May 2020. But time is against progressives because church membership in America is shrinking, while in Africa it is growing.
Another option is quitting the United Methodist denomination and forming a new one with like-minded churches. The General Conference seemed to make this move more palatable by allowing departing churches to keep their property and pastors' pensions. But the Judicial Council has yet to rule on this measure.
Whatever choice Dumbarton makes, the Rev. Totty says, "We will not obey unjust rules." The church will continue to perform same-gender weddings and welcome LGBTQAI+ people regardless.
Michael Doan is a retired journalist and communications coordinator for Dumbarton United Methodist Church in Washington.