March 20, 2019 at 10:41 am EDT | by Joey DiGuglielmo
QUEERY: Alan Thompson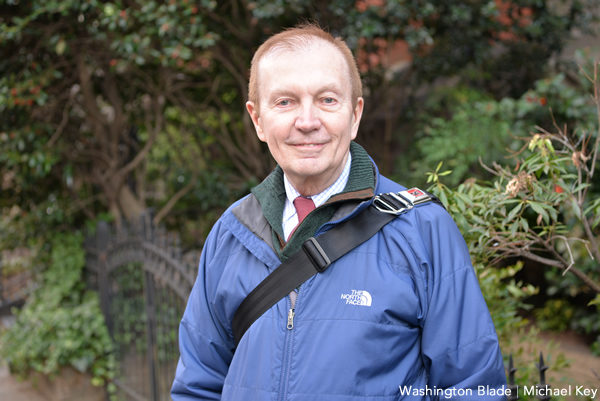 Alan Thompson has made an art of volunteering with D.C.-area LGBT groups.
He's on the Capital Pride production team, he's a board member with The Cherry Fund, he volunteers with Northern Virginia Pride and New York City Pride, he's on the stage crew for Miss Adams Morgan and has worked with the High Heel Race, Food & Friends, the D.C. Center Health Working Group, Point Foundation and more. He was also a volunteer usher for The Gay Men's Chorus of Washington for many years.
He says his motivation is simple.
"It's just a desire to meet people and help the community," says the Troy, Mich., native, who gives his age as "slightly before Stonewall."
"The LGBTQ community members need to have places where they can go and not feel alone, even in the online era," Thompson says.
Thompson came to the area nine years ago as a civilian employee of the U.S. Army where he works as assistant program manager.
He's single, lives in Alexandria and enjoys the gym and volunteering (of course!) in his free time.
How long have you been out and who was the hardest person to tell?
On and off for 40-plus years. My mother — she would always talk about all my gay friends and I finally said, "Mom, I'm gay," then she said, "well, I thought so." Mothers always know.
Who's your LGBT hero?
Ed Bailey because he created a non-judgmental place where everyone could enjoy themselves. And the very first time I ever walked in, I felt like everyone said, "Welcome home."
What's Washington's best nightspot, past or present?
Town
Describe your dream wedding.
I'd like to find a "Mr. Right" like many others and would be pretty happy with something simple, but when I started in the gay community (not LGBT back then), the concept of same-sex marriage was many years in the future, so I did the next best thing, which was trying to help as many as I could in hoping that would make me a better person and give me the satisfaction that perhaps I missed by not having a partner.
What non-LGBT issue are you most passionate about?
Making Virginia a bluer state.
What historical outcome would you change?
I would have like to have seen the "Lost Causes of the Civil War" (not the Civil War but the attempt to justify it that came years after) never happen. I believe that had that part of history never happened – we would be much further along in eliminating racism.
What's been the most memorable pop culture moment of your lifetime?
I think that's about to occur with Cherry Pop 2019.
On what do you insist?
Be sincere please.
What was your last Facebook post or Tweet?
"Volunteering with the Gay Men's Chorus of Washington"
If your life were a book, what would the title be?
"How to Help Others"
If science discovered a way to change sexual orientation, what would you do?
Nothing
What do you believe in beyond the physical world?
I'm pretty much a mainstream Christian and try to follow the teachings of the New Testament as found in the gospel. I believe in the birth, death and the resurrection of Jesus and in the life eternal. Often people may criticize me for making faith and religion as much a part of my life as I do, and my answer is always the same: It is my faith, my religion and no one can take that away from me.
What's your advice for LGBT movement leaders?
Get to know and listen to members of the trans community before you blindly act and try to help. Don't be exclusionary and remember despite the tremendous progress we've made, we are still a minority.
What would you walk across hot coals for?
A cure for HIV/AIDS. I saw too many people die.
What LGBT stereotype annoys you most?
I'm too old to really care about stereotypes.
What's your favorite LGBT movie?
"Brokeback Mountain"
What's the most overrated social custom?
Taking offense where none was intended and demanding an apology where you could have walked away.
What trophy or prize do you most covet?
None
What do you wish you'd known at 18?
That life would be a great as it has been.
Why Washington?
Because there is such an opportunity to help others and set an example in doing so. Because there is such diversity.