March 30, 2019 at 1:51 pm EDT | by Patrick Folliard
'Into the Woods' revival at Ford's is lucid, enchanting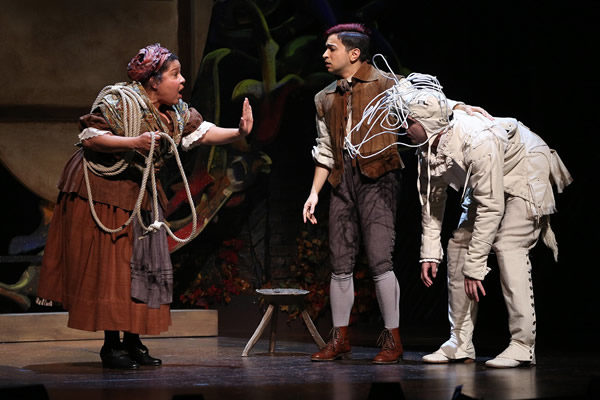 'Into the Woods'
Through May 22
Ford's Theatre
511 10th St., N.W.
$20-83
Be careful what you wish for. An adage worth considering and one which composer/lyricist Stephen Sondheim and librettist James Lapine delightfully explore in their Tony Award-winning musical "Into the Woods." Set against a fairytale landscape, the darkly funny foray into wants and needs tunefully asks: what happens after happily ever?
Now at Ford's Theatre in an enjoyable and a well-acted production helmed by Peter Flynn, "Into the Woods" is probably the most accessible of Sondheim's work, yet retains the composer's trademark scope and masterful lyrics.
Things begin with the Narrator, played by Scott Sedar cleverly costumed in a National Park Service ranger uniform, opening the tale. He barely gets out "once upon a time" before the bouncy musical prologue begins. At nearly 15 minutes, the title song introduces characters, problems and both farcical and tragic possibilities.
Interweaving familiar fairytales and an original story, the plot centers on the Baker (Evan Casey) and the Baker's Wife (Awa Sal Secka) who remain childless because of a curse cast by their neighbor the Witch (Rachel Zampelli). Reversing said curse entails going deep into the woods where they cross paths and stories with Cinderella (Erin Driscoll), greedy Little Red Riding Hood (out actor Jade Jones), naïve Jack of beanstalk fame played transgender actor Samy Nour Younes, and a solitarily confined Rapunzel (Quynh My Luu), just to name a few. There's a lot going on, but under Flynn's lucid direction, it's easy to follow.
Act One is about wishes and desires; whereas Act Two focuses on attainment and dealing with life despite its many imperfections. And just when things seem to be settling into a state of regular unfulfillment, the dead giant's vengeful wife smashes on to the scene, indiscriminately squashing everything in her path.
Drawing from the Brothers Grimm, "Into the Woods" has no truck with Disneyfied bedtime stories, but rather the kind of tales that terrify listening children. Details include stepsisters who hack off bits of their feet to fit into glass slippers and a flock of helpful birds who peck out eyes on command. Certainly, it's the dark element that makes the show.
Everything looks as it should: Milagro Ponce de León transforms Ford's proscenium stage into a charming bucolic village backed by ominous, dark trees and golden, stylized vines. Ingenious projections add to the magic. Wade Laboissonniere's spot-on cutaway coats, breeches, peasant blouses, sparkly ballgowns and sumptuous hooded cloaks add to the enchanting picture book environs.
Sondheim's music is legendarily tough both to play and sing. Here, the talented cast accompanied by a fabulous pit orchestra led by William Yanesh, nails the score with feeling. Terrific tunes include "Children Will Listen," "Into the Woods" and the Witch's "Last Mindnight."
As Cinderella, Driscoll mines the work for what makes it tick and instills the audience with the confidence to accompany the cast on its wild journey. Other standouts include Casey and Sal Secka as the fractious couple eager to have a family; Zampelli's cranky witch; Christopher Mueller and Hasani Allen as a pair of fickle, lady killer Princes; Jones' greedy Little Red Ridinghood; and Karen Vincent in multiple roles including Cinderella's kind mother and the Giant's Wife. Vincent also ably and hilariously handles a flock of bird puppets.
Smothering mothers, unexpected deaths and looming giants all make for grist for the pycholanalysis mill. Zampelli's helicopter mom Witch sings "Our Little World" to Rapunzel, the daughter she's made neurotic with over protection. Through "No More" Evans' Baker heals his relationship with his long-absent father (Sedar, again); and with "No One is Alone," Cinderella matures as she agrees to be mother to orphaned Jack and Little Red Ridinghood.
When the musical premiered on Broadway in 1987 at the height of the AIDS crisis, many theatergoers equated the Giant who indifferently kills anyone in her path with the epidemic. The Witch remark to the grieving Baker, "Wake up! People are dying all around you." You're not the only one to suffer a loss," reinforced the theory. (Sondheim, who is gay, has remarked that was never his intention.)
In the end, "happily ever after" is determined by the characters. It's what they do individually and as a group that secures a happy ending. A relatable and encouraging message.