March 24, 2019 at 11:39 am EDT | by Patrick Folliard
Black Rat gives actor Vaughn Ryan Midder rich fodder in Mosaic's 'Native Son'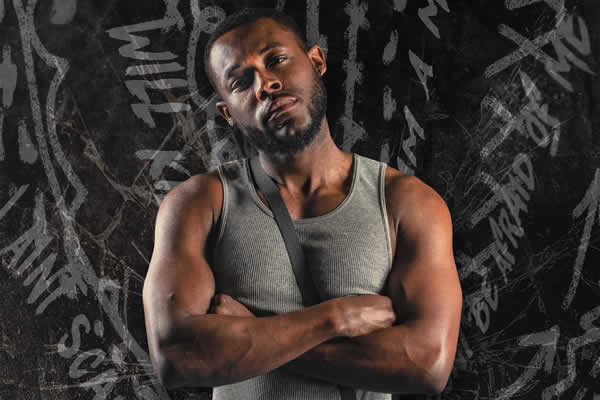 'Native Son'
Through April 28
Mosaic Theater Company
Atlas Performing Arts Center
1333 H St., N.E.
$20-60
202-399-7993
Early in his career, out actor Vaughn Ryan Midder felt a little behind the curve. He didn't have that aspiring actor's storied string of high school starring roles under his belt.
"At Baltimore Polytechnic Institute, the focus was on turning out engineers and scientists," he says. "But I was a movie buff and knew that I wanted to act. I just didn't know how to go about it."
All that changed with college. As a University of Maryland undergrad, he strove to make up for lost time. Playing bisexual teen Hanschen in "Spring Awakening," Midder memorably simulated masturbation while singing "My Junk." His first professional gig was understudying in Studio Theatre's "Choir Boy" in 2014. He won a Helen Hayes Award in 2016 for playing puppet characters — closeted, gay Republican Rod and basement dweller Trekkie Monster (another fan of onanism) — in Constellation Theatre Company's musical "Avenue Q." Myriad plays and musicals have followed.
Now he's assaying The Black Rat in Nambi E. Kelley's same-titled take on Richard Wright's "Native Son" at Mosaic Theater Company. Like the seminal 1940 novel, the play gets inside the head of Bigger Thomas (Clayton Pelham Jr.), a young black man who, in search of opportunity in Depression-era Chicago, goes to work for a wealthy white family where he unintentionally sets off a chain of tragic events.
Ninety minutes without intermission, Kelley's adaptation is an illustration of memories, fantasies and the thoughts of its main character, says Midder, 26. Sixty snapshot scenes lead the audience from one pivotal moment to the next as they fall deeper and deeper into Bigger Thomas' mind.
There's nothing cheesy about The Black Rat.
"I'm not a little devil on Bigger's shoulder," Midder says. "I'm collection of his thoughts personified through another actor. And I'm the reflection how the hostile world sees Bigger as a 20-year-old black man. But I offer him a survival guide."
The Black Rat brings to life the concept of double consciousness, civil rights activist W.E.B. DuBois' term describing the internal conflict experienced by subordinated groups in an oppressive society, particularly how black people see themselves through the eyes of a racist white society.
"It's a duality still experienced today," Midder says.
Young and eager, Bigger is ready to fly from Chicago's vermin-infested slums. He's frustrated by the injustices he encounters at every turn.
"He has fantasies about what it's like to live white. I'm there to tell him to hope for less so he won't fall as hard when he comes back down to reality."
"Native Son" marks Midder's third collaboration with Mosaic Theater Company. He acted in "When January Feels Like Summer" and "Milk Like Sugar" and assisted out director Serge Seiden with Tearrance Arvelle Chisholm's "Hooded, Or Being Black for Dummies."
"Chisholm wrote a dark comedy about the things you can and cannot do as young black men in America. If you follow the manual, you can stay alive. It's not so different from 'Native Son," Midder says. "Serge was adamant about making sure my voice was heard. He could see how important that play was for me."
Double consciousness isn't unfamiliar to Midder.
"Creeping on 20, I became more aware of the duality. You understand how it works on a constant basis. You have to balance your black boy joy with your black power protest side. If you try to carry the weight of how the world perceives you 24/7, it will make you crumble. But if you're oblivious to it, you'll have some heavy falls coming your way. The world doesn't believe it owes you joy."
He works primarily though not exclusively in the Washington area. In the fall, Midder appeared in Lynne Nottage's "Sweat" at Everyman Theatre in Baltimore where he currently lives.
Being out hasn't been problematic for the young actor.
"I've found there are many different kinds of people making art. There are so many avenues for conversation. I've never felt uncomfortable attacking sensitive pieces in D.C. It's been really good for me."
The process surrounding putting a play together can be rocky.
"Rehearsing 'Native Son,' we tapped into some dangerous territory. Our director Psalmayene 24 is very open to experimenting but he's also protective. He was very transparent about making sure that we take care of each other, and he instilled trust, allowing us to be as vulnerable as possible among one another so the story can be told."
Looking forward, Midder says he'd play any part penned by gay, black playwright Tarell Alvin McCraney. But he especially likes the prospect of playing a role that hasn't been done yet, a part that he gets to create: "No comparisons, no right or wrong way to do it. It's yours to bring to life."