March 17, 2019 at 12:08 pm EDT | by Patrick Folliard
1888 classic gets modern makeover in 'sexy, dangerous' 'Queen of Basel'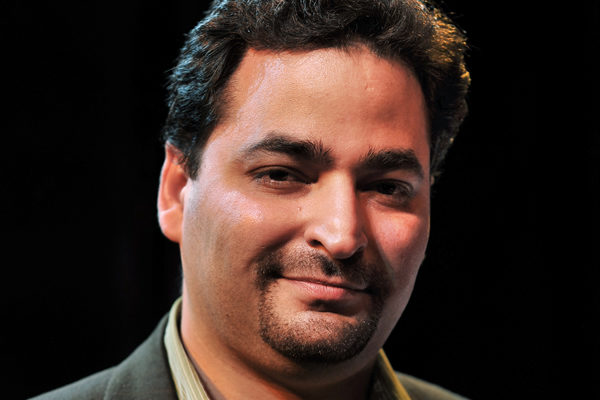 'Queen of Basel'
Through April 7
Studio Theatre
1501 14th St., N.W.
$20-90
202-332-3300
José Zayas says his career is complicated. While the out director mostly focuses on new plays, he appreciates staging classics and beloved musicals. He works a lot in Spanish, but also in English. And he's a self-defined "genre freak" with a weakness for horror and sci-fi.
As director of Studio Theatre's world premiere production "Queen of Basel" by playwright Hilary Bettis, Zayas brings together his love for what's old and new.
A Latin-infused take on August Strindberg's naturalistic 1888 classic "Miss Julie," Bettis' version recreates the sexy and dangerous psychosexual struggle, while moving the action from a Midsummer's Eve on the estate of a count in Sweden to the kitchen of a South Beach hotel during Art Basel, Miami's weeklong trendy art party. Like the source material, the new play is about class, power and desire, but also adds race and immigration status to the mix.
"I light-designed a production of 'Miss Julie' in college" and have seen a lot of productions," says Zayas, 44. "I love the play's passion and madness but not the misogyny."
Bettis' adaptation, he explains, addresses misogyny, updates the story and does something exciting with what it means to be Latinx in the U.S.: "The play tries to figure out who we are as a people, where we're from and what is our place in this country. Using 'Miss Julie' to deal with those issues is a stroke of genius in many ways."
In Strindberg's classic, Julie is a nobleman's daughter who becomes too intimately involved with the help. Here, Julie (Christy Escobar) is the heiress to a real estate fortune. Part Colombian and part North American white, she straddles two worlds, and while culturally all over the place, her life is primarily defined by class, money and power. When she unwittingly becomes involved John (Andy Lucien), a Cuban/Haitian Uber driver and Christine (Dalia Davi) a Venezuelan cocktail waitress with Riveting backstory, things go wildly awry.
Now based in New York, Zayas was born in Puerto Rico and grew up in the U.S. Virgin Islands.
"There wasn't a lot of theater where we lived. I didn't see a play until I was 18," he says. "But I spent a lot of time reading and writing plays in high school."
As the first person in his family to go to college, Harvard University no less, Zayas was expected to pursue a career in medicine or law, so he majored in pre-med.
"I hated it," he says. "But I didn't hate theater. There was no theater concentration at Harvard, but there were great resources for those who were interested. So, I happily became involved with the dramatic club and started writing and directing, and quickly changed my major to English."
After graduating, Zayas worked in theater for two years and then earned a graduate degree in directing from Carnegie Mellon University.
"As an adolescent, I was pretty much gay, Catholic and angry. But I accepted my gayness. It's just that I hid it from everyone else. It took me a long time to talk to family about it — some still don't know. I am most happy in the rehearsal room working on a new project with communities that we create for a month or two."
He adds, "Today the anger is still there. It just comes out in the work. My personal life is relaxed."
During the first days of rehearsals for "Queen of Basel," playwright Bettis essentially rewrote the play, Zayas says.
"In her effort to adapt Strindberg, she had momentarily forgot herself as a playwright, so she needed to start over to make her voice heard. All of us were willing to play our part in the process. It was like a creation in real time. Our conversations were really of the moment. About what's happening in the room. And the country."
As a director, Zayas keeps his audience in mind when staging a new play. "I'd like a heavily Latinx audience, but I have to be he has to be realistic. Much of regional theatergoers are older and white, so we address that by defining things that might be new to them. It's a strong play. Brutal. Sexual. As long as you respect the audience's intelligence and do things with a modicum of taste, I think people will connect to it."
Zayas' partner is Stephin Merritt, songwriter and principal singer for The Magnetic Fields, a staple on the indie music scene. The couple have successfully collaborated in the past. Zayas, who directed Merritt's "The Magnetic Fields: 50 Song Memoir" (a concert based on Merritt's life and gay history), enjoyed working with his mate and would like to meld talents and energies in the near future. "Gay content isn't something I get to do all the time," he says. "I'd like to do more."
There's no gay content in "Queen of Basel."
"Not explicitly. But some gay men will connect to Julie's grand diva role. The over-the-top person she is. And how she deals with the world."