April 4, 2019 at 10:30 am EDT | by Lou Chibbaro Jr.
Stein Club, Log Cabin, GLAA leaders meet to find 'common ground'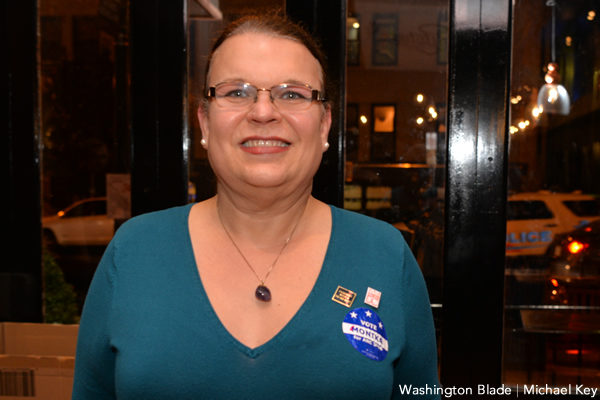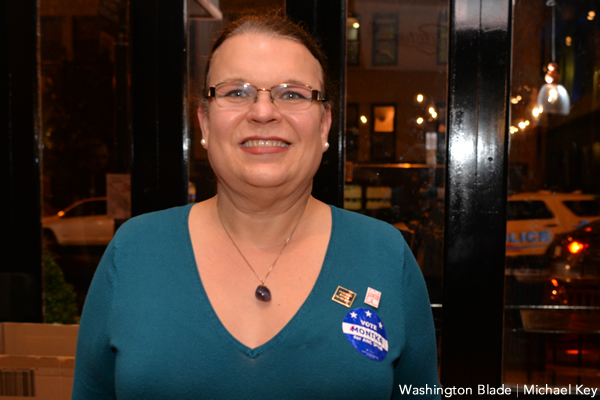 At a first of its kind meeting Tuesday night, current and former leaders of D.C.'s Gertrude Stein Democratic Club, Log Cabin Republicans of D.C., and the Gay and Lesbian Activists Alliance discussed what they said were common ground objectives to advance the cause of LGBT equality.
Veteran D.C. gay activist Paul Kuntzler, a co-founder of GLAA in 1971 and of the Stein Club in 1976, initiated the meeting and arranged for it to be held at Annie's Paramount Steak House on 17th Street, N.W. near Dupont Circle.
"It was to establish a working relationship between Log Cabin and GLAA and Stein as a final building block in establishing LGBT influence in the District and Metropolitan Washington," Kuntzler told the Washington Blade on Wednesday.
Stein Club President Monika Nemeth and D.C. Log Cabin Republicans President Adam Savit said they were pleased that the outcome of the meeting showed that their respective LGBT partisan groups could find common ground and view one another respectfully.
Bobbi Strang, president of GLAA, which is a nonpartisan LGBT advocacy group, said she too was pleased that leaders of the three groups had an "amicable and productive dialogue."
The cordial gathering over cocktails and snacks that Kuntzler provided through Annie's appeared to be in marked contrast to Democratic and Republican elected officials in Congress, who have engaged in acrimonious exchanges since President Donald Trump took office in January 2017.
Log Cabin Republicans of D.C., which is a chapter of the national Log Cabin Republicans LGBT group, didn't endorse Trump during the Republican primaries in 2016 but several of its members have emerged as Trump supporters since the time of the 2016 presidential election. The Stein Club has been closely aligned with the Democratic National Committee's effort to unseat Trump in the 2020 election.
"Candidly, I was skeptical going into this meeting that much common ground could be reached, and was even concerned there might be hostility," D.C. Log Cabin president Savit told the Blade. "As soon as I sat down though I was bonding with Monika of Stein and Bobbi of GLAA over common interests in punk and glam rock," Savit said. "I was also struck by the moderation and pragmatic approach of most participants," he said.
"As far as what the meeting accomplished, I think the simple act of sitting, talking and drinking together, putting faces and personalities ahead of ideologies, and making basic interpersonal connections was the big victory," Savit told the Blade."
Nemeth of the Stein Club agrees with that assessment.
"First, we all generally liked one another, and after last night I would say each one of them is my friend now too," she said. "Second, it really did not take long for us to find common ground on issues. There will certainly be areas where we disagree," she said. "We are able to agree to disagree when necessary. I think we are also able to work together on issues upon which we both agree."
Strang of GLAA said she too was skeptical at the start of the meeting but believes the outcome was positive.
"While there are significant ideological and policy differences, there is also common ground that we can and did find," she said. "I am hopeful that we will all be able to continue the dialogue and find areas where we can work together to achieve common goals for our community."
One issue on which the leaders of the three groups agreed was a proposal by former D.C. Log Cabin President Chris Allen to end D.C.'s closed primary system and to allow all registered voters to vote in primaries.
Kuntzler said officials of the three groups agreed to meet again in June at the home of another former D.C. Log Cabin Republicans president, Robert Turner, to further discuss efforts to establish an open primary system, possibly through a voter referendum.
"The City Council isn't going to vote to open the primaries, nor will the D.C. Democratic State Committee support that," said Kuntzler. "But a city-wide referendum could well address that issue."
Kuntzler acknowledges it's unclear whether the full membership of the Stein Club would support that proposal.
Others who attended the meeting were Jerri Ann Henry, executive director of the national Log Cabin Republicans organization and Earl Fowlkes, the former Stein Club president and chair of the DNC's LGBT Caucus.