April 4, 2019 at 6:00 am EDT | by James Wellemeyer
Danica Roem looks back on tumultuous 2019 Va. legislative session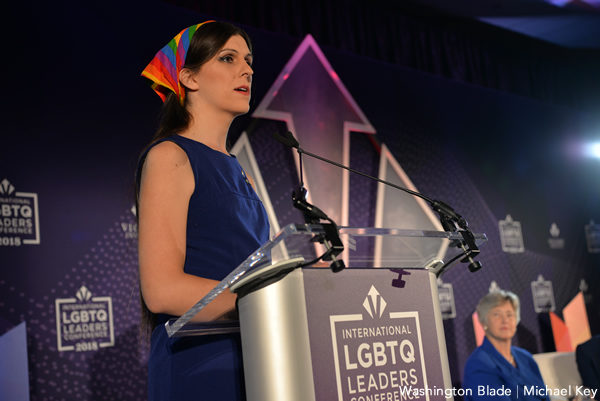 HAYMARKET, Va. — Virginia state Del. Danica Roem (D-Manassas) passed three pieces of her own legislation in her second session in the Virginia House of Delegates.
"In my first session, I introduced a lot of really good bills, but as a freshman member from a swing district, they weren't getting out. This time, we got three," Roem told the Washington Blade on March 28 during an interview at a restaurant in Haymarket. "Two of these bills were constituent service requests."
One of Roem's bills, House Bill 2375, aims to increase transparency in the review process of zoning ordinances.
Another, House Bill 2400, requires public schools to "post prominently" on their websites an application for free or reduced-price student lunch.
Roem, who represents the 13th District, said the piece of legislation has been in the making since before the 2019 session began.
"I learned the value of relationship building," Roem said of her first session in office.
In the offseason after the 2018 session, Roem met with several Republican legislators to discuss priorities for the upcoming session. These meetings included a conversation with state Del. Glenn Davis, Jr. (R-Virginia Beach).
"The conversation we had ended up producing HB 2400," Roem said.
Davis carried the bill as one of its chief co-patrons alongside Roem and state Del. Hala Ayala (D-Prince William County). The changes it outlines will take effect on July 1.
Roem, a former journalist who is the first openly transgender person seated in any state legislature in the U.S., also worked with Republicans on a bill that would prevent reporters from being penalized for revealing their sources. Virginia is one of 10 states that does not currently have such a law in place.
The bill, which Roem introduced last session as well, did not pass but did fare better than before.
"I worked with Del. Jason Miyares, another Republican from Virginia Beach, to protect reporters," Roem said. "Not only did I earn his vote on it in subcommittee, but Del. Miyares made a passionate case for that bill."
Roem said she also received a nod of approval from state Del. Lee Ware (R-Chesterfield). A former reporter and the current chair of the House Finance Committee, Ware signed on as a co-patron to the bill.
"To get to Republicans to sign onto my shield law to protect reporters when the reputation is that there's a clash between media and the Republican Party, I think what we were able to demonstrate is that the First Amendment is a bipartisan issue," Roem said. "And it should be a non-partisan issue."
Roem stands by calls for Northam, Fairfax to resign
Despite the legislative successes she saw, Roem said the session was affected by the "unprecedented crisis" that began to unfold on Feb. 1 with the discovery that Gov. Ralph Northam's medical school yearbook included a photo of one man in blackface and another man in a KKK robe.
Northam originally said he was one of the men in the picture but later backtracked on the statement. Roem called for the governor to resign shortly after the release of the yearbook photo.
"I was showing solidarity with the Legislative Black Caucus," she said. "As a lawmaker who will never know the lived experience of a person of color in America or Virginia, I cannot begin to know the pain that they feel when issues of racism come up, especially something that is so visceral and affects them in such a personal way."
She said it was, therefore, important for her to listen to black lawmakers.
"While we can have our own opinions on that, I think it's extremely important to make sure you're listening to the people who are most affected. We heard them. They had met with the governor. That was the decision they made, and we stood in solidarity with them," Roem said.
A couple of days after she said Northam should resign, Roem also called on Lt. Gov. Justin Fairfax to step down due to multiple sexual assault allegations.
Roem stopped short at calling for state Attorney General Mark Herring to leave his position. Herring admitted to doing blackface, but "the Legislative Black Caucus never asked him to resign," Roem said.
"It was very, very pins and needles for a good while there, but he showed a level of understanding and contrition and consistency very quickly, very sincerely," she said.
Roem said she stands behind her calls for Northam and Fairfax to resign.
"I put out my statements," she said. "I stand by my statements. And I'm moving forward."
Even during the political crisis, Roem said her focus remained on her constituents. "You have to realize as a delegate that your number one job is still to represent 83,000 people back home, to legislate on their behalf, to get bills passed on their behalf and to vote on their behalf."
For Roem, that includes reducing traffic congestion on Route 28. In her 2017 campaign, she labeled fixing the state highway as her top legislative priority.
She said Route 28 is currently being widened from four lanes to six, and that expansion is on track to finish by 2022.
"We're making progress, but we've got a long way to go," she said.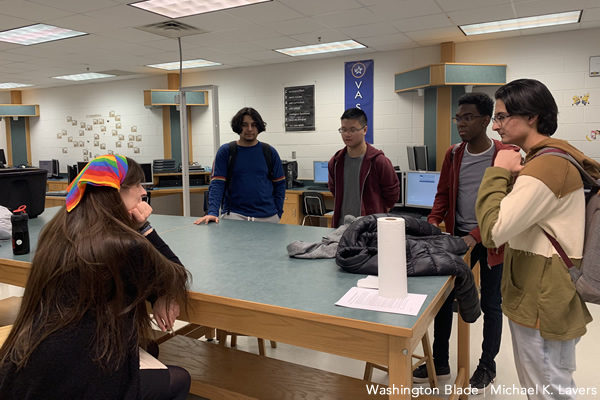 On LGBT issues, Roem views the 2019 session as a "mixed bag."
Jacob's Law, formally known as HB1979, passed both the Senate and the House. The law replaces "husband" and "wife" with gender-neutral language in the assisted conception law. It is now awaiting a signature from the governor.
"I had to bite my tongue on the House floor as I was hearing the opposition to it," Roem said of the debate over the bill. "I knew if I stood up as a trans woman, that could somehow make it harder to get the bill passed."
Despite the success Jacob's Law saw, nondiscrimination bills in housing and public employment could not get past committee in the House.
The pieces of legislation passed in the Senate with an "unbelievable margin," Roem said. "That tells me we have the votes to pass it if it would come up on the House floor. The problem is that when leadership doesn't want a bill to come up, they'll make sure a bill doesn't come up."
Those in the Republican leadership will be up for re-election in November, as will Roem.
Roem to face Republican Kelly Sweeney McGinn in November
Roem clinched the Democratic nomination at 5 p.m. on March 28 and will face off against Republican Kelly Sweeney McGinn in November.
McGinn announced her candidacy on March 14 and wrote in a press release that she is hoping to be the "voice for common sense leadership" in Richmond. McGinn also wrote that her priorities include fixing Route 28, "improving educational opportunities for our young people, promoting public safety by cracking down on gangs, human trafficking, and opioids, and promoting the growth of small business and new job opportunities for our citizens."
McGinn, a lawyer by training who is currently a stay-at-home mom, has also drawn attention for her opposition to Virginia's Equal Rights Amendment and her activism against it.
"Her profile coming into the race is as someone who was one of the most outspoken opponents to the Equal Rights Amendment in Virginia — from speaking out about that in front of the Prince William board of county supervisors last year to coming down to Richmond to hold a press conference about it," Roem said. "That's not speaking up for fixing Route 28 or showing up to any of the 17 town hall meetings I've had."
Roem cited Medicaid expansion and teacher pay raises as two of her major accomplishments during her first term.
Medicaid expansion in Virginia took effect on Jan. 1. Roem said 243,000 more Virginians, "including more than 9,000 in Prince William County, nearly 400 in the city of Manassas Park, and nearly 1,000 in the city of Manassas" have health insurance under the program.
She also voted in favor of raising teacher pay by 5 percent, another one of the priorities she outlined in her 2017 run.
"McGinn will be an asset to the GOP majority and prevent Virginia from adopting radical liberal policies and becoming a state like California," the Republican Party of Virginia in an email to the Blade.
Beyond her own race, Roem believes Democrats have a chance to take control of the Virginia General Assembly.
"If our volunteers come back in 2019 like in 2017 — if they believe in us, if our donors believe in us, if we stay on message, if we work hard to bring that message to the people we are running to represent or already represent — then yes, we will win our majority in the Senate and the House," Roem said.