April 11, 2019 at 10:07 am EDT | by Joey DiGuglielmo
QUEERY: Avi Strausberg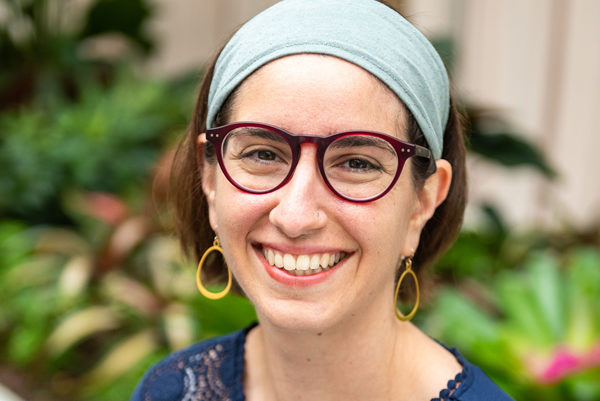 Passover, Rabbi Avi Strausberg says, is a time in which storytelling is used to "help shape our personal and communal narratives."
That's one of the purposes of the National Rainbow Seder, a chance for Jews to connect to tradition, to bring their own voices and identities to the conversation and build community.
"It's a chance to see and be seen, to have fun, to be reflective about why we tell the stories we tell and what that means for identity," Strausberg says. "To work toward redemption and liberation together."
The 12th annual National Rainbow Seder is hosted by GLOE (GLBTQ Outreach & Engagement at the Edlavitch D.C.-JCC) and is Sunday, April 14 from 5-8 p.m. at the HRC building (1640 Rhode Island Ave., N.W.).
The National Rainbow Seder is one of the largest and longest-running Passover Seder events for the queer Jewish community and its allies nationally. This year's program will feature a full Passover Seder with specially crafted Haggadah (the Jewish text containing the Passover story). Mensch tickets are $54, general admission is $36 and seniors/students are $28. Details and tickets at thejdc.convio.net.
Strausberg is director of national learning initiatives at Hadar, an institute that empowers Jews to "create and sustain vibrant, practicing, egalitarian communities of Torah, Avodah and Hesed. The 36-year-old Ocean Township, N.J., native came to Washington last July to work at Hadar and find new adventures.
She and wife Chana Kupetz are the parents of Ori (age 4) and Niv (age 1). They live in Adams Morgan. Strausberg enjoys time with her kids, exploring coffee and cupcake shops and haikus in her free time.
How long have you been out and who was the hardest person to tell?
I never had a classic coming-out moment. I fell in love with my best friend in college. I just shared with my family that my once platonic best friend had become my girlfriend. I'm fortunate that my friends and family have all been completely supportive.
Who's your LGBT hero?
Rabbi Benay Lappe, the founder and Rosh Yeshiva of Svara, a traditionally radical yeshiva (school of Jewish learning) dedicated to the serious study of Talmud through the lens of queer experiences. Rabbi Lappe has a created a place and a home that raises up the voices of many who might otherwise feel marginalized in our tradition and an approach to Jewish learning that is compassionate, critical and courageous.
What's Washington's best nightspot, past or present?
As the parent of two small children, I confess to spending little time out at night. I do love a good cupcake or sandwich cookie at Baked and Wired in Georgetown.
Describe your dream wedding.
I am blessed to be married to my best friend and partner in life. We were married in an intimate ceremony, surrounded by friends, by a rabbi that we both deeply respect with delicious, wholesome food. I suppose the dream aspect of the wedding would be to get married in some place very aesthetically beautiful, maybe Union Station or the Museum of Science and Industry in Boston.
What non-LGBT issue are you most passionate about?
Respecting and elevating the dignity of all people. Feminism. Anti-racism. Egalitarianism. Lots of isms.
What historical outcome would you change?
Any mass genocide.
What's been the most memorable pop culture moment of your lifetime?
Does AOL count as pop culture? I find myself thinking about AOL's "you've got mail," chats rooms and the sound of a dial-up modem recently.
On what do you insist?
Clear, open, honest, vulnerable communication.
What was your last Facebook post or Tweet?
If one studies a page of Talmud a day, you can learn the whole Talmud in seven-and-a-half years in an international cycle called Daf Yomi (the daily page). I'm over six years into this cycle and each day after I learn the daily page, I write and post a haiku on Facebook and Twitter that attempts to encapsulate a nugget of learning from the day. Today's haiku was my most recent post!
If your life were a book, what would the title be?
"InSeventeen: A Life in Haiku"
If science discovered a way to change sexual orientation, what would you do?
Nothing
What do you believe in beyond the physical world?
Partnership, love, kindness
What's your advice for LGBT movement leaders?
Stay strong, take care of yourself, have patience. I have incredible admiration for the people fighting for the LGBT movement, all of its huge and small incremental changes, day in and day out. I owe a great debt to you and I'm grateful.
What would you walk across hot coals for?
My kids
What LGBT stereotype annoys you most?
The idea that all people who identify as LGBT are defined mainly by their identity as gay. This is one aspect of many aspects of my identity.
What's your favorite LGBT movie?
Let's go with a TV show and say "The L Word."
What's the most overrated social custom?
Apologizing too much for things for which we shouldn't apologize.
What trophy or prize do you most covet?
Perfect 300 bowler. Nowhere near this one.
What do you wish you'd known at 18?
Don't waste time being shy and self-conscious.
Why Washington?
We've only been in here a short time but we've already met great friends and found great Jewish community. We're loving the city for its coffee, its sweet treats, its culture and museums. There's so much to do and we're looking forward to many years of planting roots.