April 11, 2019 at 5:19 am EST | by Mariah Cooper
Haus of Stone savors joys and trials of breaking into D.C. drag scene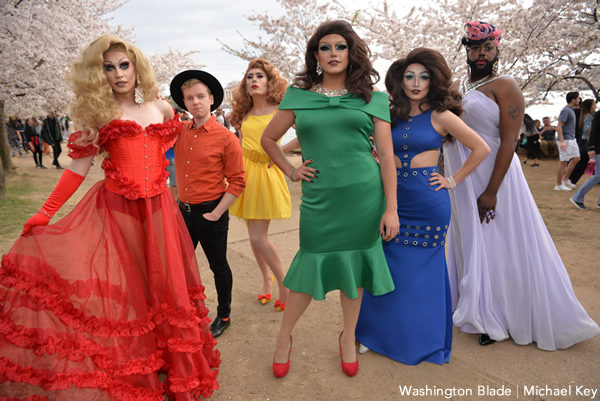 April drag events:
Birds of Prey Drag Show

Friday, April 12

10 p.m.

The D.C. Eagle

3701 Benning Rd., N.W.

Brooklyn Heights, Sasha Adams Sanchez and Iyana Deschanel.

with special guest "Drag Race" alum Roxxxy Andrews

Hosted by Ba'Naka
Pitchers Drag Picnic

Saturday, April 13

1 p.m.

Pitchers D.C.

2317 18th St., N.W.

Hosted by Brooklyn Heights
Glass House

Sunday, April 14

7 p.m.

Variety show with movie night theme

Ten Tigers Parlour

3813 Georgia Ave., N.W.
Haus of Stone Drag Show

Wednesday, April 17

8 p.m.

Denizens Brewing Co.

1115 East West Highway, Silver Spring, Md.
City Tap Dupont 

1250 Connecticut Ave., N.W.

Saturdays 11 a.m.-3 p.m.

Sunday performances (same hours) start April 28

Ba'Naka hostesses

Avalon Saturdays

Saturday, April 13

Soundcheck

1420 K St., N.W.

Hosted by Carson Kressley and Ba'Naka

Special guest Todrick Hall

Performances by Iyana Deschanel, Judas Elliot, Crystal Edge

dougiemeyerpresents.com
As people attend drag brunches and shows at bars and restaurants throughout the D.C. area, they may be focused on ordering bottomless mimosas or snapping pictures of the soon-to-come drag performances. But the amount of blood, sweat and sequins it takes for new, local queens to make a name for themselves, especially in a post-Town/Cobalt D.C. drag scene, is something that isn't readily apparent.
It's a situation that DMV-based drag group Haus of Stone knows all too well. Comprised of five queens, the house was birthed from a group of college friends who simply loved the art of drag.
Citrine (AJ Williamson), 27; Logan Stone (William Burlew), 25; Drew Thatcher, 26; and Vagenesis (Anderson Wells), 28, began putting drag looks together while attending University of Maryland, Baltimore County. After performing a few times, Citrine, Logan and Vagenesis decided it would be easier to brand themselves as a drag house while performing together.
"Most drag houses take the matriarch's last name but since we didn't have a matriarch or a mother, we thought we should just come up with our own group name," Citrine says. "Logan was the only one out of the three of us that had a last name. So we were like, Haus of Stone, that has a nice ring to it. Logan didn't mind, we didn't mind. We just ran with it."
Haus of Stone was officially born in spring 2018. Citrine, Logan and Vagenesis dipped their toes in the water at attempting more professional drag by performing private talent shows in their living room. The evening included playing instruments, a spoken word performance and lip-syncing, backed by speakers hooked up in their apartment blaring music, all with the intention of asking their friends to pose as judges. Even though the event was fun, the trio asked their friends to sincerely give them critiques.
The girls were taking this seriously.
Shortly after, Venus Valhalla and Kittney Stone joined the group rounding out Haus of Stone.
Thatcher, who originally began performing drag with the group at University of Maryland Baltimore County, realized that he wanted to be a part of the house in a different capacity. Instead of taking on a drag persona he decided to become a self-proclaimed "drag sidekick" to the group. Among his Jack-of all-trades assistance to Haus of Stone, is to serve as a soundboard for the queens' looks.
"One of the things that I really like about being part of the Haus of Stone is just how amazing all these queens are in the house and how much I appreciate their sisterhood and the family we've built," Thatcher says. "And also just being there to help them execute the vision that they have for their drag is an awesome honor. I know there are a lot of times when they have some grand visions, as any artist often does, and I like to be there for them as a resource to help them execute their visions."
The group started to become more active in taking their show from the living room with friends to a public audience. As new queens trying to establish themselves locally, they say they've encountered plenty of support.
"When we first started, the drag community was extremely welcoming," Logan says. "We met one drag performer and they told us to go to this event and go talk to this queen named Desiree Dik because Desiree had a show at Uproar and she did nothing but support new girls coming up. We went to that show and we got the booking and through that we made so many friends that we still talk to today and have harbored relationships that are going to last forever. Now is that true of everybody in the community? No, but through that we got to meet other people like Kristina Kelly who has done nothing but support us. While personalities don't always mesh up, there has been a support of new girls in this city ever since we started."
For Citrine, the drag community is helpful to new girls but there's an edge of competition in the mix.
"I've come to find once they notice that you're working hard and getting close to their level is when that support and fellowship starts to stop," Citrine says. "I think part of it is that now you're starting to look like competition and these are the people that have worked just as hard as you and now are trying to build a legacy or maintain it. 'Yeah, sure, we'll give you a platform, you can perform at our show, you're going to come and go.' That's the expectation they think when new queens come about. But once you start to build and get a little bit stronger, that to them is a sign. Some of them love it. And then there are some that are jealous or they don't want to support that because they're like, 'I don't want you to be just as successful because now you're taking something away from me.'"
Citrine and Logan both note that they don't often see local drag performers at their shows showing their support, which they agree could be due to a conflict in performance schedules.
"It's this weird melting pot where we all love each other but we're also out for ourselves but we do support each other," Citrine says.
Haus of Stone's breakout on the drag scene after the closing of gay nightlife venues Town and Cobalt, which drew significant patronage for drag shows, has placed the group in a transitional period in D.C. gay nightlife.
As more venues are now opening their spaces to drag performances, Logan has noticed a surge in non-LGBT specific bars and restaurants hosting drag shows.
Venus says that specifically Town's closing has made "things easier" for local queens.
"Town was kind of a central point for the gay community in the city. You had the cast of girls who were there every Friday and Saturday. So now with Town gone, and that rigid cast gone, there's more opportunities for all of us other girls and people are still looking for places to replace Town, which is something that's been kind of difficult for the community over the last year. I think Town closing was actually kind of the perfect storm that's allowed us to be so successful. If Town was still open, I don't think any of us would have been able to perform there," Venus says.
An influx in venues hosting drag shows and seeing the benefit of having one place to look up all things D.C. drag, inspired Logan to create D.C. Drag Digest (facebook.com/dcdragdigest).
The directory will allow people to search for drag shows near them, look up if their favorite bars or restaurants are hosting drag shows and to see where their favorite drag performers will be next.
"There had been a lot of conversation on social media about supporting and finding the shows. I had always gotten a lot of questions. When people like what they see in a show the first thing they come up and ask you is, 'Hey, where can I see you next?' And for a lot of performers we have 10 shows coming up and we want people at all of them. And it's hard to just be like, 'You can come here, here and here.' Nobody is going to remember any of that. So one day I had decided to just make a list of everything going on," Logan, who runs the directory with a couple friends, says.
The queens say that "RuPaul's Drag Race" does influence the popularity of their shows especially during the times of the year that "RuPaul's Drag Race All Stars" and the regular season run. They say it sparks an interest in people to check out what their local drag community is doing. The support is welcomed but Haus of Stone members say the jump from "Drag Race" to a local show can lead to unfair expectations.
"Drag Race" can pack on the pressure for local talent, according to Citrine.
"They're seeing it on TV and enjoying it and then when they go to a local show and they're not seeing that same level matched from what they can just see on TV that's when they start to lose that interest," Citrine says. "'Drag Race' has certainly made it a little bit more difficult for local queens to keep up. When we see it on TV we're like 'Oh God.' Some of us have that internal expectation of 'How can I be better and impress this audience when I don't have those kind of resources?"
Money is an important factor when watching an episode of "Drag Race" versus checking out a local show.
"A prime example of that is girls we get on 'Drag Race' end up making a lot more money than us local girls," Venus says. "A lot of them have connections because of their following on social media and are able to work with designers and have these glorious costumes and they see those costumes on the runway. Then a drag queen comes out who is a local girl who spent $50 on a leotard that she made herself. And it's not as exciting as the giant Victoria's Secret wings that Plastique Tiara wore on the runway."
Another added challenge is keeping their shows as fresh as possible.
Venus says that an advantage that queens performing at Town had is that oftentimes audiences included new people due to the larger audience numbers. As smaller venues are tackling drag shows, the audiences are smaller and a good way to drum up interest is to nab repeat patrons who have already seen certain routines and want new material.
"It has to do with a shift in the market," Venus says.
Even with a smaller audience size, the queens still don't always know who is attending their shows.
"Even for me I had two girls come up to me at brunch yesterday and I had never noticed them before but they both came up and were like, 'We saw you at this show.' You never know who is going to come back and see you and you don't want them seeing the exact same thing over and over," Logan says.