April 24, 2019 at 10:55 am EDT | by Lou Chibbaro Jr.
Judy Stevens, beloved D.C. bartender, dies at 79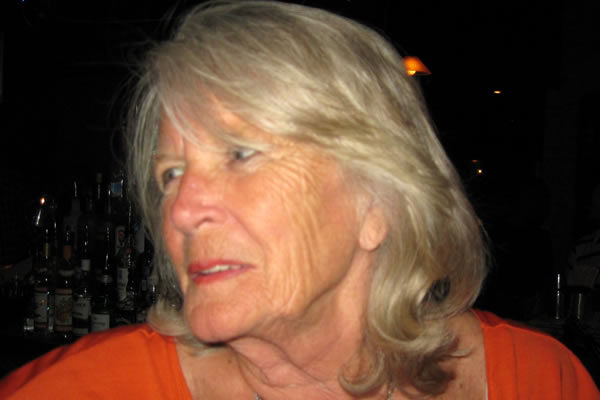 Judy Stevens, a bartender who worked for as many as seven D.C. gay bars over a period of more than 50 years and whose gay male customers and friends say she became a beloved mother figure to those who were rejected by their own families, died April 18 at her home in Bowie, Md., following a battle with colon cancer. She was 79.
Her friend and longtime customer Victor Hicks said Stevens, who was straight and who became known as "Mama Judy," began her long tenure as a bartender at D.C.'s gay bars in 1964 at the Georgetown Grill, where she met many of her gay customers who became lifelong friends.
Hicks said Stevens left the Georgetown Grill in February 1977, shortly after its owner sold it and the new owner changed it to a restaurant and straight bar called Au Pied de Cochon.
According to Hicks and Richard Mulnar, another of her customers and longtime friends, Stevens then began work as a bartender at another gay bar located just north of Georgetown called the Court Jester. Over the next 40 years, the two said, Judy Stevens continued her role as an admired bartender for at least five other gay bars in D.C.
Among them were Cy's; Onyx; the Fraternity House, which later changed its name to Omega; Tracks; and The Fireplace near Dupont Circle, where she worked for about 25 years until illness forced her to retire in 2017. The Fireplace is the only one of the gay bars for which she worked that's still open.
Fireplace co-owner Steve Weinstein couldn't immediately be reached for comment.
"For many in the gay community over those 50 years, she was a beacon of light and comfort," Hicks wrote in a posting on the website of D.C.'s Rainbow History Project. "She was funny, spirited, strong, and tough," Hicks wrote. "She served on the front lines of the AIDS crisis during its darkest hours and watched thousands dear to her fade away and disappear," Hicks said in his posting.
"She once said she dealt with the loss by just imagining that they moved away and someday might walk through her door," Hicks states. "She will forever be remembered in the local gay history of the Washington, D.C. area through its written history as well as its verbal history," he said.
In a Facebook message to Lisa Vinella, one of Stevens' daughters, Hicks added one more remembrance of Stevens.
"Your mother was a living guardian angel to a city of 'lost boys' like in Peter Pan," he wrote. "She was family to those that had been discarded by their biological families. Know that thousands loved her over the fifty years she made us smile and feel better for having known her."
Mulnar said Stevens invited many of her longtime customers to her home during her days off from her bartending jobs.
"She used to invite us to her home in Bowie for Christmas," said Mulnar. "We call called her mom. She was our second mom," he said. "All those boys said I wish my mom was as cool as her."
Added Mulnar: "She had that wonderful respect and honor. She would tell you if she thought you did something wrong. Judy loved her customers and we loved her."
James Travis Thorn, a longtime Fireplace customer who became a close friend of Stevens, said he was among the countless gay bar customers who confided in Stevens some of their most intimate concerns, including, as with Thorn, a breakup with his partner.
"She is a lady that many tears have been shed on her shoulders because she was the first one to hear the troubles and joys from everybody. It did not matter who they were – male, female, black, white, whatever," Thorn said.
Vinella, Stevens' daughter, said her mother was born and raised in Centralia, Ill. She said her mother and her mother's family moved to Maryland in 1946 and that her mother and father married in 1960. The couple had five children, three boys and two girls, Vinella said. She said her father passed away in 1971 at the age of 47.
"Mom will be cremated and her ashes will be spread in the ocean where her heart belongs," Vinella said.
Vinella said a Celebration of Life gathering in Stevens' honor is planned for 1:00 p.m. Thursday, June 6, at the Corsica River Yacht Club in Centerville, Md. Vinella said another Celebration of Life gathering will be held at the Fireplace at a date and time to be announced soon. She said the Stevens family is suggesting that donations in lieu of flowers be made to an AIDS organization selected by the donor.
Stevens is survived by her five children, Francis Xavier Stevens Sr., Allen Stevens, Thomas Stevens, Lisa Vinella, and Stacy Bryant; thirteen grandchildren; and two great grandchildren.