May 8, 2019 at 12:38 pm EDT | by Lou Chibbaro Jr.
Capital Pride honors Blade with 'Paving the Way Award'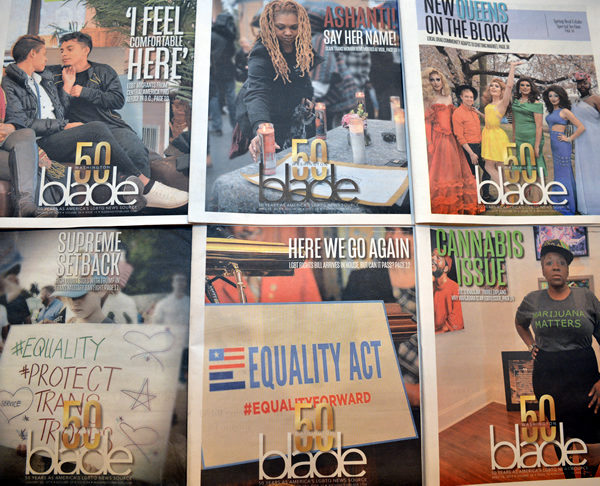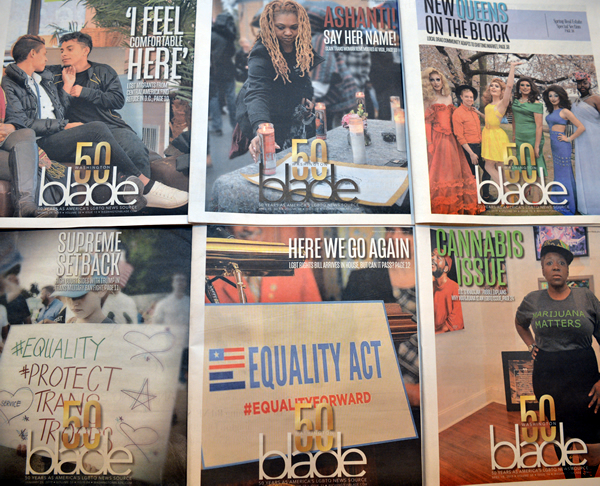 The Capital Pride Alliance, the organization that produces D.C.'s annual Capital Pride Parade, Festival, and related events, has named 10 prominent local and national LGBT rights leaders and three organizations as recipients of its annual awards recognizing those who have "advanced the causes of LGBTQ+ rights."
Among the three organizations named as award recipients for 2019 is the Washington Blade, which Capital Pride Alliance selected for its Paving the Way Award.
The group says the Paving the Way Award acknowledges an "individual or organization that has provided exemplary contributions, support, and/or advocacy that has impacted the LGBTQ+ community, and whose leadership has inspired continued progress."
In its announcement, Capital Pride Alliance noted that the Blade this year is celebrating the 50th anniversary of its founding in 1969 and its many years as America's LGBTQ news source.
"We are thrilled to honor the Washington Blade for all it has done the past 50 years," said Ashley Smith, board president of Capital Pride. "As we honor and mark 50 years since the Stonewall uprising we must also look to the impact – including the founding of the Blade in October 1969. Their continued vigilance in covering LGBTQ issues and having a place in the White House press corps speaks to the progress we have made and the need to have a vibrant LGBTQ media in the nation's capital and across the nation," concluded Smith.
"For five decades, the Washington Blade has been in the vanguard of informing, educating and lifting the stories of our community, from a time when we were ignored by mainstream media to our vital role today providing the kind of comprehensive coverage you still won't find in the mainstream," said Blade editor Kevin Naff.
The other two organizations selected as recipients were Team D.C., the LGBT sports organization, which will receive the Larry Stansbury Award; and the D.C.-based National Center for Transgender Equality, which will receive Capital Pride's newly created Breaking Barriers Award.
In its awards announcement, Capital Pride Alliance named as its annual Heroes Martin Espinoza, co-founder and president of Stonewall Sports; Ben De Guzman, longtime LGBT activist and director of the D.C. Mayor's Office of Asian and Pacific Islander Affairs; Amanda Hackett, an immigration attorney and specialist in LGBT/Sogi-Minority-based asylum cases; Kimberly Bush, director of Arts and Cultural Programs at the D.C. Center for the LGBT Community; Rea Carey, executive director of the National LGBTQ Task Force; and Tony Nelson, a longtime emcee and comedian for numerous events and causes in the D.C. area.
Capital Pride Alliance named as its Engendered Sprit Award recipients Xemiyulu Tapepechul, a playwright and author; and Larry Villegas-Perez, an activist and mental health practitioner who has provided support for numerous LGBT organizations, including SMYAL and Casa Ruby.
Named as recipients of Capital Pride's Bill Miles Ward were Alan Thompson, a longtime Capital Pride volunteer and volunteer supporter at numerous other local LGBT organizations; and Donald Burch, whom Capital Pride says has for more than three decades served as the "quintessential volunteer" at dozens of D.C. area LGBTQ+ community organizations, including groups that provide services for people with HIV.
Capital Pride announced the award recipients will be honored at the Capital Pride Honors Reception on Friday, May 31 from 7:30 pm to 9:30 pm at the Smithsonian American Art Museum at 8th and G Streets, N.W.