May 13, 2019 at 11:27 am EDT | by Michael K. Lavers
Center Global honors HRC staffer, Russian LGBT activist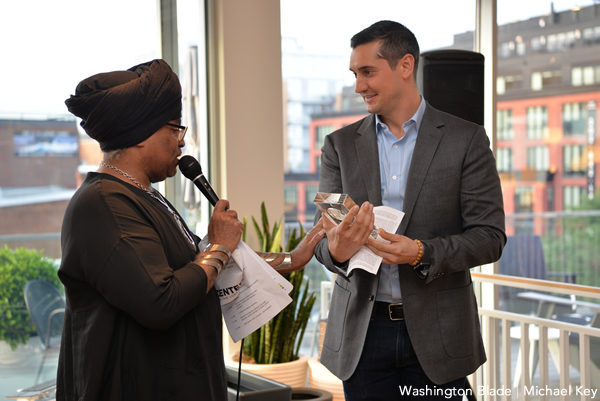 Center Global on May 9 held its annual awards ceremony at Room and Board on 14th Street.
The organization during the event that Rayceen Pendarvis emceed honored Human Rights Campaign Global Director Ty Cobb with its Global Advocate Award and Gleb Latnik, an LGBT activist from Russia who now lives in D.C. with his husband, with its Global Courage Award.
"We're living in an incredibly complicated time," said Cobb after he accepted his award. "There is no doubt this administration is … evil, but also directly attacking asylum seekers in this country. We also know that this administration is attacking LGBTQ people, erasing trans people and has an incredibly incoherent foreign policy around human rights."
"So to be an LGBTQ asylum seeker in this moment is sitting at an intersection that's a really tough intersection to sit in, but there are really hopeful things happening," he added, noting the issue of asylum seekers has become more publicized and advocates continue to challenge the Trump administration's immigration policies.
Center Global has provided assistance to more than 200 other LGBT asylum seekers from around the world since it formed in 2012. The Gay and Lesbian Activists Alliance last month recognized the organization at its 48th Anniversary Reception.
Latnik, who grew up near the Russian city of Yekaterinburg in the Ural Mountains, said after he received his award that Center Global "helps people live their lives" and gives them "community."
For a lot of asylum seekers who lost their countries, they get a new hope here in the United States," said Latnik. "It's a very important job to build a community."
Michael Key contributed to this article.