May 15, 2019 at 9:40 pm EDT | by Lou Chibbaro Jr.
Two marches set to highlight New York City's Pride events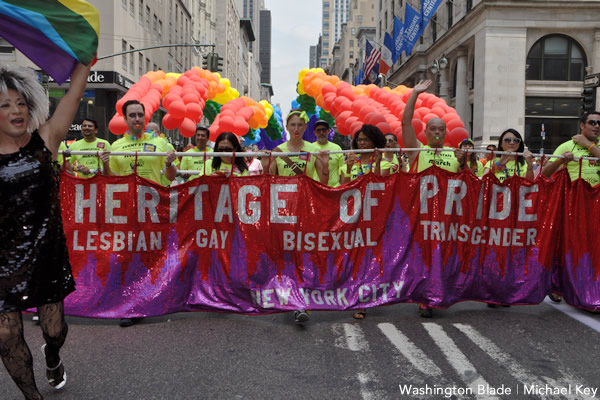 Two separate marches to commemorate the 50th anniversary of New York's Stonewall riots that are credited with starting the modern LGBT rights movement are expected to draw more than four million people to the streets of Manhattan on June 30 as participants or spectators, according to organizers of multiple Pride events scheduled for that day.
Following negotiations led by the New York City Police Department, organizers of the Queer Liberation March announced at a news conference on Tuesday that their march would begin at 9:30 a.m. on June 30, two and a half hours sooner than the noon kickoff time for the official New York City Pride March.
The two marches will each pass in front of the Stonewall Inn gay bar in Greenwich Village, the site of the 1969 Stonewall riots, at different times and will travel along different routes, allowing many people to participate in both marches.
A New York City-based group called the Reclaim Pride Coalition first announced plans in January for an alternative march now called the Queer Liberation March. The group has said it believes the official NYC Pride March has evolved into a parade dominated by large corporate floats and no longer represents the spirit and activist militancy of the Stonewall rebellion.
"Reclaim Pride Coalition is a growing global coalition of over 100 organizations in at least 18 countries and thousands of individuals who are reclaiming NYC Pride so it better represents the queer communities (Trans, Bisexual, Lesbian, Gay, Queer, Intersex, Asexual, Two Spirit, Non-Binary, Gender Non-Conforming + and Allies) and our struggles," the group said in a May 14 statement.
Officials with the group announced at Tuesday's news conference that its Queer Liberation March will follow the same historic route as the very first Pride March held in 1970 to commemorate the first anniversary of the Stonewall riots. It will begin 9:30 a.m. in Sheridan Square near the Stonewall gay bar and travel up 7th Avenue across West 10th Street to 6th Avenue, where it will proceed to Central Park where a rally with speakers and entertainers will take place.
Organizers note that the groundbreaking 1970 Pride March also traveled to Central Park for a rally.
Heritage of Pride or HOP, the group that has organized New York City's Pride events, including the annual Pride March for more than 20 years, disputes claims that its march no longer represents the spirit of Stonewall.
James Fallarino, a spokesperson for Heritage of Pride, told the Blade earlier this year that in addition to the larger turnout expected from people in other U.S. locations, New York Pride this year is serving as host for World Pride, an international LGBT event that will take place in the U.S. for the first time this year to commemorate the Stonewall rebellion.
Fallarino noted that the size and scope of the New York Pride March and related events have increased enormously since activists in New York organized what's believed to be the world's first LGBT Pride March in June 1970 to commemorate the first anniversary of the Stonewall riots.
He said there are more than 50 Pride related events scheduled to take place in New York City throughout the month of June. Among them will be an extravaganza closing ceremony on the day of the two marches on June 30 in the city's historic Times Square. Singer and songwriter Melissa Etheridge will be among the celebrities scheduled to perform there.
According to Fallarino, the total cost for all the events organized by Heritage of Pride will be about $12 million. He said the "vast majority" of the funding will come from corporate sponsors.
"Seventy-four percent of all marching groups are non-profit organizations, and more than half of all marching groups are participating free of charge," Heritage of Pride said in an April 11 statement referring to its official NY Pride March. The statement added, "Upwards of 150 marching groups are coming from outside the U.S. to participate in this historic event."
Fallarino said four million people were expected to turn out for the New York Pride March this year, with about 115,000 expected to march and the remainder of the crowds expected to line the streets as spectators.
In an April 11 statement, Heritage of Pride said its march would kick off at noon at 26th Street and 5th Avenue and will proceed south of 5th Avenue before heading west on 8th Street. The statement says after crossing over 6th Avenue the march will continue on Christopher Street in Greenwich Village passing in front of the site of the Stonewall Inn bar.
It will then turn north on 7th Avenue, passing in front of New York City's AIDS Memorial before ending in the Chelsea neighborhood just north of 23rd Street and 7th Avenue, the statement says.
The statement says that among five Grand Marshals selected to lead the march will be members of the Gay Liberation Front, the first known LGBT activist organization to form following the Stonewall riots.
The decision by the Reclaim Pride Coalition to hold a separate march follows disputes between LGBT activists in many U.S. cities during the past several years, including in D.C., over whether the annual Pride events should be large-scale celebrations involving parades with corporate sponsored floats or whether they should be limited to protest-like marches that highlight the work still needed to overcome discrimination and oppression that many in the LGBT community still face.
In a May 14 statement called "Queer Liberation March Explainer," the Reclaim Pride Coalition reiterated its reason for holding a separate march.
"The annual Pride Parade has become bloated with 150 corporate floats and horribly over-policed," the statement says. "This does not represent the 'Spirit of Stonewall' on this 50th anniversary of the 1969 Stonewall Rebellion," it says. "It does not address the urgent continuing needs of trans and queer people – still under daily attack by the Trump administration and by countries around the world. This is an alternative March designed to include, celebrate, and advance justice for all."
Those who support the idea of having the Pride events, including marches or parades as a form of a celebration, argue that the LGBT movement has made major gains over the past 50 years and those gains are grounds for a celebration.
Officials with D.C.'s Capital Pride Alliance, which organizes D.C.'s LGBT Pride Parade and Festival, say all corporate sponsors of the events have strong internal LGBT supportive nondiscrimination policies and that the corporate floats in the D.C. Pride Parade are led by LGBT employee groups.
"We understand people want to party," said Ann Northrop, a longtime New York lesbian activist and one of the leaders of the Reclaim Pride Coalition. "Let them party. But we can't ignore the bad things that are happening around the world," she said. "We will be celebrating our history. But our event will be political in nature."
More information about the two marches and related events can be found at reclaimpridenyc.org and 2019-worldpride-stonewall50.nycpride.org.