May 16, 2019 at 9:32 am EDT | by Michael K. Lavers
Puerto Rico's first center for LGBT elders opens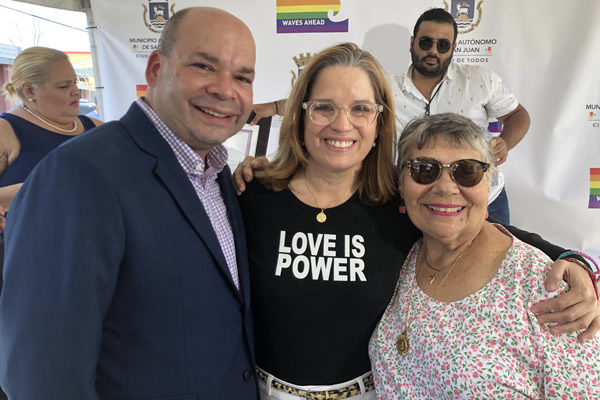 A ribbon-cutting ceremony for Puerto Rico's first center for LGBT elders took place in San Juan on Tuesday.
San Juan Mayor Carmen Yulín Cruz spoke alongside Wilfred Labiosa, executive director of Waves Ahead and SAGE Puerto Rico, and San Juan Municipal Assembly President Marco Antonio Rigau before they took part in the ceremony. Representatives of Intersections International, a New York-based LGBT-affirming ministry, and CenterLink were among those who also attended.
The center is located in a city-owned building on San Juan's Américo Miranda Avenue. Labiosa told the Washington Blade it will be fully operational next month.
Cruz, who is running against Puerto Rico Gov. Ricardo Rosselló, told those who attended the ceremony the "space that will be dedicated today is because of your work, because you had open hearts." Cruz also highlighted her administration's continued support of the city's LGBT residents.
"Today is a monumental day for LGBT elders in Puerto Rico," said SAGE CEO Michael Adams in a statement he sent to the Blade before the ceremony. "For the first time, LGBT elders on the island will have access to programs and services specifically designed for the older LGBT population, and have a safe haven where they can be celebrated for exactly who they are."
"Our elders, the pioneers of the LGBT movement, often face a lifetime of discrimination, compounded by high rates of social isolation, higher rates of poverty, and a lack of access to LGBT-friendly services," he added. "We extend our deepest gratitude to Wilfred Labiosa and SAGE Puerto Rico for leading the charge to bring critical support to LGBT elders who need it most."
The ceremony took place less than two years after Hurricane Maria devastated Puerto Rico.
Labiosa and other activists in the U.S. commonwealth have told the Blade discrimination based on sexual orientation and gender identity and poverty are among the factors that have made LGBT elders and other groups even more vulnerable after Maria. Waves Ahead is currently working to rebuild four hurricane-damaged homes in the municipalities of Yabucoa, where Maria made landfall on Sept. 20, 2017, and Toa Baja.
Cruz remains a vocal critic of President Trump, the federal government's response to Maria and the White House's overall tone towards Puerto Rico.
"Life is what you put into it," said Cruz before the ceremony. "Love is what you take out of it."
"The day that we don't fight the good fight or like John Lewis says we don't get in the right kind of trouble because we are afraid of what people may think is the day we stop fighting," she added.