Trump: 'It's great' to see Buttigieg with husband, but 'some people' might have issue
Comments in same week as opposition to Equality Act declared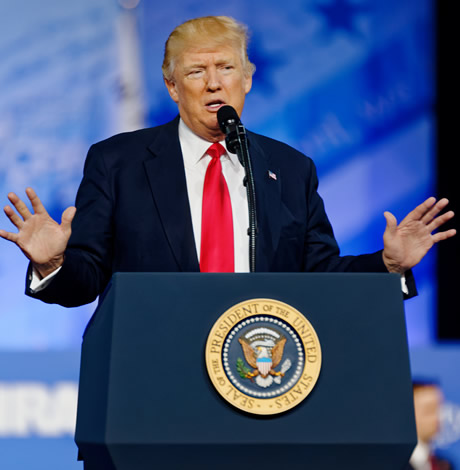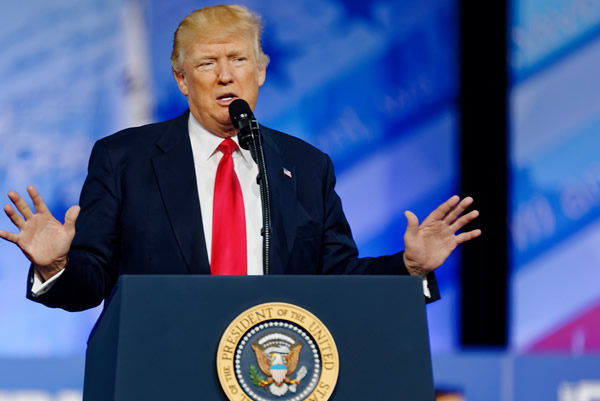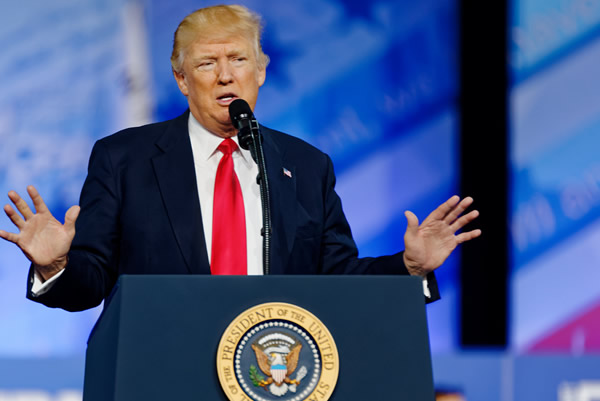 President Trump said "it's great" gay presidential candidate Pete Buttigieg is campaigning onstage with his husband, but acknowledged "some people" — not saying who, but certainly individuals in his base — might have a problem with it.
Trump made the comments in a teaser for a yet-to-be aired interview with Fox News when "The Next Revolution" host Steve Hilton referenced a town hall with Buttigieg, prompting Trump to pronounce the candidate's name as "Boot-Edge-Edge" and chuckle.
Asked if "it's great the fact that you've a got a guy there on the stage with his husband, and it's normal," Trump replied, "I think it's absolutely fine."
In response to a follow-up question on whether Buttigieg's candidacy represent "great progress in the country," Trump said, "Yeah. I think it's great."
"I think that's something perhaps some people will have problem with," Trump said. "I have no problem with it whatsoever. I think it's good."
Although Trump doesn't identify who "some people" are in the clip, but evangelical Christians who support Trump have expressed discontent with Buttigieg's sexual orientation, including Franklin Graham, who called on the 2020 hopeful to repent for being gay.
The comments come after Trump has built an anti-LGBT record over the course of his administration, which just this week includes opposition to the Equality Act on the basis of unspecified "poison bills" in the bill.
Other Trump administration anti-LGBT actions include the transgender military ban, withdrawal of guidance to schools assuring transgender kids have access to the restroom consistent with their gender identity and actions taken in the name of "religious freedom" seen to undermine LGBT rights.
The LGBT media watchdog GLAAD emphasized the "some people" aspect of Trump's comments in a tweet responding to the president answer.
Trump says that "some people" will have a problem with seeing Mayor Pete Buttigieg and his husband on a debate stage, but he's fine with it. Those "some people" are the anti-LGBTQ activists at groups like @Heritage and @FRCdc that he's been buddying up to since he took office. https://t.co/MToZP7GrfJ

— GLAAD (@glaad) May 16, 2019
Gregory Angelo, former president of Log Cabin Republicans, took the opposite approach and commented on the "it's great" aspect of Trump's remarks.
Remember two weeks ago when Buttigieg said he was itching to "have that fight" with Trump on "which one of us has a more traditional attitude on marriage"? LOL!

Trump continues to be the most pro-gay Republican President ever! https://t.co/aCsMmnZt2q

— Gregory T. Angelo (@gregorytangelo) May 16, 2019
Bill would create LGBTQ veterans advisory committee at VA
Advocacy groups back U.S. Rep. Chris Pappas (D-N.H.)'s measure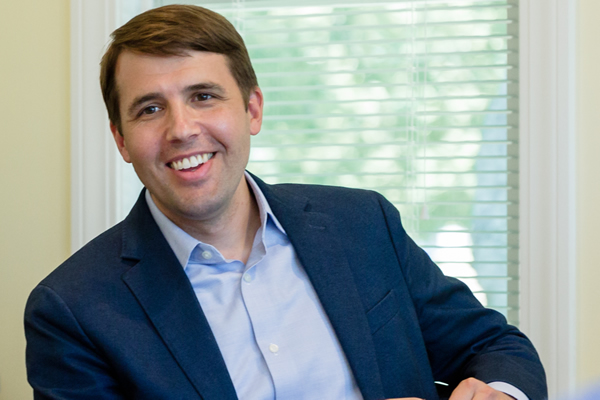 New Hampshire Congressman Chris Pappas has introduced a bill that would create an LGBTQ veterans advisory committee at the Department of Veterans Affairs.
A press release that the New Hampshire Democrat's office released notes "many LGBTQ+ veterans faced systemic discrimination and were unfairly denied their VA benefits under 'Don't Ask, Don't Tell' and continue to run into roadblocks when attempting to access benefits or programs afforded to non-LGBTQ+ veterans, such as health care, burial and memorial, education, and home loan benefits."
"LGBTQ+ veterans, whether they served during the 'Don't Ask, Don't Tell' era, in the years following, or more recently during the Trump administration's transgender military ban, all face unique challenges after separation or retirement," said Pappas. "LGBTQ+ veterans' voices need to be heard and effectively represented at the highest levels of VA. Establishing an LGBTQ Veterans Advisory Committee will ensure that VA benefits and services are accessible and responsive to the needs of the LGBTQ+ veterans community."
The committee that Pappas' bill would create would "reflect the diversity and unique needs of the LGBTQ+ veterans community by including professionals in fields related to health care and other needs unique to LGBTQ+ veterans, at least one lesbian, gay, or bisexual veteran with a service-connected disability, at least one transgender veteran with a service-connected disability, minority LGBTQ+ veterans, and LGBTQ+ veterans who have been both voluntarily and involuntarily separated from service."
The committee, among other things, would assess "the needs of LGBTQ+ veterans with respect to benefits and programs" the VA administers. The committee would also recommend "needed adjustments and improvements to best meet the needs of LGBTQ+ veterans."
Pappas' office notes the Minority Veterans of America, Out in National Security and the Modern Military Association of America are among the groups that support his bill.
"It remains as important as ever to get the ground truth on how LGBTQ+ veterans experience VA services — and then to use that information to improve the system," said Out in National Security President Luke Schleusener in the press release that Pappas' office released. "The historical discrimination that LGBTQ+ veterans experienced in service to their country and from American society make culturally competent and informed care a special responsibility and obligation of the VA. We are grateful for Rep. Pappas' leadership on this effort, and applaud his work for us across the LGBTQ+ community."
Judge dismisses lawsuit against Va. school guidelines for transgender students
Christian Action Network and other conservative groups filed suit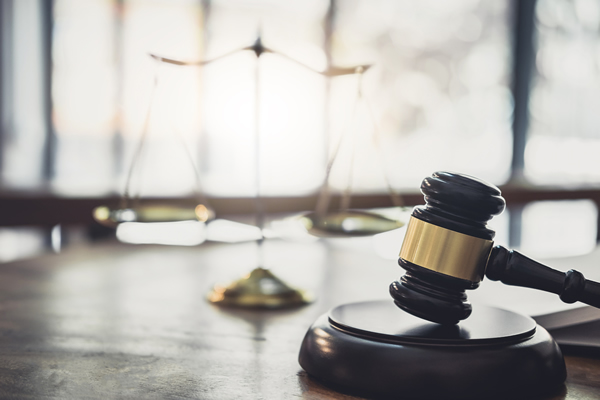 Lynchburg Circuit Court Judge J. Frederick Watson on Tuesday dismissed a lawsuit that challenged the Virginia Department of Education's model policies for transgender students that are to be implemented for the 2021-2022 school year.
The VDOE introduced the policies in March to better protect and affirm trans and non-binary students in schools, considering they are more likely to face discrimination and harassment from their peers and students. The directives would require Virginia schools to allow them to use school bathrooms and locker rooms that conform to their gender identity and pronouns and a name that reflects their gender identity.
Several conservative organizations, including the Christian Action Network, and families whose children attend Lynchburg public schools had sought to overturn the VDOE's policies. The groups cited their need to protect their right to free speech and religion under the First Amendment.
Challenging the enactment of non-binary and trans-inclusive school policies in Virginia is not a new occurence.
Tanner Cross, a Loudoun County teacher, was suspended in May after stating he would not use trans students' preferred pronouns. Circuit Judge James E. Plowman, Jr., who invoked Pickering v. Board of Education, a 1968 U.S. Supreme Court ruling in favor of a teacher that stated they have the right to provide commentary on issues of public importance without being dismissed from their position, reinstated Cross after he filed a lawsuit,
Equality Virginia on Tuesday a statement celebrated what they described as "a win for Virginia schools and students."
"This ruling is important progress and emphasizes the continued need to protect transgender and non-binary youth in Virginia," said Executive Director Vee Lamneck. "These policies will create safer classrooms and will reduce bullying, discrimination and harassment. It's imperative school boards adopt these policies as soon as possible because the lives of transgender students are at risk."
Equality Virginia, ACLU of Virginia, and more than 50 other organizations and school board leaders across the state filed an amicus brief earlier this month encouraging the court to deny the lawsuit.
The brief's arguments included references to historic lawsuits like Brown v. Board of Education and Grimm v. Gloucester City School Board that specifically addressed inequalities in schools for minority students.
While Tuesday's ruling is a win for LGBTQ rights advocates in education and their respective students, there still remains a final barrier to ensure that the VDOE's policies are sanctioned in the fall.
"The dismissal clears one statewide hurdle for the guidelines and limits future challenges," reports the Virginian-Pilot newspaper. "But it leaves the fight to continue at local school boards, which are currently debating how or if to implement policies before the start of the school year."
Comings & Goings
Ward named project manager at REACH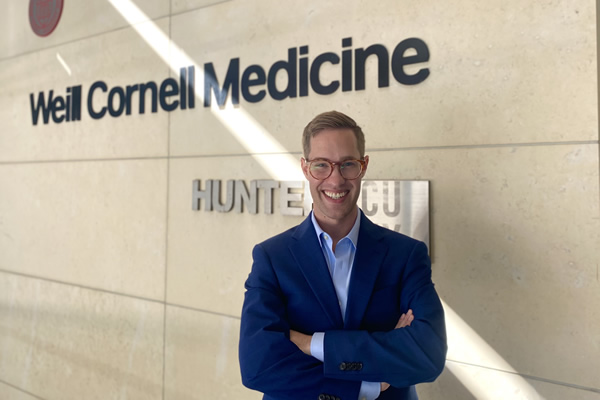 The Comings & Goings column is about sharing the professional successes of our community. We want to recognize those landing new jobs, new clients for their business, joining boards of organizations and other achievements. Please share your successes with us at: [email protected]. 
The Comings & Goings column also invites LGBTQ+ college students to share their successes with us. If you have been elected to a student government position, gotten an exciting internship, or are graduating and beginning your career with a great job, let us know so we can share your success. 
Congratulations to Adam Ward on his new position as program manager and biostatistician for the newly formed Research Enterprise to Advance a Cure for HIV (REACH) Collaboratory, based at Weill Cornell Medicine in New York City. This is a multi-institution project recently funded by the National Institutes of Health through the Martin Delaney Collaboratories program, with institutions represented from the U.S., Canada, Mexico, Uganda, and the U.K.
Upon accepting the position, Ward said, "I am humbled to take on this role and to have the opportunity to continue working in the HIV cure field — work that I find so personally meaningful and fulfilling. I genuinely believe that the science this collaboratory will undertake over the next five years will be some of the most impactful in the field, and I am looking forward to supporting it as well as to the progress that will be made. Additionally, community engagement is a key component of this work, so please look for future opportunities to be involved and to learn more."
Ward began his Ph.D. in epidemiology in 2016 at George Washington University, and worked as a Research Assistant then Research Associate in the laboratory of R. Brad Jones conducting HIV cure research. Ward's research focused on several areas, including developing new pre-clinical models to test HIV cure strategies, studying how HIV hides in cells of the central nervous system, and investigating drivers of inflammation and associated comorbidities in cohorts of participants living with HIV.
Ward has worked as a Graduate Student Researcher at North Carolina State University, Department of Molecular Biomedical Science. He was an Honors Village Community Director, North Carolina State University. He has been a contributing author to numerous publications and has done presentations and sessions at conferences around the world.
Ward has his bachelor's degree in Environmental Sciences from North Carolina State University; his master's degree in Comparative Biomedical Sciences, North Carolina State University; and is slated to receive his Ph.D. in epidemiology from the George Washington University in D.C.
Congratulations also to Zachary L. Baum on his new position with New York State United Teachers Union (NYSUT) as Regional Political Organizer for Long Island. Baum is a communications and public affairs professional with more than 10 years of experience working in the public and private sectors. He has an extensive track record of delivering results on complex intergovernmental matters regarding environmental policy, housing policy, economic development, food policy, and public health.
Prior to joining NYSUT, Baum was chief of staff to Brookhaven Council member Jonathan Kornreich. He has worked for Stanton PRM as a senior account executive. Baum also worked as a political organizer for Michael Bloomberg in 2020 and prior to that for the Office of Suffolk County Executive as a Community Affairs Liaison.
Baum earned his bachelor's degree in political science with distinction from SUNY Stony Brook Universit; and his master's of public administration with a concentration in public management from the Austin W. Marxe School of Public and International Affairs, Baruch College, New York.