May 16, 2019 at 8:45 am EDT | by Peter Rosenstein
Rehoboth calling!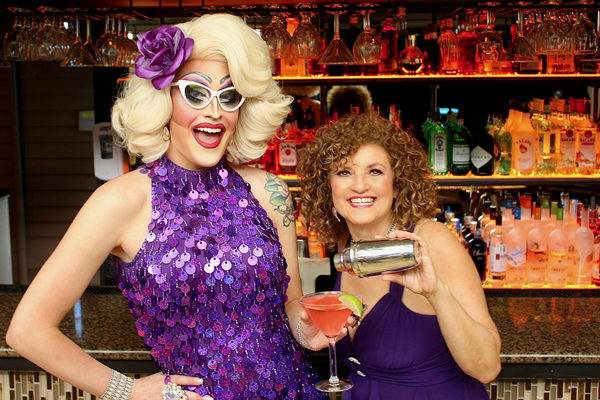 For the LGBTQ community the summer season in Rehoboth Beach begins the weekend before Memorial Day with the Washington Blade's summer kick-off party at the Blue Moon on Friday, May, 17 from 5-7 p.m with guest speaker and native Delawarean Sarah McBride, national press secretary for HRC and the first openly trans person to speak at a major party presidential nominating convention. Join the fun and make a donation to the Blade Foundation, which funds reporting on the community around the world and provides fellowships and scholarships to aspiring LGBTQ journalists. It will be a great season at the beach and it's time to begin planning your summer now.
Rehoboth is now a year-round community but for those magical times nothing compares to being there between Memorial Day and Labor Day. Summer at the beach, the mile-long boardwalk, Thrashers fries, salt water taffy, and acres of sand with hot bodies galore make Rehoboth the place to be.
Each year I head to Rehoboth in April to walk around town to see what's new and visit old standbys. A stop in CAMP Rehoboth, the LGBT community center, on Baltimore Avenue is always a good idea to preview the summer schedule and get the latest gossip. This year CAMP is in the process of conducting a national search for a new executive director. On May 4, the town honored CAMP's former Executive Director Steve Elkins, who passed away last year, by naming the path from the Convention Center to Baltimore Avenue Steve Elkins Way.
The gayest block in Rehoboth, Baltimore Avenue, will be more exciting than ever this year with the opening of The Pines. Tyler Townsend, Bob Suppies and David Gonce have made this new hotspot the place to visit when at the beach for an inventive cocktail or memorable dinner. Brunch is now available, too, with its own list of unique cocktails. Upstairs, Top of The Pines has a piano bar and outside deck, which in the summer will provide a good view of what is going on over at Aqua Grill the other fun place on the 2nd Street end of Baltimore Avenue.
Andres Bonell and Bill Shields will open Aqua Grill on Friday, May 17 and will have the new hot lineup of waiters serving drinks on the deck. Returning this year are AJ and Katie. Aqua will again have VIP cards so stop by and pick one up when they open. Happy hour on the Aqua deck has become the place to be seen on nice summer evenings. They have a simple but excellent low-priced food menu. Strolling down Baltimore Avenue toward the beach there are many other places to eat and shop. First the Iguana Grill, a fun bar and restaurant back to its old excellence under Hugh Fuller's ownership. Of course, the grand dame of Rehoboth restaurants, the Blue Moon whereExecutive Chef Lion Gardner creates his magic. Pamala Stanley is again back to entertain in the bar five nights a week, including her ever-popular and packed Sunday tea dance. There are plenty of shops, including the Philip Morton Gallery with fine art and beautiful eclectic furniture and Peter Antolini, the most knowledgeable person at the beach when it comes to art and furniture. In the CAMP courtyard there is the Ward Ellinger Gallery, which has doubled its space this year. Also in the courtyard is Lori's Café celebrating its 23rd season and still offering the best chicken salad in town (and they deliver lunches to the beach). Further down the block is Elegant Slumming owned by Philip Livingston, designer of the most stunning jewelry you can find anywhere. Then there is Beach Essentials, which has a great selection of men's swimsuits and clothing. You can also stop in to One Day At a Time Gift Shop, which offers 12-Step addiction recovery items, LGBT novelties and gifts. Continue toward the beach and you get to Eden, a wonderful fine dining restaurant, and its more casual cousin Jam. Across the street is Café Azafran, featuring Holly Lane, a two-time past winner of Best Rehoboth Bartender in the annual Blade Best Of competition. Holly sings every Thursday night and is accompanied on the keyboard by the very talented John Flynn who now entertains in a number of places around town. Then there is Megan Kee's La Fable, a fabulous French restaurant.
Walking on First Street between Baltimore and Wilmington Avenues you should stop first in Mel's Brashhh, celebrating its fifth anniversary with great trendy clothing, original photography and gifts. Crossing over Rehoboth Avenue you come to the Frog Pond, which frequently features live bands and then Goolee's Grille which has the best breakfasts and a weekly drag brunch along with a gift and card shop. Tell owner George that the Blade sent you.
If you walk along Rehoboth Avenue from the boardwalk you will find another whole group of great shops and restaurants. From the iconic Back Porch restaurant walk a few steps to Steve Fallon's Gidget's Gadgets, now the home of a huge selection of vinyl records along with lots of other fun stuff.  Then head to the ever-popular Purple Parrot Restaurant and Biergarten celebrating its 20th anniversary this year.  Owners Hugh Fuller and Troy Austin Roberts are celebrating with great specials and the always smart, hot Chandler is now the manager. Jamie and Matt, both past winners of the Blade's Best Rehoboth Bartender award, are serving drinks at the bar. Then make a stop at Critter Beach and pick up something for your dog or cat, they have everything your animal could ever want. Don't miss visiting Diego's Hideaway, the old Double L leather bar, now with a spruced up outdoor patio and lots of fun owned by Darryl and Joe Ciarlante-Zuber. 
Rehoboth has a number of mews but don't miss the one between Rehoboth and Baltimore Avenues, it's next to Browseabout Books on Rehoboth Avenue where you can get your morning paper. In the mews is the Coffee Mill, now celebrating its 27th year, with its unrivaled selection of coffees by the cup or take home a few pounds of beans. They have a great menu to go with your coffee.
The third commercial block in Rehoboth is Wilmington Avenue from 2nd street to the boardwalk. There you will find Confucius, the Henlopen City Oyster House, Salt Air, Mariachi, and Azzurro Italian Oven and Bar with itsupstairs patio all confirming it is still a great block to have a meal. Ask for Amber upstairs at Azzurro, a future Best Rehoboth Bartender in the making, and tell her the Blade sent you.
But Rehoboth is more than restaurants and shops. Among other attractions, there is the Rehoboth Art League, which puts on a great art exhibit each summer and don't miss seeing a show at Clear Space Theatre. This summer they are boasting a remarkable lineup of plays including Mama Mia, Hello Dolly and The Wedding Singer all under the direction of their incredibly talented Artistic Director David Button.
So make sure you plan to spend plenty of time at the beach this summer. If you are one of those people who dread sitting in beach traffic there is a better option. Leave your car at home and take Best Bus, with convenient stops in Rehoboth and Dewey beginning Memorial Day weekend and running through Labor Day from Dupont Circle and Union Station. With free Wi-Fi and ample AC and USB outlets, you can be productive and leave the driving to them. They also have a good weekend schedule from New York to the beach. Remember Rehoboth Beach has something for everyone, so make your plans to join the fun.