May 20, 2019 at 12:01 pm EDT | by Michael K. Lavers
More than 300 attend Victory Institute conference in Colombia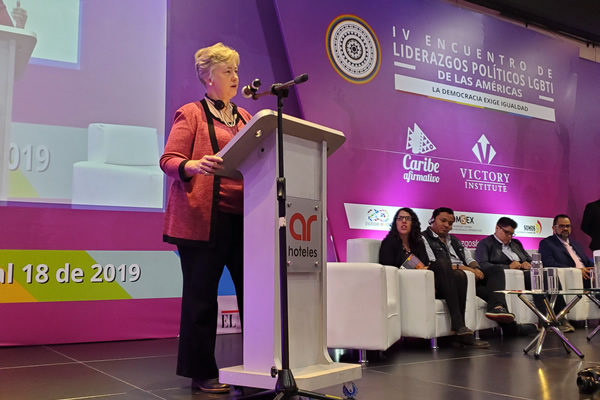 BOGOTÁ, Colombia — More than 300 activists and elected officials from around Latin America attended an LGBTQ Victory Institute-organized conference that took place in the Colombian capital of Bogotá from May 16-18.
Colombian Congressman Mauricio Toro, Venezuelan National Assemblywoman Tamara Adrián, Belizean Sen. Valerie Woods, Antiguan Sen. Akika Lake, Cuban National Assemblyman Luis Ángel Adán Roble, Arizona state Sen. Tony Navarrete and Colorado state Rep. Brianna Titone are among those who attended. Claire Lucas, a prominent Democratic activist in D.C. who was previously a senior advisor at the U.S. Agency for International Development's Office of Innovation and Development Alliances, and Juan Carlos Archila of Censurados, a group in the Colombian city of Cúcuta that provides assistance to Venezuelans with HIV/AIDS, also participated in the conference.
Caribe Afirmativo, an LGBTI advocacy group that is based in northern Colombia, helped organize the conference.
"There's energy and excitement and frustration because the conditions in so many of these Latin American countries that are represented is so hard," Victory Institute President Annise Parker told the Washington Blade during a May 17 interview. "I am inspired by the bravery of the folks who are standing up in very difficult conditions."
Peruvian Congressman Alberto de Belaunde told the Blade later in the day the conference is "a really important meeting because this is the opportunity to talk to different LGBT politicians from around Latin America." De Belaunde also noted Latin American countries "are in different stages of the LGBT rights fight."
The conference took place against the backdrop of Costa Rica, Ecuador and other countries' struggles with how to implement the Inter-American Court of Human Rights' landmark 2018 ruling that recognizes same-sex marriage and transgender rights in the Western Hemisphere. It also coincides with persistent discrimination and violence based on sexual orientation and gender identity throughout the region.
The conference on May 17 opened with a moment of silence that commemorated the International Day Against Homophobia, Transphobia and Biphobia. The Equality Act, which would add sexual orientation and gender identity to federal nondiscrimination laws, passed in the U.S. House of Representatives later in the day.
Trans Venezuelan lawmaker: Country is 'melting down'
Archila and other Colombia-based activists with whom the Blade spoke at the conference noted Venezuela's economic and political crisis continues to have a devastating impact on people with HIV/AIDS who live in the country.
Adrián — a supporter of Venezuelan National Assembly President Juan Guaidó who the U.S. and dozens of other countries have recognized as the country's interim president — in 2015 became the first openly trans woman elected to the Venezuelan National Assembly.
She told the Blade on May 18 that Venezuelans wait up to eight hours in some parts of the country to fill their cars with gasoline. Adrián also said some parts of the country that are outside of the Venezuelan capital of Caracas only have electricity for a few hours a day.
"Venezuela unfortunately … is melting down as a country," she said.