May 20, 2019 at 12:29 pm EDT | by Troy Masters
Watch Pete Buttigieg's Fox News Town Hall, yep Fox News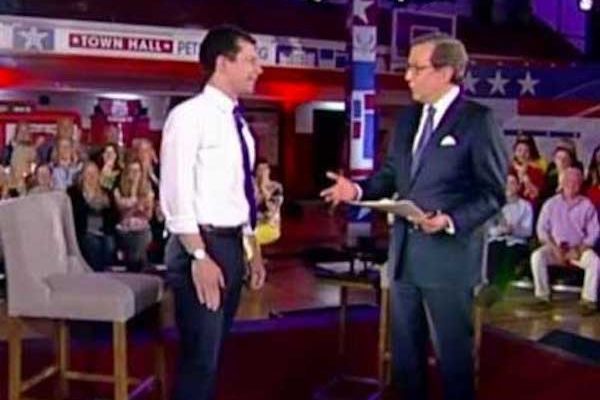 "More people have shown up for this Town Hall than any of our previous ones," says Fox News Host Chris Wallace as contender for the 2020 Democratic nomination for President Mayor Pete Buttigieg takes the stage in Claremont, New Hampshire. The town hall ends with a standing ovation, also unprecedented.
Buttigieg excoriated some of the network's hosts, echoing an email he sent to supporters earlier in the day to explain his appearance on a network other Democratic candidates have vowed they would not engage.
"There's been a lot of debate recently about whether Democratic presidential candidates should go on Fox News. Tomorrow night, I'll be participating in a Fox News town hall with Chris Wallace, and I want to tell you why.
First, let me be clear: I strongly condemn the voices on Fox and in the media that uncritically amplify hate and the divisive sort of politics that gave rise to this presidency. Their goal is to spread fear and lies, not serve as honest brokers with the American people."
But just because many of these opinion hosts don't operate in good faith, it doesn't mean that there aren't Fox viewers tuning in in good faith. If we unilaterally decide that they shouldn't hear my or other Democrats' messages, then we shouldn't act surprised if they have a distorted view of what we believe and who we are."
If we ignore the viewers of Fox News and every news platform that doesn't share our worldview, we will surrender our ability to speak directly to millions of American voters. If we don't show up, the conservative media will tell our side of the story for us. They will continue to fully claim American values like freedom, security, and democracy as property of the GOP."
From the beginning of this campaign, I've said that I would meet voters where they are. And that means sometimes moving beyond the echo chamber of like-minded voices. Because this primary season is not just about winning the Democratic nomination, or even just winning in 2020—it's about reclaiming our values and winning an era."
Donald Trump could barely contain himself:
Hard to believe that @FoxNews is wasting airtime on Mayor Pete, as Chris Wallace likes to call him. Fox is moving more and more to the losing (wrong) side in covering the Dems. They got dumped from the Democrats boring debates, and they just want in. They forgot the people…..

— Donald J. Trump (@realDonaldTrump) May 19, 2019
Fox News anchor Brit Hume poked back at Trump:
"Say this for Buttigieg. He's willing to be questioned by Chris Wallace, something you've barely done since you've been president. Oh, and covering candidates of both parties is part of the job of a news channel."