We don't have to choose between Dyke and Jewish identities
An inclusive, celebratory, and safe DC Dyke March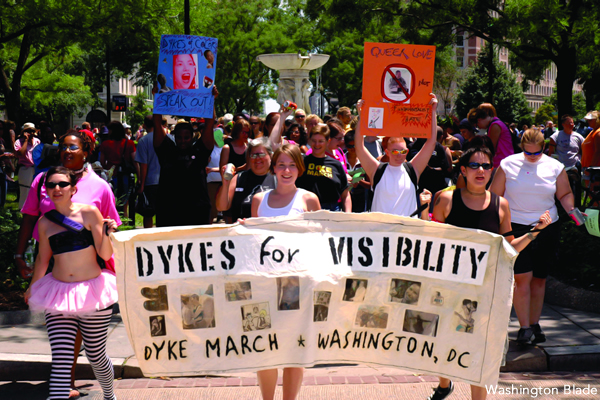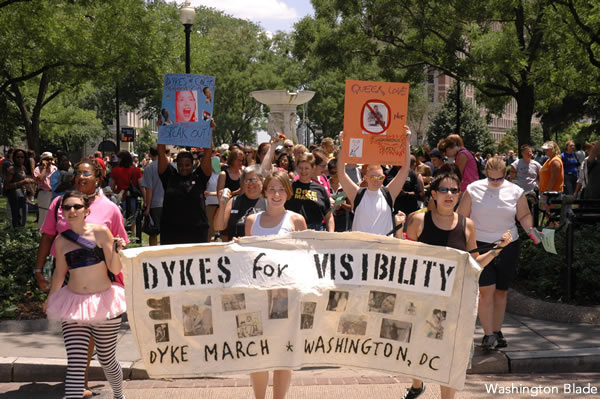 We're Jewish Dykes. We're Dyke-ish Jews. We don't have to choose.
We love being Jewish and we love being Dykes. As with all identities there have been paths and twists and turns to reach that conclusion, we had to fight for them and we had to grow to love them, at this point it feels amazing to be able to say both of those things with certainty. Sometimes it feels like we had to come out twice in our Jewish communities, once as Dykes (or really over and over again) and again as self-loving Anti-Zionists.
For that reason, we dedicated time and energy to helping organize the Dyke March as specifically and explicitly Jewish Anti-Zionist Dykes. The Dyke March has been inclusive, supportive and encouraging of our Dyke-y Jewishness and Jewish Dykey-ness. From the first DC Dyke March meeting we've been out and proud queer Jewish dykes. Other DC Dyke March organizers have been open and responsive to questions, concerns and ideas we have regarding keeping the DC Dyke March a welcoming space for Jewish dykes. We knew from the start we wanted to be a part of an inclusive, celebratory, and safe as possible Dyke March.
Recently, a Zionist contacted the DC Dyke March with the deliberate goal of making it sound as though Jews are unwelcome at the DC Dyke March — a claim that erases us Jews who have been organizing so heavily. They contacted a number of news organizations including the Washington Post, and the pinkwashing organization A Wider Bridge. A Wider Bridge is the organization that accused the Chicago Dyke March of anti-Semitism in 2017 because of the group's anti-Zionist stance. The goal of these groups seems to be to paint the DC Dyke March as a place that's unwelcome to Jews because of our anti-Zionist views.
The claim is that we are banning Jewish symbols, which is entirely untrue. We are asking people to not bring nationalist symbols because violent nationalism does not fit with our vision of queer liberation. And because we need the march to be a space that is as welcoming to Palestinian Dykes as it is to Jewish Dykes. The "Jewish Pride Flag" seemed to only rise in popularity after the Chicago Dyke March — it was never a flag that we felt directly connected to, and it does not represent all Jewish Dykes. The flag is a Star of David placed in the center, superimposed over a rainbow flag, and is almost entirely reminiscent of the Israeli flag, swapping out the blue and white for a rainbow. The star of David itself only became publicly popular as a symbol of Judaism in the 19th century — it coincided with the First Zionist Congress choosing the six-sided star for the flag of the future Israeli nation state in 1897. That being said, the Star of David represents more than just Israel when not on a flag and can be brought to the march in many other forms without question. It is not the only symbol available to us. We welcome yarmulkes, tallitot, tefillin, rainbow pomegranates, Lions of Judah, Hamsas, chai, a menorah and anything that doesn't directly replicate nationalist images and symbols.
Our Jewish values teach us that our struggles are interconnected and that our liberation is bound up with the liberation of all peoples, Palestinians included. When we hear allegations that the Dyke March is anti-Semitic for taking a pro-Palestine stance, we feel betrayed by the Jewish community. We choose to prioritize Palestinian lives and justice in Palestine over lazy symbols. The Dyke March is about welcoming our whole selves, not about welcoming the politics that harm members of our community. Nationalism is one of those harmful ideologies. As we help build the inclusive, welcoming space of the DC Dyke March, we feel extra proud to be feygeles with a lot of chutzpah — to be openly self-loving Anti-Zionist Dyke Jews.
When other Jews conflate anti-Semitism with anti-Zionism and anti-nationalism, it makes us angry and sad. It makes us feel like we are further from true liberation. To be a Jew is to have a history of trauma and oppression. We believe we can build a world where we fight against and end further trauma and oppression, not carry it on further.
The organizers of the Dyke March were incredibly supportive when we wanted to have nuanced conversations about the difference between anti-Semitism and anti-Zionism to further the goal of collective queer liberation. Stephanie Skora said it perfectly in her 2018 article, "Dyke March represents an unfettered quest for justice, and the building of community in diaspora. It is upheld by a deeply cherished shared culture, and ritually gathers around food, music, art, and joy."
At every Dyke March meeting we have worn our stars of David and chai around our necks. We never felt like we had to hide that part of ourselves. Yet now we feel like we have to hide parts of ourselves, the parts of us that believe a better world is yet to come, in the Jewish community. We understand the pain and the hurt. We believe that the responsibility of that pain and hurt lies with Zionism. We are angry that Israel has taken Jewish symbols and converted them into symbols of nationalism and xenophobia. We are angry that it has created a hierarchy in which Jewish voices are more valid than others, where Jewish comfort is seen as more important than Palestinian lives. We are angry that it exploits Queers and Pride to pinkwash the occupation and settler colonial violence. We are sad that Zionism has stolen vibrant Diasporic and diverse Jewish identities from us, but slowly, and through tough conversations like these ones, we are taking it back. 
Yael Horowitz and Rae Gaines are organizers with the DC Dyke March, happening on Friday, June 7.
Politicians should stop using children as political punching bags
Let us hold leaders accountable for their vicious self-centeredness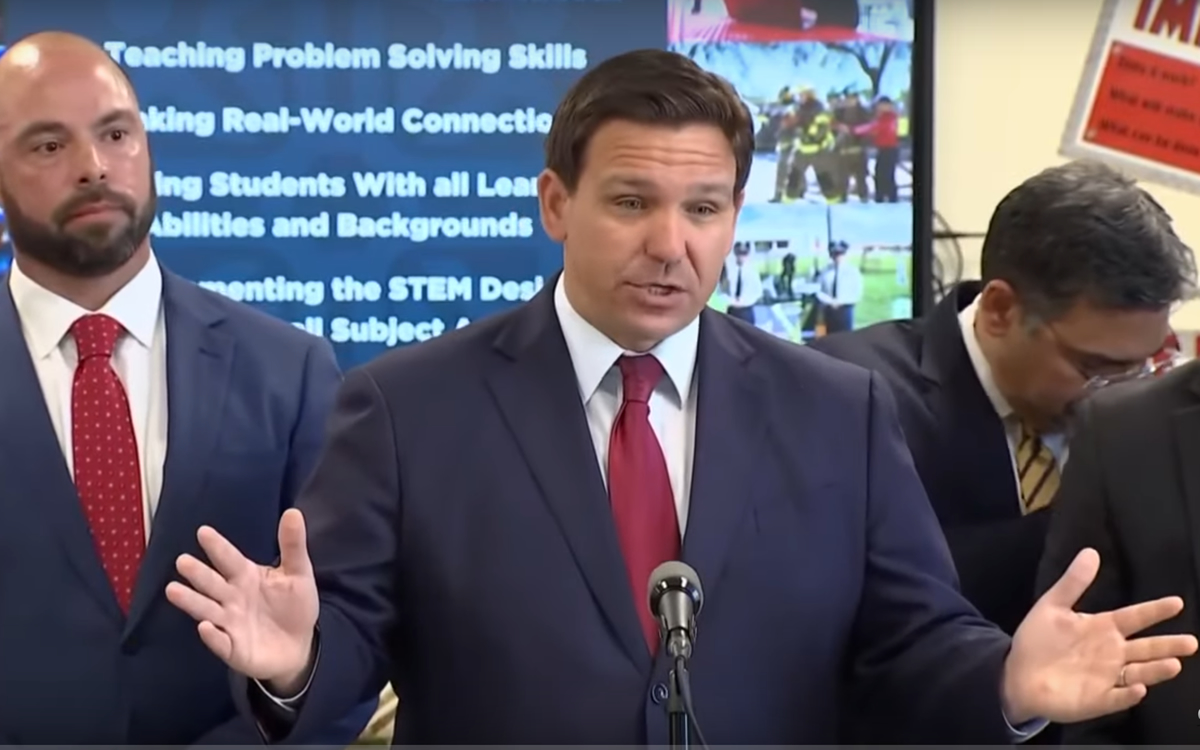 Florida Gov. Ron DeSantis's recent signing of the "Don't Say Gay" bill was a body blow to the LGBTQ+ community — particularly for those of us who trust in our schools to provide a safe and welcoming space for our children.
But it was what the governor's press secretary, Christina Pushaw, tweeted earlier in March that made my heart leap into my throat. "If you're against the Anti-Grooming bill, you are probably a groomer."
As the former executive director of GLSEN, I know a dog whistle when I hear it. And I also know that politicians who have ambitions of running for higher office, like DeSantis, choose their words extremely carefully.
DeSantis is deliberately activating a cultural fear tactic to scare schools and educators away from providing LGBTQ+ children and their families with potentially life-saving support. And unfortunately he is far from alone in going down this dangerous path of spouting hate for political leverage.
Throughout the historic Supreme Court confirmation hearings of Ketanji Brown Jackson, we saw Sens. Ted Cruz, Josh Hawley, and others bring the specter of child indoctrination into the national discussion in the context of race. In doing so, they were following the lead of Christopher Rufo, a conservative activist-journalist known for creating an all-purpose header for all things controversial out of the label "critical race theory" (CRT).
This began to take shape last year with the intentional mischaracterization of schools implementing diversity, equity and inclusion programs as attempts to indoctrinate our kids with divisive leftist ideals. Starting with Hawley's attacks on Judge Jackson, they upped the ante by accusing schools of "grooming" children to be anti-racist — this time drawing from the QAnon playbook.
Radical politicians push legislation like the "Don't Say Gay" bill, or vile rhetoric like the insinuations about Judge Jackson, in order to further their agenda of dismantling our children's access to a good, truly multicultural public education by sowing confusion and distrust, as was openly stated by Rufo at a speaking event at Hillsdale College earlier in April. All the while, they create a deeply dangerous environment for some of our most vulnerable children.
And their timing could not be more dire. This deluge of bad policymaking and shrill rhetoric is happening at the exact moment when we are experiencing a national mental health crisis among our youth. Nearly four out of 10 teens reported feeling "persistently sad or hopeless," according to CDC data — a 40 percent increase from pre-pandemic levels.
Black and LGBTQ+ students in particular are more likely than their peers to have attempted suicide, and when politicians use them as political chips to be played, it compounds those risks. Never mind the fact that schools' efforts to undo racism and anti-LGBTQ+ bias and violence is itself an investment in these children's survival. Black adolescents experience multiple instances of racial discrimination every day, one study found, with real consequences for their mental health. Schools need to play an active role in rectifying that.
In my 20 years at GLSEN, I wrote far too many condolence letters to parents who lost a child to suicide. Some politicians see no harm in shaming and stigmatizing vulnerable children.
We've seen lately this onrush of harmful, self-centered behavior from those in a position of public trust. But on the other end of the spectrum, is Spencer Cox: the Republican governor of Utah who recently issued a brilliant letter explaining his veto of an anti-trans sports bill passed by the state legislature.
Vetoing the bill, which would have banned trans girls from participating in women's sports in public schools, was surely a politically unpopular move in a deep-red state. But after thoughtfully considering the issues, reviewing key research, and weighing the competing needs of stakeholders, Cox took a stand in defense of some of Utah's most vulnerable children.
For all those who rise to the calling of public service, there's a choice to be made. Gov. Cox made the choice to safeguard the most vulnerable youth in his state despite the political implications. I sincerely hope that in this critical moment, more of our country's leaders will follow his example.
And should it take more than their own consciences to do so, let us all hold leaders accountable for the impact of their cynical/vicious/immoral self-centeredness on all of our children.
Eliza Byard is a senior adviser to the Campaign for Our Shared Future, a leading global expert on LGBTQ+ issues in K-12 education and youth development, and served as executive director of GLSEN from 2008-2021. 
Where does wrongful detention of Brittney Griner go from here?
She will inevitably be labeled a hostage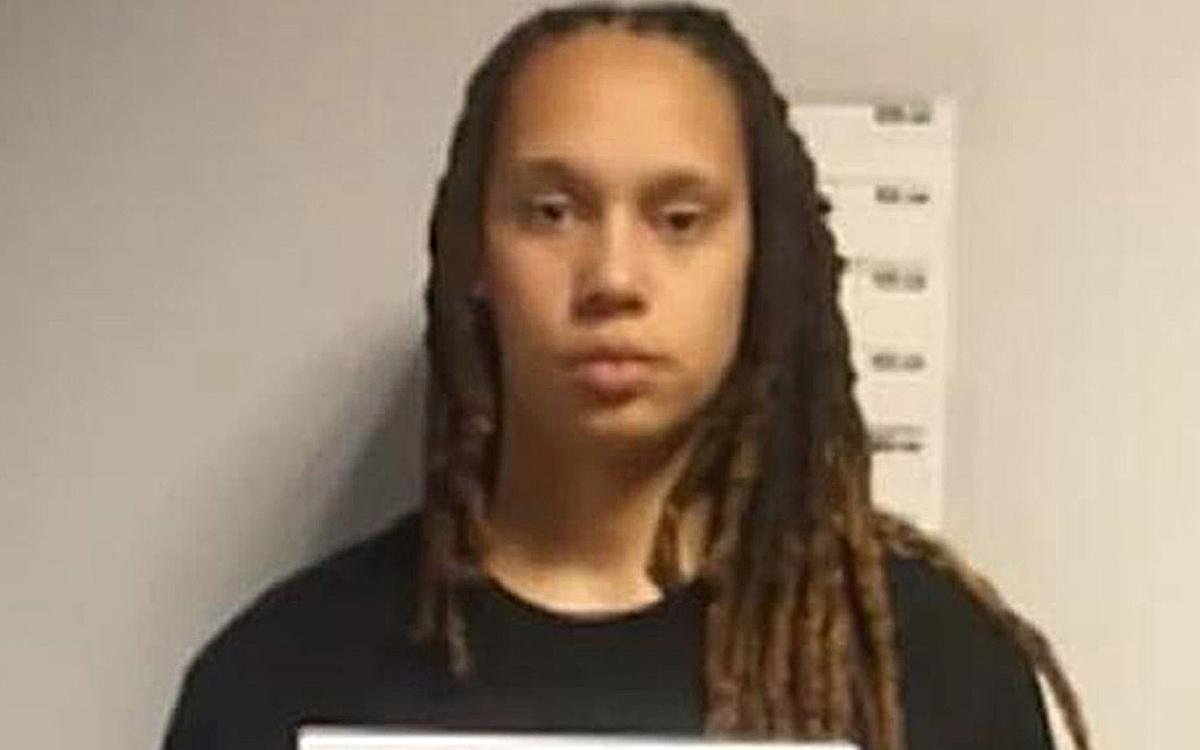 It seems like years rather than weeks ago that American political prisoner, Trevor Reed, was released from Russia in a prisoner swap. It also seems like years since an American citizen, basketball superstar Brittney Griner, was taken into custody in Moscow's Sheremetyevo airport for allegedly having hashish oil in her possession.
We now know what many of us believed all along – that Brittney Griner was, in the far too late proclamation by the U.S. government, "wrongfully detained." In diplomacy-speak, wrongfully detained is synonymous with politically detained, which is super close to what will soon enough inevitably happen – calling Brittney Griner a hostage.
Since the beginning of Griner's detention, I have done dozens of print, radio, TV, and related interviews, and I have a pretty clear view of how and why we got here.
As I wrote around six weeks ago, if we read between the lines of what's being said in traditional and social media, we can extract three key reasons why the Griner situation isn't getting the attention that it should be and would be if it was a different athlete.
The first reason is that Brittney Griner is not a terribly high-profile athlete.
This is patently untrue. As I have been commenting from the minute we learned that she was taken into custody by the Russians, Griner was absolutely the highest-profile American athlete that Russia could have taken into custody as they were preparing for their brutal invasion of Ukraine.
The only other high-profile athletes playing in Russia or transiting through at that time were the very few American players in Russia's top hockey league, the KHL. None are superstars in their sport, as Griner is.
The second argument for why Griner isn't getting the attention she should be is that she is LGBTQ.
I have argued that this is a reasonably good hypothesis. It just seems that a straight athlete would be getting a lot more attention and public sympathy than Griner has, in part, yet not in full, because of her sexual orientation. That's a remarkably harsh position to have to take in 2022, yet it's clear that Griner doesn't fit the mold of what many Americans see as that all-American athlete. That one's sexual or gender orientation should drive the American public's level of sympathy for one of their own top athletes is a shame, but here we are.
The third and most commonly cited reason for Brittany Griner getting less attention than another athlete in a similar situation is that she's Black.
This argument holds little weight with me. Yes, it makes sense that in comparison to a high-profile white athlete, some people are simply going to care less about a Black athlete. Again, that's a harsh analysis, yet not unaligned with many things going on in the nation today.
But I think this is a reductive argument that crumbles under the weight of the analogy that I usually use during TV and radio broadcasts about the Griner case – and that is, what if this was Kyrie Irving?
I like to use Kyrie Irving as an analogy because he is a highly controversial Black athlete. Obviously, NBA players don't have to have second jobs in places like Russia, Turkey, and China, to make ends meet, as the WNBA women do. But just imagine that Kyrie Irving was traveling alone through Moscow airport. If Irving had been taken into custody by the Russians, I can guarantee that this would be front-page news not just in the sports section but on the front page of all significant papers practically every day. That simply hasn't been the case with Brittney Griner.
Every day, I am asked where this goes from here. With Griner's May 19 hearing delayed "one month" (though at the time of writing, no date has been set), I remained convinced of two things: that this goes to a worse place than we are now and that it progresses painfully slowly.
As to the first point, to maximize leverage over the United States, it's likely that Griner will end up somewhere like a Russian labor camp before she ever steps back into the United States. While Russia does not follow the Rule of Law, it would be neither legally nor politically expedient to just hold Griner in a Moscow jail or prison indefinitely. They need to make her situation worse to turn up the urgency of the case for the American government.
But this indeed won't happen overnight. As I've also been saying all along, the next hearing date will also be delayed, OR we will learn through a TASS Russian media release that Griner was tried, found guilty of all charges, and sentenced (see labor camp, above).
As to what each of us can do, my advice remains the same: Keep talking about it. Make this Brittney as viral as Britney Spears was a year ago. Just as Britney Spears' freedom from her conservatorship was turbo-charged by the #FreeBritney hashtag, let's #FreeBrittney now.
This is significantly less trite than it sounds. There is no indication that the American government doesn't want you to forget about Brittney Griner. As former hostage Jason Rezaian discussed on an excellent recent Washington Post podcast, he always "calls BS" on those parties, saying we should keep detentions such as Griner's out of the public spotlight. He advocates being as loud as we can be on this, which is why I keep doing interviews on this issue as much as possible.
Ultimately, Brittney Griner will be a political prisoner until the United States and Russia can decide, in crass basketball terms, on a fair player trade. On Friday, we learned that the two sides might actually be in discussions now for a trade involving Griner for notorious convicted arms trafficker Viktor Bout, aka the "Merchant of Death."
Unless this can re-enter and remain in the public spotlight, along with any pressure on the government, Britney Griner will not get the treatment she deserves as one of the greatest basketball players of her generation. That the massive disparity between how NBA and WNBA players are compensated laid the foundation for her to be in this position is the harsh reality these leagues face today. Yet it pales compared to the uncertain reality Griner faces today in a Moscow jail.
A Pulitzer Prize-nominated writer, Aron Solomon, JD, is the chief legal analyst for Today's Esquire. He has taught entrepreneurship at McGill University and the University of Pennsylvania, and was elected to Fastcase 50, recognizing the top 50 legal innovators in the world.
Leave no one behind: Building an LGBTQ+ movement for all
A just society is only achievable by investing in dignity of the marginalized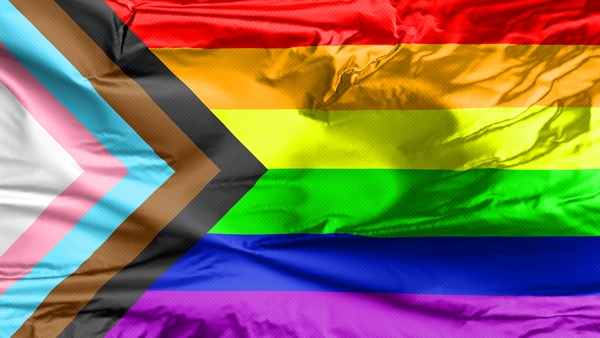 Despite the expansion of LGBTQ+ civil rights and liberties in D.C., some of which we proudly attribute to GLAA's stalwart activism for the past 51 years, the most vulnerable members of our community continue to suffer from poverty, homelessness, criminalization, discrimination, social isolation, and preventable death. A jaw-dropping 40% of homeless youth in the U.S. identify as LGBTQ+, LGBTQ+ people experience hunger at twice the rate of straight people, and right here in D.C., the Office of Human Rights reports that employers are more likely to interview a less-qualified cisgender job applicant than a more-qualified transgender applicant.
So for our 2022 candidate ratings, GLAA decided to emphasize that racial and economic justice are LGBTQ+ justice issues. While we recognize the importance of openly LGBTQ+ candidates, we know one's identity does not indicate where they stand on critical issues. Something many of us have learned the hard way, and something GLAA leadership recognizes not championing sooner as a mistake. What matters most is a candidate's demonstrated record and vision to support the LGBTQ+ community in its entirety.
It is not enough for candidates to respond only to the needs of those who historically have held the most power in the LGBTQ+ community, particularly white cisgender gay men, in order to tout support of the entire community. The LGBTQ+ community is so many different people, and it is time we push candidates to consider and address us in our entirety. For too long, many LGBTQ+ people have felt rejected and betrayed by our community's movement priorities, narratives about what our community stands for, and decisions on who is valued and who is selected to represent or lead us. And, while GLAA understands no one politician or organization can erase these community divides, we aim to be intentional in our approach to dismantle that which stands in our entire community's way toward liberation. That is why, in 2022 we decided to rate candidates on their responses and records of support on issues that impact the most marginalized members of the LGBTQ+ community. None of us is free until all of us are free.
Throughout GLAA's history we have focused on securing LGBTQ+ rights, which have mostly strengthened the legal protections of people privileged enough to take advantage of them. GLAA decided to focus the Leave No One Behind: 2022 Election Guide and questionnaire on racial and economic justice with an LGBTQ+ lens. We did this to build on our victories, such as successfully advocating for the defunding of the Metropolitan Police Department's vice squad in the 1970s, and to learn from our mistakes.
It is our belief that a just, peaceful, and vibrant society is only achievable by actively investing in the security and dignity of the poor and marginalized members of all our communities. Our questionnaire intentionally acts in solidarity with D.C. anti-poverty, anti-stigma, and anti-overdose campaigns, which are largely led by trans and queer people of color.
Ratings are on a scale of +/-10 points: yes/no responses on questionnaire (+/-2); substance of response (+/-4); and candidate's public record (+/-4). Candidates earned partial credit for the yes/no category if they partially agreed with the question. Four issues received more than 91% agreement: increasing the affordable housing stock for the poorest residents, housing people using government funded vouchers, fully funding the Office of Human Rights, and better oversight to improve conditions in the DC Jail.
Three issues received 70-79% candidates' support, and over 90% when including candidates who issued partial support: Repealing the sub-minimum wage, decriminalization of drug use, and reducing the population of D.C. jail by 30%.
Finally, the least supported policies were decriminalization of consensual sex work and divesting from the Metropolitan Police Department and investing in violence prevention and recidivism prevention programs. Even still, there was remarkable consensus: over 2/3 or 66% of candidates who issued total or partial support.
We are encouraged by the remarkable level of consensus on all of our issues, signaling that D.C. is ready for transformative change that at its core addresses the District's current poverty, unaffordable housing, community and police-based violence, and overdose crises.
GLAA is excited to see more LGBTQ+ people on ballots. More exciting, however, is the number of politicians with fully realized and integrated LGBTQ+ policies in their platforms. Policies that extend across race and class lines. GLAA firmly believes all people, regardless of sexual orientation or gender identity, can be stewards of LGBTQ+ liberation. It is our hope that readers find these ratings not as endorsements, but as a starting point to imagine what is possible if local officials are guided by D.C. residents to use their elected power to create new possibilities that leave no one behind.
This opinion piece was signed by the 2022 Gay and Lesbian Activists Alliance board of directors.