June 7, 2019 at 5:14 pm EDT | by Patrick Folliard
Out actor Max von Essen relishes role as Marvin in 'Falsettos'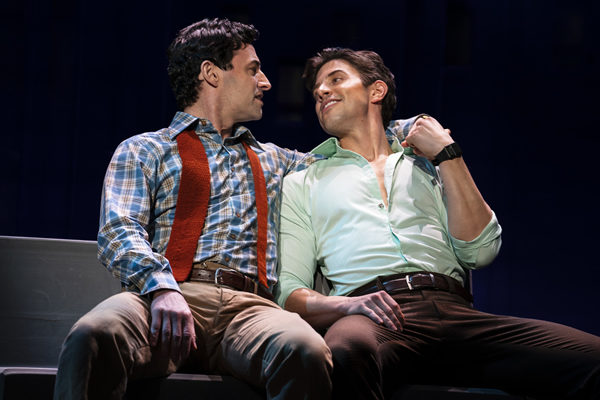 'Falsettos'
June 11-23 
Kennedy Center
2700 F St., N.W.
$49-139
202-467-4600
A Broadway veteran who is frequently offered roles, Max von Essen pushed to play Marvin in the national tour of the Lincoln Center revival of "Falsettos," opening Tuesday at the Kennedy Center. 
A sung-through musical by William Finn and Sondheim collaborator James Lapine, it's the bittersweet story (circa New York City 1980) of a gay man, Marvin, who leaves his wife and young son to be with lover, Whizzer (here played by Nick Adams). When Whizzer is diagnosed with AIDS, Marvin's nontraditional family puts aside issues and comes together. 
"I really wanted it and convinced the creative team that I was right for the part," von Essen says. "There's a lot: the score has some of musical theater's most beautiful songs, truly, and the role is demanding and brings with it a certain sense of responsibility."
When "Falsettos" first opened in 1992, the subject matter was too raw for some gay men. 
"I meet a lot of older men who thank me for bringing this back and for honoring a time they lived through," von Essen says. "I sometimes hear quiet sobs and gasps from the audience. The show still packs a punch. I thought it might be a period piece, but that's not the case. It remains fresh, relevant and emotionally powerful. And I'm shocked at how many LGBTQ kids are coming. They say they can't imagine how bad it must have been for people, and are thankful for the representation." 
Von Essen, 45, is perhaps best known for playing Henri Baurel in "An American in Paris," an adaptation of the classic MGM musical. 
After years of both pounding the pavement and gainful gratifying employment including some Broadway shows, von Essen scored big with Henri. Following a brief run at Théâtre du Châtelet in Paris, the show successfully premiered on Broadway in the spring of 2015. 
"Basically, were I born into a wealthy French family in the early 20th century, I'd be him," he says. "He's gay and wants to be an entertainer in New York but feels pressured to conform to his family's expectations. I knew this character from the start." 
Initially, director/choreographer Christopher Wheeldon wanted a first-class tapper for Henri, explains von Essen. Though he'd never touched a pair of tap shoes, he could deliver the big number "Stairway to Paradise." 
"After a long auditioning process, they cast me. I was given simple steps and people danced around me."
It seems Henri was a part Von Essen was preparing for his entire life. Growing up the youngest of four on Long Island, N.Y., he was obsessed with Gershwin. 
"I played piano, plowed my way through books and taught myself his songs. I watched old MGM musicals and dreamed of being in them. Our 'An American in Paris' was an MGM musical come to life on stage."
By high school, von Essen was fully hooked on musical theater. Still, Broadway somehow seemed a distant and unattainable thing. At the University of North Carolina at Chapel Hill, he majored in voice and economics and despite doing a lot of theater on campus, he still fought the call of show biz. 
After graduating, he gave himself two years to pursue a career in theater. If nothing happened, he'd try another field. Within a few months he was cast as a chorus boy in Liza Minnelli's act. 
"When you work for Liza you're met by a driver, you fly off for weekend gigs in Vegas and Monte Carlo. But she's incredibly down to earth — friendly, funny and little dirty. In our down time we'd see movies and go to dinner. Then I'd go back to my hotel room and scream into my pillow. I was just 22 and couldn't believe this was my life." 
He's worked ever since. Sometimes not exactly where he wanted or the right part, but always working. 
Still, even today, von Essen is worried that he might have reached his peak or his current job might be his last.
"It's an occupational hazard. Even if you're booked a year or two out, you enjoy it, but you're never entirely relaxed."
Following the Kennedy Center, "Falsettos" plays a week in Charlotte, and then the tour ends. Though he'll miss the part, he's eager to return to his partner and their Sphinx cat Pocket in Hell's Kitchen. Looking forward, he'd like to do some Sondheim, He's thinking "Sunday in the Park with George," or maybe "Company."
In the meantime, he'll be on the lookout for his next big gig.