June 9, 2019 at 6:25 pm EDT | by Mark Lee
New D.C. voters trend more independent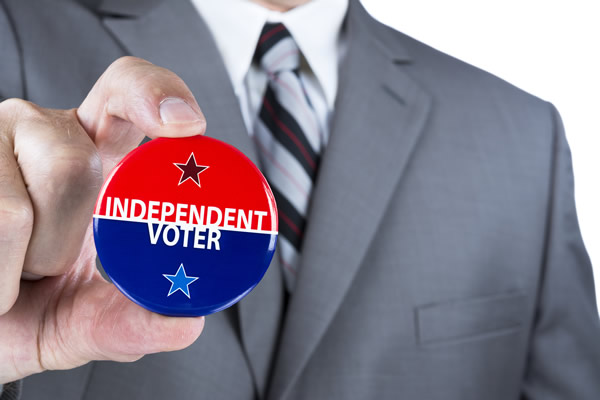 An examination of new voter registrations in D.C. during the past 12 months reveals a noticeable trend consistent with nationwide voter preferences.
It's no secret that political party affiliation has fallen out of favor across the country in recent years. A plurality of all registered voters nationwide identify as independents, as do a majority of those under 35. This shift now appears to be gaining momentum in the District.
While new and total citywide registrations remain overwhelmingly Democratic, the dominant party's share of sign-ups over the past year has declined by nearly 10 percent compared to the prior overall tally.
More startling is that for the most recent quarter-year spanning the last three-month period, independent voters among new D.C. registrations represent a whopping 34 percent share, while those joining the voting pool as Democrats have dropped a massive 20 points to only 56 percent.
The new-voter swing away from alignment with the majority party in the District has resulted in a directly corresponding increase in 'independent' registrations over the past year.
The D.C. Board of Elections monthly new registration summaries from May 1, 2018, through the most recent currently available report ending April 30, 2019, indicate that the Democratic Party share shrunk to 70 percent of the latest voter enrollments during this annual period. This represents a six-point percentage drop compared to the prior year-ago overall share of total registered voters.
Among slightly more than 45,000 new registrations in the last 12 months, a handful less than 10,000 have enrolled as unaffiliated voters.
This shift in party affiliation preference has exclusively increased the share of "No Party" registrations, with independents rising to slightly more than 22 percent among new voter filings over the past year. The number of non-party sign-ups equals the decline in new Democrats.
The 12-month percentage share of new enrollments for the Republican, Statehood Green, Libertarian, and other minor parties remained static with overall shares at a combined total of nearly eight percent. The GOP represents the second-largest political party at a modest six percent of voters, unchanged from a year ago.
The recent growth in independent registrations is especially significant given that the city's archaic 'closed primary' system prohibits unaffiliated voters from fully participating in the electoral process. Registering as a non-aligned voter comes with the penalty of disenfranchisement, and precludes having a voice in determining the eventual winner in what is essentially a one-party town.
The current trend reducing the number of new Democratic voters, if it continues, will nonetheless take a relatively lengthy period to dramatically affect total affiliations. This is due to the vast majority of voters not reconsidering their registration until such time as required due to a change in address, deactivation caused by non-participation, or updating a married surname change. In addition, given the participation-limiting outcast status of registering as an independent, there is little upside or incentive to doing so in D.C.
Therein lies the rub.
Incumbent elected officials, all Democrats or Democrats-in-disguise masquerading as pseudo-independents to qualify for the two at-large D.C. Council seats reserved for non-majority-party candidates, stubbornly resist reforming the city's outdated voting restrictions penalizing non-aligned voters.
The reason is simple: Current officeholders know that, if given a fair and equitable choice, a significant number of voters would gradually switch to independent status. In addition, Democratic incumbents and challengers alike prefer essentially winning election by only having to appeal for votes among party members.
Local politicians have approved an extravagant campaign public financing system currently being implemented, debated lowering the voting age to 16, and will soon consider looming proposals to offer mail-in ballots and to "re-enfranchise" incarcerated felons.
Yet when it comes to ending the disenfranchisement of independent voters by implementing open primaries or a unified primary with "top-two" run-offs there's only silence.
Oh, yeah, plus an embarrassing decline in voter turnout.