GOP congressman urges: 'Don't be an asshole, don't be a homophobe'
Rep. Hurd addresses Log Cabin Pride event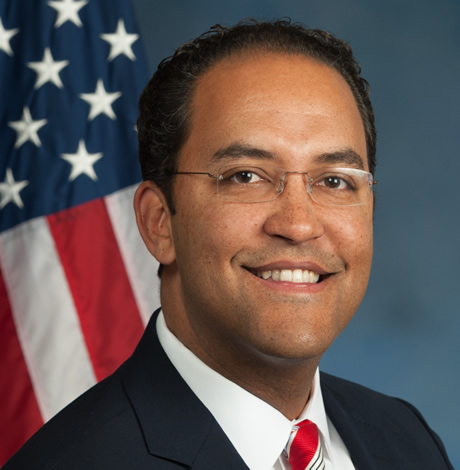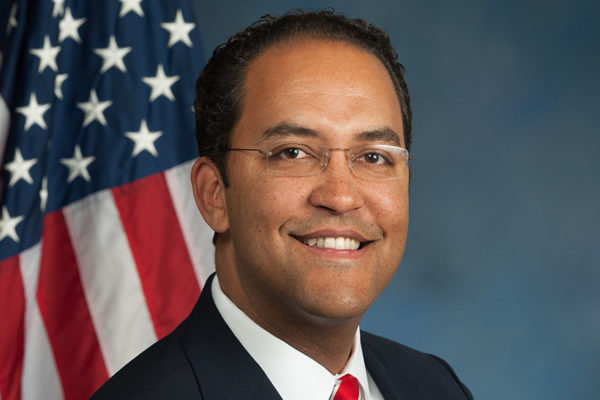 Rep. Will Hurd (R-Texas), the only African-American Republican member of the U.S. House of Representatives, praised the LGBT GOP group Log Cabin Republicans and its work on behalf of LGBT rights at a June 20 Pride Social gathering organized by Log Cabin Republicans of D.C.
Close to 70 people turned out for the gathering at the Chastleton Apartments ballroom on 16th Street, N.W., which Log Cabin D.C. billed as a bipartisan event. Among those attending were many LGBT Democrats and D.C. elected officials, including Advisory Neighborhood Commissioners and D.C. Board of Education President Ruth Wattenberg.
"It's a pleasure to be with you all today because you all know something that many of my colleagues don't," Hurd told the gathering. "If you're at least the age of 40 in most places across this country you have to whisper that you're a Republican," he said. "This is a party that is shrinking. The party is not growing in some of the largest parts of our country," he continued.
"Why is that? I'll tell you. It's real simple," said Hurd. "Don't be an asshole. Don't be a racist. Don't be a misogynist, right? Don't be a homophobe. These are real basic things that we all should learn when we were in kindergarten."
Hurd's district in Southern Texas includes more than a third of the U.S.-Mexico border. He has broken from many of his fellow Republicans by expressing strong opposition to President Trump's controversial proposal to build a wall along the entire U.S.-Mexico border.
He is also one of just eight Republicans in the House that voted earlier this year for the LGBT civil rights bill known as the Equality Act, which the House passed but is stalled in the Senate.
Hurd told the Log Cabin gathering that he has a quick reply to those in his majority Latino district in Texas and in Washington who ask him how he came to support LGBT rights.
"People would ask me and I would say, look, are you asking the only black Republican to support not being pro-equality?" Hurd said. "And most people never have a follow-up question to that."
Added Hurd: "And you all have been toiling and fighting for a very long time. You all have had a difficult fight not only in our country but in our party. And so I just thank you for sticking to it. Thank you for caring about our principles. Thank you for being an example for so many other people."
Log Cabin D.C. President Adam Savit and the group's vice president, Patrick Wheat, said they believe the event, in which attendees mingled before and after Hurd spoke, succeeded in furthering a campaign started earlier this year by gay Democratic activist Paul Kuntzler to build a bipartisan effort to advance the rights of LGBT people. Kuntzler was among those who attended the event.
"It exceeded my expectations," Wheat said. "I'm extremely excited to have as many representatives from both the LGBT community and the D.C. elected officials," he told the Blade. "We are in a unique place as the District of Columbia Log Cabin Republicans to serve as a conservative voice in LGBT spaces and as an LGBT voice in conservative spaces."
Among the others attending the event were Jerri Ann Henry, executive director of the national Log Cabin Republicans; Robert Kabel, chair of the board of the national Log Cabin group; Bobbi Elaine Strang, president of the D.C. Gay and Lesbian Activists Alliance; Jose Cunningham, the gay chair of the D.C. Republican Party; and James Abbott, a member of the U.S. Federal Labor Relations Board.
U.S. Rep. Will Hurd (R-Tex.)

Remarks before Log Cabin Republicans of D.C. Pride Social

June 20, 2019

Chastleton Apartments Ballroom

Washington, D.C.
First of all, thanks for not un-inviting me. I don't know if you all heard, I got invited to a cyber security event and was quickly disinvited after they saw my positions.
It's a pleasure to be with you all today because you all know something that many of my colleagues don't. If you're at the age of 40 in most places across this country you have to whisper that you're a Republican. This is a party that is shrinking. The party is not growing in some of the largest growing parts of our country.
Why is that? I'll tell you. It's real simple. Don't be an asshole. Don't be a racist. Don't be a misogynist, right? Don't be a homophobe. These are real basic things that we all should learn when we were in kindergarten. But unfortunately there's too many people that don't follow those things.
A lot of people when I first got elected – it was like how did the black dude get elected in a Latino district? It's real simple. Show up, talk to people, right? I don't care where you're from. Most people realize the way we solve problems is by the power of the people not by the power of the government.
Most people know that the way to help people move up the economic ladder is by focusing on the free market. It's not socialism. We know these things. But if people don't feel like you trust them or you care about them they're not going to listen to your ideas even if your ideas are benefiting the masses.
So that's something that I'm trying to do. You know it's unfortunate that I was only one of eight Republicans that voted for the Equality Act. I had a real – this guy is taking a lot of notes. Do we have the press here?
DC LCR Vice President Patrick Wheat: He's with the Washington Blade.
Hurd: Ok, good…Be kind. That's all I'm asking. People would ask me and I would say, look, are you asking the only black Republican to support not being pro-equality, right? And most people never have a follow up question to that. But the bottom line is this. We are facing – 2020 is going to be difficult. But the only way we make sure the principles and theories that we believe in are to continue to exist is if our party starts believing like the rest of the country.
And you all have been toiling and fighting for a very long time. You all have had a difficult fight not only in our country but in our party. And so I just say thank you for sticking to it. Thank you for caring about our principles. Thank you for being an example for so many other people.
And just know you've got some partners to fight on behalf of everyone. This is something that I'm going to continue to do while I'm in Congress, and God bless you all…And one minute, please. Can I tell a quick story? I'll make it short.
So you also know that I was in the CIA for nine and a half years. I was doing the back allies at four O'clock in the morning collecting intelligence to protect our homeland – two years in India, two years Pakistan, two years in New York City, and a year and a half in Afghanistan.
And when I was in Pakistan it was in 2005 during an earthquake. I was there when an earthquake hit Cashmere that killed 80,000 people. The ambassador at the time wanted to figure out how we can help the Pakistani people. He said hurry up and get there and figure out what we need and he said we really need an airlift because Cashmere was at 14,000 feet. A lot of villages were even higher up. They were cut off from most of the country.
So we got about two dozen Chinook helicopters – C 47 helicopters. And I was directing this traffic to help people from these villages that were cut off. And I was about to jump on one of these helicopters to go to my bed down location and we had a report that one village had gone without food and water and power for about four days. And it was in the middle of the winter. At night it was negative 23 degrees below zero. It was a legitimate 20 degrees below zero.
So we decided to make one more stop. So we land in this village, big main doors open. And if you've ever seen a helicopter crew, they look like they're from outer space. You know the flap mask, all this kind of stuff. And these villagers start piling on – about 200 people. And there is a little girl who had been without food and who was about six or seven years old – lost both her mom and her dad in the earthquake. She sees this whole scene. She's crying. She's scared, she's upset.
And this village elder picks her up. So I grab this little girl and hold her as tight as I possibly can. And halfway through the flight she kind of calms down and relaxes a little bit. When we get to our destination we open the big doors in the helicopter. I put the little girl down. She takes about ten steps, turns around, comes back and gives me the biggest hug of my life. She goes over to the helicopter crew and the person she probably thought was from outer space and she kisses him on the hand. And he pats her on the head and gives her the thumbs up. She smiles real big and returns the gesture. And she runs away.
That little girl's face is seared into my mind because that girl and what we did that day is an example of how the United States government is the only country that has the resources and the willingness to help people even when they're 7,000 mile away. It's another example how America has become the exceptional country, not because of what we have taken but because what we have given.
And we can measure our success on what we give, not what we take. And that's something I'm going to continue to try to do in Congress. I'm glad there's folks like you all that are willing to join this battle as well. God bless you and God bless the United States of America.
D.C. rejects request by gyms to lift mask mandate
LGBTQ-owned venues sign letter calling requirement 'devastating' for business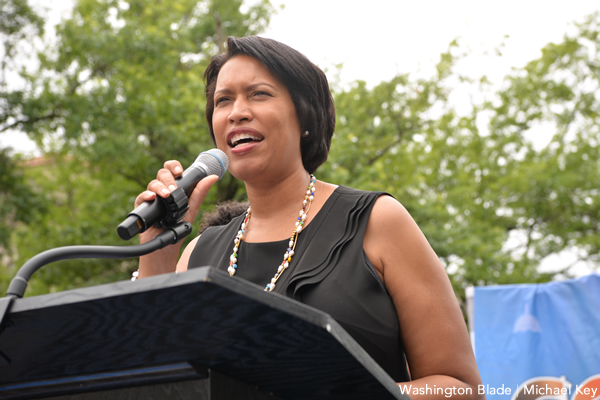 Owners of two LGBTQ-owned D.C. fitness studios and one gym signed on to a joint letter with the owners of six other similar businesses urging D.C. Mayor Muriel Bowser and D.C. Department of Health Director Dr. Laquandra Nesbitt to lift a city mandate requiring patrons of gyms and fitness studios to wear masks.
The Oct. 4 letter, written by gay businessman Bryan Myers, the CEO and president of a chain of local fitness studios using the trademark name of [solidcore], states that the mask mandate, which applies to people who are fully vaccinated for the coronavirus, is based largely on outdated data pertaining to gyms and fitness studios collected prior to the widespread availability of the COVID vaccine.
"More relevant data to inform decision-making would be to study the data from two, large Northeastern cities that have opted to allow fitness classes to continue with the requirement of vaccination in lieu of a mask requirement," the letter states. "In both New York City and Philadelphia, which have opted for this approach, we have not seen an increase in the trajectory of the Delta variant," Myers says in the letter.
In the last week of July, the U.S. Centers for Disease Control and Prevention issued a recommendation that cities and local jurisdictions with 50 new COVID cases per 100,000 residents per week, which at that time included D.C., should ask residents to voluntarily resume wearing masks indoors. That same week, Bowser announced she would go one step further by mandating the indoor use of masks in most public places, including gyms and fitness spas or studios.
Bowser and Nesbitt said their intention was to take immediate steps to curtail the spread of the coronavirus so that the city would not be forced to return to the full shutdown mode, including the closing of businesses, that the mayor lifted earlier this year.
Maryland Gov. Larry Hogan and Virginia Gov. Ralph Northam announced they would ask residents of their states to consider using masks in crowded indoor spaces as recommended by the CDC, but said they would not require mask use.
In their letter to Bowser and Nesbitt, the gym and fitness studio owners called on the mayor to provide the same exemption to their businesses as the city has provided for restaurants, bars, and nightclubs, which requires masks except when patrons are eating and drinking.
"While it is true that bars, restaurants, and clubs technically have to follow the same guidelines, we know that in practice, these venues have been granted exceptions by D.C. Health," the letter says. "On any given night, you can find hundreds of individuals crowded into a U Street bar, at a Capitol Hill restaurant, or thousands at a performance or party at The Anthem enjoying themselves – singing, dancing and physically exerting themselves, shouting – maskless – so long as they have a drink somewhere nearby," says the letter.
"And to be unequivocally clear, we are not advocating that there is anything wrong with what is happening in other industries or that there be a change to the management of those industries/venues," the letter continues. "We are simply advocating that we be treated the same as they are."
The letter adds, "Finally, but perhaps most importantly, the mask mandate for fitness studios and gyms has resulted in devastating financial impact to these businesses – many of which are small locally owned."
It says patronage has dropped 50 percent for some of the fitness centers and gyms since the mayor's mask mandate took effect July 29. It points out that the drop in customers comes at a time when many of these businesses have spent thousands of dollars and in some cases hundreds of thousands to upgrade their ventilation and filtration systems and other structural steps to curtail the spread of the coronavirus.
Myers told the Washington Blade in a statement that neither the Department of Health nor the mayor's office replied directly to the gym and fitness studios' letter.
Channel 7 News reported that in response to its request for the city's reaction to the gym and fitness studios' concerns, the Department of Health released a statement saying, "D.C. Health's stance is that persons should wear masks in gyms and during this time [we] do not have plans to change our stance on this guidance."
In his statement to the Blade, Myers said the D.C. gym and fitness studios were frustrated and disappointed that the city at this time is not open to reconsidering the mask mandate for gyms and fitness studios, many of which he said are barely surviving.
"This mandate is directly affecting the livelihoods of residents of the District, many of whom are women, people of color, and/or LGBTQ+ in a policy that is simply not equitable, and is steering residents away from services that can help improve the overall health of our community," Myers said.
Heather Mizeur congressional campaign raises more than $1M
Former Md. delegate challenging Andy Harris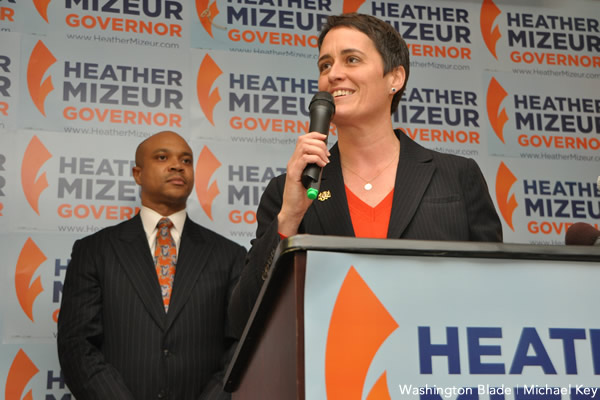 Heather Mizeur has raised more than $1 million in her campaign against anti-LGBTQ Republican Congressman Andy Harris in Maryland's 1st Congressional District.

"No candidate in #MD01 of either party, incumbent or challenger, has ever hit the $1M milestone this early in the election cycle," Mizeur tweeted on Oct. 6.

The Victory Fund in an Oct. 8 press release said 80 percent of this $1 million came from Maryland-based donors, "a sign the district is ready for new representation." And Mizeur continues to outpace Harris, according to campaign finance reports filed with the Federal Election Commission that say she raised $717,445 for the cycle ending June 30, while Harris raised $425,288.

"Andy Harris has taken every opportunity to attack and vilify trans individuals, trying to score political points with his base at the expense of the safety of some of his constituents," Mizeur told the Washington Blade.

In 2014 Harris made the Human Rights Campaign's "Hall of Shame" for proactively working "to undermine existing legal protections and promote anti-LGBT discrimination."

"In contrast, the LGBTQ community knows me for my record," Mizeur said. "And knows I'll always lead with compassion and stand up for civil and human rights. I think the 1st District will respond to my message of respect and understanding."

Mizeur, who now lives on the Eastern Shore with her wife, served on the Takoma Park City Council. Mizeur was a member of the Maryland House of Delegates for eight years.

In 2014, she launched a long-shot, grassroots campaign for governor where she finished a strong third in the Democratic primary, despite being outraised by better-known opponents.

But Mizeur also said she is aware of the challenges her team faces in taking on a well-entrenched Republican in a solidly conservative district.

The Cook Partisan Voter Index in 2017 rated the district as R +14, meaning the previous two presidential election results in the district skewed 14 percentage points more Republican than the national average.

"We have over $760,000 in the bank, and we've outraised him during our time in the race," Mizeur said. "We're raising the money we need to go toe-to-toe with Andy Harris next year."

The Baltimore Sun in February reported Harris was "flush with campaign cash" mostly due to a 2010 redistricting that "packed" the area with Republican voters to increase Democrats' chances in other district races.

"Yes, Andy Harris has over $1 million in the bank, stockpiled over a decade in office," Mizeur said. "But in the short time I've been in the race, we've cut significantly into his cash on hand advantage."

Harris has represented the 1st Congressional District—which includes Maryland's Eastern Shore and parts of Baltimore, Carroll and Harford Counties—since 2011 and easily fended off most challenges with at least 60 percent of the vote. These challengers include Mia Mason, a transgender military veteran, who ran against him in 2020.
The 2010 redistricting made Harris' seat safe enough not only to donate nearly a third of his war chest to conservative groups and candidates, such as U.S. Reps. Lauren Boebert (R-Colo.) and Marjorie Taylor Greene (R-Ga.), but to openly court controversy himself.
Harris last year openly defended then-President Trump's discredited efforts to overturn the 2020 election. And in December he signed onto an amicus brief supporting a failed lawsuit contesting the presidential election results.

This year he downplayed the violence of the Jan. 6 insurrection in which numerous police officers were attacked, members of Congress were threatened, and the U.S. Capitol was vandalized.

Mizeur told the Blade that while Harris' actions regarding the Jan. 6 insurrection were the catalyst for her challenging his seat, she feels the district is changing and he no longer represents their interests.

"Our supporters know he's been embarrassing Maryland in Congress for far too long, and that some of his actions have shown he's completely unfit to serve in public office, regardless of ideological views," Mizeur said. "They want someone who will bring compassionate leadership and innovative thinking back to the first district. And that's appealing to people across party lines."

Maryland's primary election is June 28, 2022, and its general election follows on Nov. 8.
AU student expelled over arrest in attack on gay Asian man, parents
Patrick Trebat no longer affiliated with university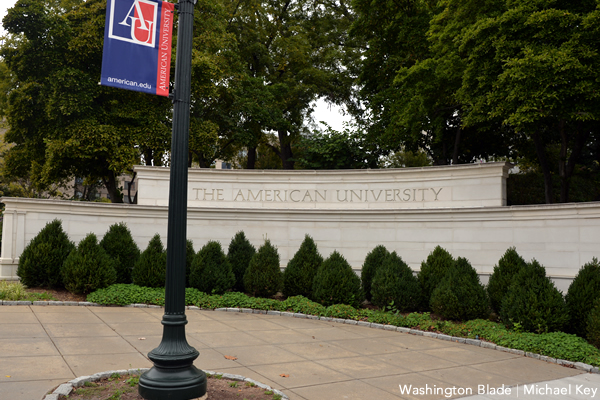 An American University graduate student who was arrested by D.C. police on Aug. 7 on charges that he assaulted a gay Asian man and the man's parents while shouting homophobic and anti-Asian slurs "is no longer affiliated with the university and will not be allowed on campus," according to a report by WTOP News.
In an Oct. 9 broadcast that it updated this week, WTOP said Patrick Trebat, 38, who had been taking a night class at the university's Kogod School of Business, was banned from returning to the campus.
Charging documents filed in D.C. Superior Court show that Trebat was charged by D.C. police with one count of felony assault, two counts of simple assault and one count of destruction of property for allegedly assaulting and injuring Sean Lai, 30, an out gay man of Chinese ancestry, and his parents on the 3700 block of Fulton Street, N.W., on Aug. 7.
The charging documents say Trebat allegedly began to follow Lai and his parents as they were walking along the street in the city's Observatory Circle neighborhood near the National Cathedral. According to a statement by a police official from the police district whose officers made the arrest, Trebat punched and kicked the three victims as he stated, "Get out of my country." The police statement says the family was taken to a hospital for treatment of non-life-threatening injuries.
A separate police report says Trebat shouted the word "faggots" at the family and shouted, "You are not Americans!"
Based on these allegations, prosecutors classified the assault charges as an anti-Asian bias related crime, but they did not add an anti-gay classification to the charges.
Court records show that Trebat was released two days after his arrest while awaiting trial under the court's High Intensity Supervision Program, which, among other things, imposed a curfew requiring him to return home by 10 p.m.
An Oct. 8 story in The Eagle, the American University student newspaper, says it learned that Trebat's attorney filed a motion in court, which the Washington Blade also discovered from court records, asking a judge to extend the curfew deadline from 10 p.m. to 11:45 p.m. so that Trebat could attend at night class at American University.
The motion, which prosecutors with the U.S. Attorney's Office did not oppose and the judge approved, identified Trebat in the public court records as an AU graduate student.
According to the Eagle, representatives of the university's Asian American and LGBTQ student groups criticized university officials for not alerting students that an AU student charged with an anti-Asian hate crime while hurling homophobic slurs had access to the campus and could pose a danger to students.
"Patrick Trebant is not affiliated with American University and is not allowed on campus," AU told the Blade on Wednesday in a statement. "While we cannot discuss details of an individual matter, when a student has been arrested, charged, convicted of, or sentenced for a felony crime, the university's student conduct code provides for an administrative adjudication process. The safety of our students and our community is our priority."
The Eagle reports that the code of conduct states that the dean of students or their designee can administratively adjudicate a case when a student has been accused of a non-academic offense "where the student has been arrested, charged, convicted of, or sentenced for a felony crime" for certain misconduct. The code of conduct applies in a situation in which a student is arrested for an off-campus allegation.
Court records show Trebat is scheduled to return to court at 9:30 a.m. on Nov. 15 for a felony status hearing before Superior Court Judge Judith Pipe.
Neither Trebat nor his attorney, Brandi Harden, could immediately be reached for comment.