July 18, 2019 at 12:16 pm EDT | by Lane Hudson
Companies must end support of worst anti-gay politicians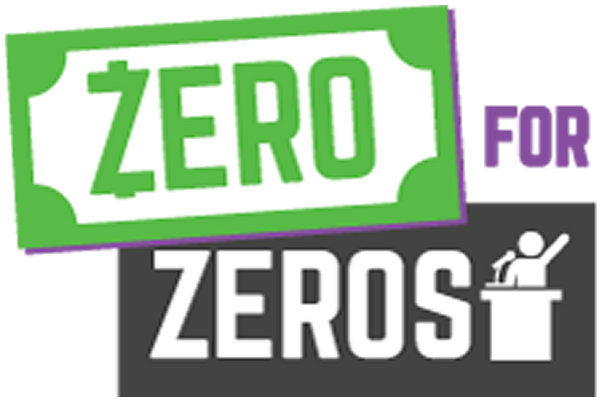 The first time I saw large contingencies of employees proudly marching under their employers' banners in a Pride parade, I felt a sense of awe that these large corporations supported their LGBT employees in such a public way. It was reassuring that corporate America had our back.
However, when we took a look at their corporate PAC contributions, we realized that isn't always the case. That's why the Zero for Zeros campaign was created, so we could call attention to corporate PAC contributions to the worst of the worst Members of Congress from our best corporate allies. We hold strong that our allies should stop giving to the politicians who work every day to turn back the progress we have worked together to achieve.
The Human Rights Campaign Foundation manages and makes public both their Corporate Equality Index and Congressional Scorecard. This is where our research began, with all of the politicians who scored a 0%. Then we applied an extra filter for other aggressive and anti-LGBT actions outside of the HRC Scorecard to find the worst of the worst, producing a list that includes 10 House members and 19 senators.
Then we researched publicly available campaign contribution data. We looked to see who among the almost 600 companies with a 100% on the HRC CEI contributed to the 29 worst of the worst politicians. We found 49 companies whose corporate PACs support these anti-LGBT politicians who lead the charge against equality.
We understand that LGBT equality isn't the only issue important to corporate America. However, these companies have made it absolutely clear that diversity and inclusion are a core part of their identities. They invest heavily in their LGBT employees having a safe and productive work space, they support their employees' LGBT employee resource groups, they sponsor and march in Pride all over America and abroad, they don't support anti-LGBT organizations, they market to the LGBT community and they have signed onto court briefs to overturn Prop 8 and DOMA, to support marriage equality and recently to support inclusion of sexual orientation and gender identity under Title IX of the Civil Rights Act.
They do all this good while propping up those who stand directly in the way of full equality. It's misleading, counterproductive to progress and violates their corporate values.
We are not asking for the moon. We are simply asking our best corporate allies to end their PAC contributions to a small group of politicians that work against us at every turn. After an internal review of past giving, these companies will find this is indeed not a heavy lift. Our target group is less than 5% of Congress, leaving plenty of room for companies to spread their PAC money to people who don't actively undermine our work on equality.
These companies have excellent track records on LGBT equality and should rightfully be proud of that. HRC should be incredibly proud of their role in guiding corporate America along a pathway to being staunch allies to our community. The Zero for Zeros campaign is appreciative of all this and thankful for the work done that makes this new effort timely and reasonable. And yet we believe more can and should be done.
Last week, the campaign began by mailing letters to the CEOs of the first wave of companies we are looking to work with. It's important that they know we are seeking productive conversations with them. We are also launching an online advertising campaign to generate support in targeted areas. So far, we have gotten favorable press coverage from Buzzfeed, NY Daily News, Mic, and Gay City News, among others.
The Zero for Zeros campaign is well researched and narrowly focused. We are running this campaign professionally and treating folks with respect. Our ask is reasonable and we expect our corporate allies to work with us in good faith. Our core values are an aligned vision. We share a common vision of a future that is inclusive and diverse that will make us stronger.
Our campaign aims to send a message that it is unacceptable to work against the basic rights of the LGBT community. This is simple and an easy lift for our best corporate allies.
Lane Hudson is a longtime LGBT rights activist based in D.C.