July 18, 2019 at 7:49 am EDT | by Brian Gaither
Mayor Pete, the A-Peck-olypse, and what we should be talking about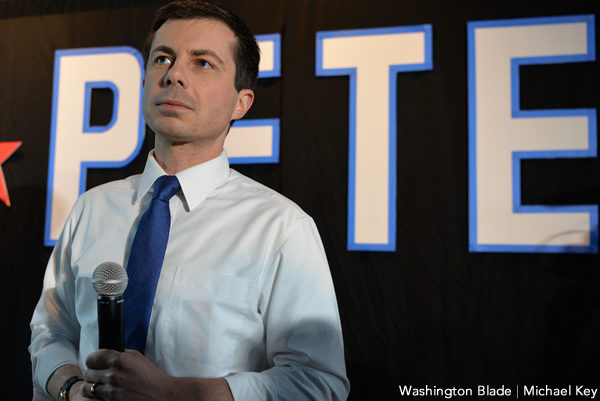 Last Friday, The New Republic did something totally unexpected. It allowed Dale Peck, a gay writer known for his aggressive prose style, to talk about Mayor Pete Buttigieg publicly in the way that we gay men often talk about one another only amongst ourselves. What Peck wrote, in his characteristically blistering way, was the piece "My Mayor Pete Problem."
It was a raw polemic so forceful that it sparked an immediate and implacable outrage. Hours after posting it, The New Republic took it down. In its place, an editor's note appeared to say it was "inappropriate", "invasive", and regrettable. On Saturday, the magazine's publisher apologized both to his readers and to Buttigieg.
To me it's still unclear what was most damning. Perhaps it was Peck's transformation of "Mayor Pete" into "Mary Pete." Maybe it was the various references to gay sex. Possibly it was the shocking notion that gay adolescents sometimes consider exploring their sexuality with older men. Whatever its perceived sins, the handiwork of Dale Peck was erased.
But the Internet is forever, and "My Mayor Pete Problem" hasn't really disappeared. If you choose to read it, you should. Though, read also "Define 'Homophobic'" by Rich Juzwiak, which dissects the intent and historical context of Peck's polemic. Neither piece is "regrettable," and together they're an important reminder that for gay men to critically discuss the politics — sexual or otherwise — of our fellow gay men is never homophobic.
Some months ago, I wrote that LGBTQ people have the right to discuss the Buttigieg candidacy for its impact on our community and that we have an obligation to do so in honest ways that help America gauge the character of the nation's first credible, openly gay candidate for president. Peck did both.
Over the course of his own life, Peck has seen the handiwork of closeted politicians like Ed Koch, Larry Craig, Aaron Schock, Mark Foley, and others who found ways to hurt us with their silence, with their inaction, and with their support for policies directly opposed to our interests. Peck has buried friends because of such men, and he owes no one an apology for challenging Mayor Pete's politics — past or present, sexual or otherwise — if he feels they pose a threat.
Without "My Mayor Pete Problem" it's entirely possible that the New York Times wouldn't have reported on "Pete Buttigieg's Life in the Closet." It's likely the Times' profile would have ignored discussing how Buttigieg used a process of "compartmentalization" to avoid thinking about the impact on himself of passing laws to benefit South Bend's LGBTQ residents. We certainly wouldn't have confirmation that Buttigieg willfully distanced himself from policies that might help his LGBTQ constituents, and we definitely couldn't connect that fact to his actual record on LGBTQ issues as mayor.
Each year the Human Rights Campaign publishes a scorecard called the Municipal Equality Index (MEI). According to the MEI, LGBTQ people living in South Bend saw no material benefit from having an openly gay mayor during the period from 2015 to 2018. Over those four years, the city's score dropped from 80 to 72. Even as Mike Pence was working to implement RFRA, and thereby make Indiana a more hostile place for LGBTQ people, the MEI tells us that South Bend did nothing to make itself more pro-equality than the state as a whole.
This is a dubious record for any pro-equality Democrat. But it's an outright betrayal from an openly gay man who won 80% of the vote after coming out in the midst of his re-election campaign, who had the authority to improve the lives of LGBTQ people, and who has bragged about his political ability to transform South Bend in every other way.
Regrettably, no one has vetted Buttigieg's record of support for the LGBTQ community in the city he governs. And there is still resentment for thoughtful members of our own community who have expressed their doubts about his candidacy. We may not appreciate how Peck spoke of Buttigieg, but he's forced us to be a little more honest with ourselves about whether we're supporting "Mayor Pete" or "Mary Pete."
Hopefully, the A-Peck-olypse is finally the start of the broader conversation we should be having.
Brian Gaither (@briangaither) is a gay activist and writer in Maryland.