July 25, 2019 at 6:43 am EDT | by Patrick Folliard
Michael Kahn bids farewell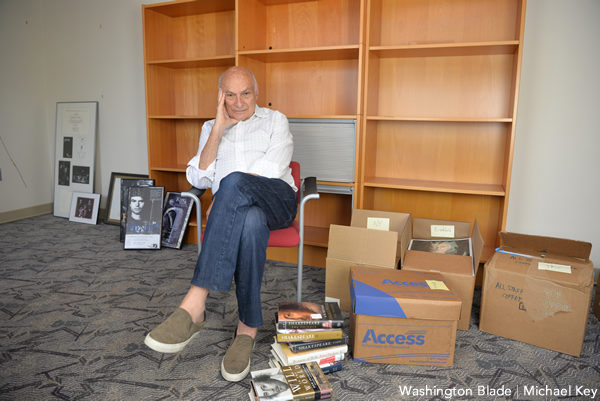 After thirty-three years, Michael Kahn's splendid tenure as artistic director of the Shakespeare Theatre Company is over. "It's been a great ride," he says. "And the funny thing is, I sort of just fell into it."
Kahn first came to D.C. in 1986 to advise The Folger Theatre on how to keep classical theater afloat. He stayed on as the artistic director of the Shakespeare Theatre at the Folger, and then took the newly named Shakespeare Theatre Company (STC) to the larger Lansburgh location. Later he oversaw construction of the impressive Sidney Harman Hall, allowing the company to further expand.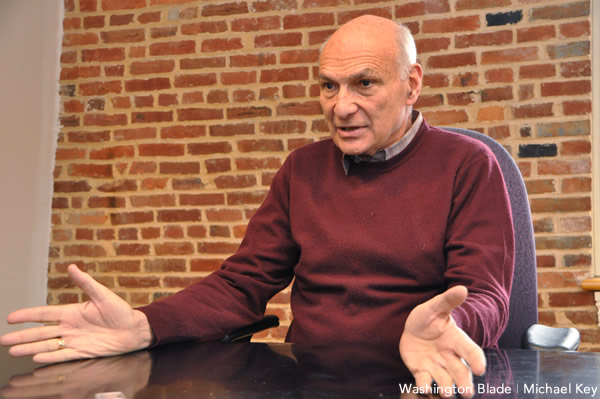 During his time at STC, Kahn staged more than 60 productions and shepherded seasons that have included works by Pinter, Molière, Wilde, Shaw, Williams, and, of course, Shakespeare for which he deservedly garnered an international reputation for incisive, inspiring work.
As a stage-struck youth, Kahn filled scrapbooks with collected playbills autographed at stage doors. Gloria Swanson and Jimmy Durante ranked high with the Brooklyn born fan. ("Why? They were nice to me. I was stage-struck then. I am no longer.")
After graduating from Columbia University, Kahn was certain of one thing — he didn't want to do stupid plays on Broadway. But otherwise, he was uncertain what his future held.
His career began in earnest in the 1960s. Early on, Kahn directed for gay playwright Edward Albee. Doing Shakespeare didn't occur to him until Joseph Papp tapped him for Shakespeare in the Park. Broadway successes, including revivals of "Showboat," "The Royal Family" and "Cat on a Hot Tin Roof" (starring a young and gorgeous Elizabeth Ashley), followed.
Prior to D.C., he served as artistic director for the American Shakespeare Theatre in Stratford, Conn., producing director for Princeton's McCarter Theatre, and founder and head of The Chautauqua Conservatory Theater. Through those gigs, he discovered his love for directing and entrepreneurship. He was prepared to succeed in Washington.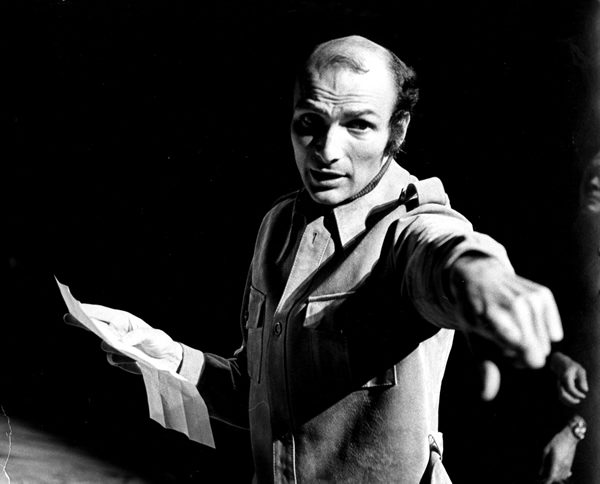 Simultaneously, he forged a parallel career as an educator, commuting to Manhattan as instructor and later head of the Drama Division of New York's prestigious Juilliard School until 2006.
To end his last season at STC, Kahn thought he might do Chekhov or Gorky and fill it with entirely familiar faces.
But after a patron with deep pockets granted him carte blanche to do whatever he desired, Kahn jumped at the opportunity to mount Aeschylus' tragedy "The Oresteia," not a translation but an entirely new version penned by playwright Ellen McLaughlin and featuring mostly new actors.
Certainly, it was a courageous approach to one's STC swan song. And the reactions were resoundingly positive: Kahn's work was deemed masterful and stunning.
While STC's theatrical triumphs take place in its Penn Quarter performance spaces, the administrative decisions are made on Capitol Hill.
At the end of a narrow hall lined with shelves holding a bust of the Bard and scads of honors including 10 Helen Hayes Awards (the company's 2012 Regional Theatre Tony Award is displayed in the lobby of Harman Hall), lies Kahn's packed up office.
Seated on a rose-colored couch, Kahn gestures to stacked moving boxes and makes droll reference to Madame Ranevskaya bidding farewell to the estate in Chekhov's "A Cherry Orchard."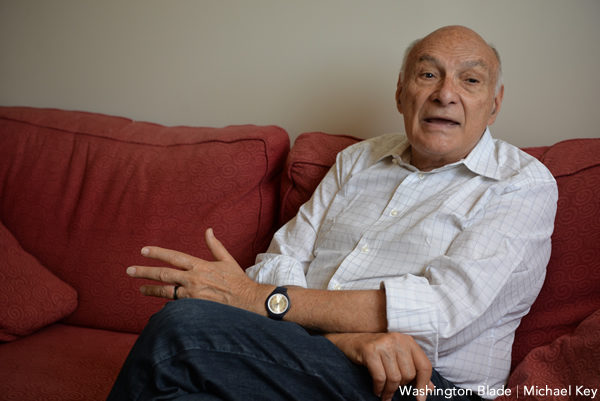 Despite having a long list of loose ends that need tying up, Kahn is relaxed and ready to give his last official interview as STC's head honcho.
WASHINGTON BLADE: First off, thank you. You've shaped the theater experience for Washington audiences. You've entertained us, and given us an education in the classics. We're grateful.
MICHAEL KAHN: Well, I had a good time doing that. It's been a lot of fun. And I couldn't have done it the same way anywhere else.
BLADE: Looking back, could you do what you've done if you were starting out today?
KAHN: It would be harder. Younger audiences are just not interested in lesser known shows like Musset's 'Lorenzaccio," Schiller's "Don Carlo," or David Ives' adaptation of Regnard's 1706 masterpiece 'The Heir Apparent.' I can't see getting today's audiences all excited about that.
BLADE: Actors rave about you. How would you characterize exactly what you do?
KAHN: What other people say about me is that I leave them alone and see what they're doing and then shape it and I change it. I think that I've learned how to tell a story on stage and how to make moments very clear. I'm actually good at it now.
And especially with Shakespeare, I know how to link scenes. You have to tell the story in between. I love it. I love the complications of that. And how to make it work.
Plays are like mysteries. And I'm the detective figuring it out with some help. I need and want smart available open-minded, inventive actors. And it's good to work with them again, there's a shorthand you use and you don't have to start all over again.
BLADE: Please talk about the queer lens. Do you make art through a gay perspective?
KAHN: I've essentially been out since I was seduced — quite willingly — by a boy in high school. When I came to D.C., I outed myself in a Washington Post interview. Four years ago, I was married to Charles [Mitchem] in a ceremony officiated by Supreme Court Justice Ruth Bader Ginsberg, so I'm gay and very out.
There are directors who direct from a queer point of view, politically or aesthetically. I don't think that's what I set out to do. But I'm very careful to protect an image of a gay person on stage.
Though I've done productions of "Richard II," there was a time when I didn't want to do it, because he's a gay king who does bad things. Of course, there are gay people who aren't good, but it wasn't the right time to put that out into the universe.
I got tremendous pleasure directing "Torch Song Trilogy" and Caryl Churchill's "Cloud Nine" at Studio Theatre. Both were really happy experiences for me, and those are gay plays."
BLADE: STC threw you a big sendoff celebration. Were you OK with all of the testimonials?
KAHN: I am comfortable that a lot of people feel that I've meant something to them in their lives. I get that a lot. And I'm grateful for that. But I also know how ephemeral all of this is. When those people are gone no one will remember. And that's OK, what do I care?
At the goodbye, actor John Benjamin Hickey said he liked me as a teacher but it was very important that Julliard was being run by an out and proud gay man. I liked that.
I've said jokingly, I wanted my memorial service while I'm still alive. That happened. So, I told Charles, he doesn't need to give me a memorial service. He can show the tape.
BLADE: You're not big on legacy. You once said that you just want to make STC financially stable so someone good will want to take the reigns after you.
KAHN: That's still true. And that's why I stayed on longer than originally planned. The idea was to balance things financially. It has sort of worked, but not entirely.
But I'll look back upon this time with an enormous sense of excitement. And I feel significant accomplishment. I'm not leaving without being aware that we made an impression on the city, and I'm very grateful the city supported me, and made it possible for me to do the work I wanted. The community supported a classical theater that stayed a classical theater as best it could the last couple of years.
And STC will be in good hands. They made absolutely the right choice in selecting my successor, classical director Simon Godwin [Associate Director of London's National Theatre].
BLADE: What are your thoughts on the future of classical theater in Washington?
KAHN: Theater is precarious. D.C. is blessed with many good theaters but not necessarily an audience that's grown along with theaters as they got bigger. There are nights when theaters are less than full, and when small theaters are very much less than full.
Theater makers are excited. There is an audience that's excited but that audience doesn't seem to be growing. Time will tell.
BLADE: Your papers have been sent to Yale. Your Dupont condo is sold. Besides living in your native New York, what's next for Michael Kahn? Will there be more plays?
KAHN: I'm not sure. I don't see myself freelancing with a play like "Loot" – one four-character play with one set in different cities. But at one point I was happy to do that and maybe I'll be happy to freelance like that again.
But I don't feel an urgency to do just any play.
BLADE: What will you miss most?
KAHN: I'll miss looking forward to the next creative project. And I'll miss the phone ringing.