July 25, 2019 at 6:07 am EDT | by Mariah Cooper
Queery: Saida Agostini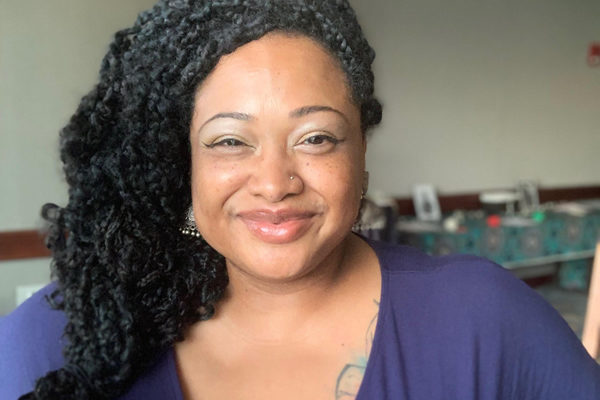 Saida Agostini wrote her first poem, a piece about flowers, at 8 years old.
"My granny told me I was a genius, so I kept writing," the 37-year-old non-profit organization program director says.
Agostini's poetry skills led her to become a moderator and speaker at several panels at OutWrite, D.C.'s annual LGBTQ literary festival. She will be promoting her first book "Not Without Our Laughter," an anthology of poems by the Black Ladies Brunch Collective. She also has published her new manuscript, "let the dead in."
For Agostini, queer poets are important because they document the feelings and experiences of LGBTQ people.
"Poetry is a truth telling ritual. We have to build our own histories. Without it so much of us what makes us beautiful, complex people would disappear," Agostini says.
It's also why she says an LGBTQ literary festival such as OutWrite is essential.
"OutWrite is a necessary space for LGBTQ writers to come together, and celebrate the breadth and span of our voices," she explains.
At the moment, poetry writing is only Agostini's passion project.
"I keep trying to get my girlfriend to support my poetry habit, but she won't let me be great. Therefore, I have a full-time job," Agostini jokes.
Agostini lives with her girlfriend in Silver Spring, Md. She enjoys talking about Luther Vandross, planning surprise parties for friends and binging "Fraiser" on Netflix.
Outwrite is from Friday, Aug. 2 to Sunday Aug. 4 at the DC Center (2000 14th St., N.W.). The weekend begins with a kick-off event on Friday at 6:30 p.m. at Ten Tigers Parlour (3813 Georgia Ave N.W.). The event will include poetry readings, tarot readings, bookselling and more. Saturday from 10 a.m.-7 p.m. there will be readings, panels, a zine-making table, a used book sale and LGBTQ vendors. On Sunday from 10 a.m.-3 p.m. there will be writers' workshops that are free and open to the public.
Visit thedccenter.org/outwrite for a complete list of events.
How long have you been out and who was the hardest person to tell?
I came out when I was 20. The hardest person to tell was my father. I come from a pretty strict Guyanese family, so I knew it would be difficult. However, I got a lot of new poems out of it!
Who's your LGBTQ hero?
Audre Lorde and June Jordan. Two bad ass, black queer women dedicated to black liberation.
What LGBTQ stereotype most annoys you?
That lesbians drink herbal tea and wear ugly shoes.
What's your proudest professional achievement?
What I'm working on with the Rooted Collective — creating a black, queer healing festival for Baltimore.
What terrifies you?
The ongoing deportation of black and brown folks seeking safety.
What's something trashy or vapid you love?
"Real Housewives of Atlanta."
What's your greatest domestic skill?
Cooking and telling other people what needs to be cleaned.
What's your favorite LGBTQ movie or show?
"Noah's Arc."
What's your social media pet peeve?
Getting tagged with 500 other people in a post about a party I'm not going to attend.
What would the end of the LGBTQ movement look like to you?
Liberation for black trans women.
What's the most overrated social custom?
Small talk.
What was your religion, if any, as a child and what is it today?
I grew up Episcopalian. I'm more spiritual now.
What's D.C.'s best hidden gem?
Sunday Kind of Love at Busboys on K Street.
What's been the most memorable pop culture moment of your lifetime?
Seeing Big Freedia and Baltimore Pride take over an entire neighborhood.
What celebrity death hit you hardest?
Luther Vandross.
If you could redo one moment from your past, what would it be?
Getting bangs in 5th grade. Just don't do it.
What are your obsessions?
Throwing a music lyric into every conversation, black romance movies from the '90s, cooking every recipe possible from smitten kitchen, my next birthday party.
Finish this sentence — It's about damn time:
We had lunch.
What do you wish you'd known at 18?
It's okay, just put on a great outfit and make it happen.
Why Washington?
It's Chocolate City — the birthplace of go go, mambo sauce and Meshell Ndegeocello.