August 12, 2019 at 11:24 am EDT | by Michael K. Lavers
VIDEOS: Hundreds of thousands attend Medellín's annual Flower Fair parade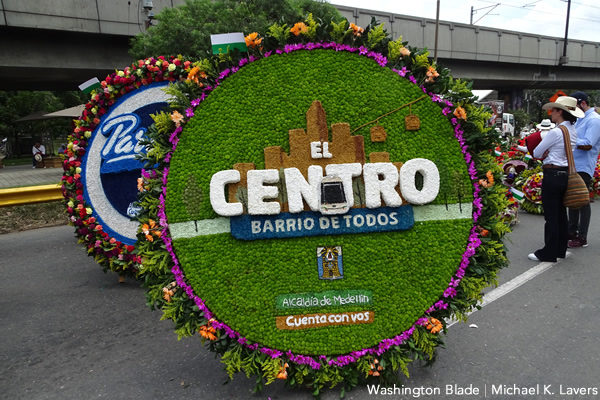 Editor's note: Medellín officials and Spirit Airlines, which has flown to the city for a decade, invited Washington Blade International News Editor Michael K. Lavers and other reporters to the city to attend its annual Flower Fair.
MEDELLíN, Colombia — Upwards of 800,000 people on Sunday attended a parade that marked the culmination of the city's annual Flower Fair.
Hundreds of "silleteros" who wore traditional costumes as they carried elaborate flower arrangements attached to wooden frames, known as "silletas" in Colombian Spanish, on their backs took part in the parade. Medellín Mayor Federico Gutiérrez and members of Colombia's armed forces are among those who also participated.
A helicopter with two members of Colombia's air force who carried the country's flag while they hung onto a cable flew over the parade shortly after 3 p.m. local time (4 p.m. EST). The two airmen died less than half an hour later when the cable snapped near Medellín's Enrique Olaya Herrera Airport.
There were no overt references to Medellín's LGBTI community among parade participants, but one of the flower arrangements did note the city's downtown "is for everyone."
Luis Bernardo Veléz, the former director of Medellín's Office of Social Inclusion, Family and Human Rights, during a 2017 interview told the Washington Blade that diversity is an integral part of the city's public policy. Gutiérrez in June strongly condemned those who cut down and destroyed a Pride flag that had been flying from a flag pole on the summit of the city's Nutibara Hill.
"The act of violence, hate and discrimination on the part of a few people who cut down and damaged the LGBTI flag that was installed on Nutibara Hill has left me profoundly outraged and deeply sad," he said on his Twitter page.