August 15, 2019 at 4:42 pm EDT | by Joey DiGuglielmo
QUEERY: Sharifa LaVonne Love-Schnur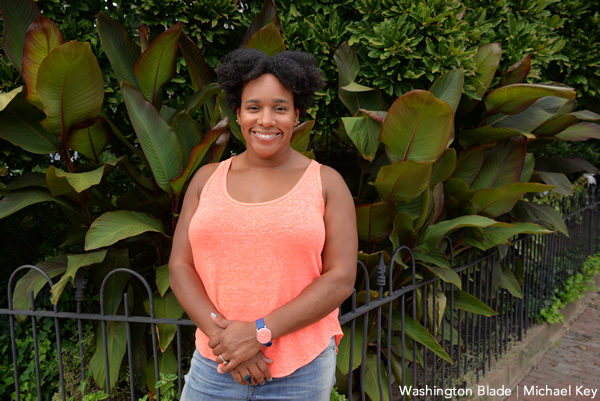 Sharifa LaVonne Love-Schnur plays in two local rec leagues — one queer (Rogue Darts), the other queer-friendly (D.C. Furies Rugby).
With darts, Love-Schnur says she enjoys the social aspect. She's been playing since 2016.
She's been at rugby much longer — 11 years, 10 with the Furies.
"I love the strategy of the sport and the physicality of play," the 32-year-old Rockville, Md., native says. "I love how there is space for people of all different body types and sporting strengths to play."
Practice is two-three times per week with weekend games and various seasons and variations throughout the year.
"I love the vibrant D.C. gay sports scene," Love-Schnur says. "It's a great way to meet up with friends and stay connected. I do wish there were more women."
Love-Schnur played soccer and ran track growing up. She works as a development manager for SMYAL and has been back in the D.C. area since 2009 after stints in Washington state, Colorado, Indiana and Connecticut.
She and partner Brigid Beech live together with their English Bulldog Bertie in Barney Circle in Southeast Washington. Love-Schnur enjoys rugby, reading, cooking and cycling in her free time.
How long have you been out and who was the hardest person to tell?
I never really had a coming-out process. I had dated men before I started dating one of my teammates and the rest is history. I unintentionally came out to my mother on National Coming Out Day.
Who's your LGBTQ hero?
I love James Baldwin. I read a lot of his work when I was in high school and I found they resonated with me in terms of growing into my identity as a black woman. I also found his perspective as a gay ex-pat to be interesting.
What LGBTQ stereotype most annoys you?
I hate the stereotype that in every same-gender-loving couple there is always a "man" and a "woman" in the relationship. It's not a "one-man, one-woman" situation and that's kind of the point.
What's your proudest professional achievement?
My proudest professional moment was at the SMYAL brunch a few years ago where I worked with one of our youth on his speech. He was uncertain of how to tell his story. We worked together for several days and he really came into his voice in writing his speech.
What terrifies you?
I'm terrified of getting hit by a car while biking in the city. I commute by bicycle and cycle around the city quite a bit and the disregard some motorists have for bikes is really scary, not to mention the hatred.
What's something trashy or vapid you love?
I love "Say Yes to the Dress." I hate the commercialized wedding industry, I hate the way people will overextend themselves financially for a dress they get to wear one time, but for some reason I LOVE this show. I've seen every episode and still can get trapped in a TLC marathon.
What's your greatest domestic skill?
I am an excellent cook. When I was younger my brother and I each had dish nights and also a dinner night so I started cooking young. Since then I have learned a lot about cooking, especially on a budget.
What's your favorite LGBTQ movie or show?
"Sense 8" — I love how the LGBTQ storylines are just naturally interwoven in the story and I love the fantasy/science fiction aspect of the show.
What's your social media pet peeve?
I hate how some people will present themselves as a completely different person online than they are in real life. If someone is outspoken or snarky online or always offering "hot takes" but is super quiet in real life, I think it's super annoying.
What would the end of the LGBTQ movement look like to you?
I'm not sure I can imagine the end of the movement. If we were to reach a point where LGBTQ folks were seen to be equal under the law, I would hope the movement would pivot to make sure LGBTQ folks in the most vulnerable populations would be protected in the same way and be able to thrive.
What's the most overrated social custom?
Group birthday dinners out at restaurants. The restaurant is usually crowded and loud so you can't really talk to people, the service for a large group is usually poor, the food is never that good and you almost always get roped into "just splitting it evenly, but let's cover the birthday person." Oh goodie.
What was your religion, if any, as a child and what is it today?
My mother was raised COGIC and my father was raised Jewish but they raised me in a secular agnostic home. My current religious belief is atheism, which isn't far off. When people ask how one can live a moral life without religion as a guide, I tell them I'm a humanist, which provides me with all the guidance I need.
What's D.C.'s best hidden gem?
Congressional Cemetery – it's 36 acres of green space, a beautifully haunting cemetery, has some interesting historical headstones and it's a dog park!
What's been the most memorable pop culture moment of your lifetime?
Jennifer Lopez wearing that green dress to the Grammys in 2000. Now it doesn't seem that scandalous but at the time I remember folks were shook that she showed so much skin.
What celebrity death hit you hardest?
Amy Winehouse. I thought it was so sad that her song "Rehab" was such a big hit and she ended up dying from drug and alcohol abuse.
If you could redo one moment from your past, what would it be?
I would start playing rugby my freshman year of college when my roommates asked me to, instead of in my senior year.
What are your obsessions?
Potato chips (all kinds but especially salt and vinegar), dogs (all kinds but especially bulldogs), crusty bread.
Finish this sentence — It's about damn time:
that women got equal pay for equal work.
What do you wish you'd known at 18?
I wish I had known it was OK to not have everything figured out.
Why Washington?
I love how beautiful the city is from the beautiful buildings on the Hill and the Mall to the parks all around town. Whenever it's been a long day, I can always look around and see incredible beauty and remember how lucky I am to live in this city.