August 17, 2019 at 5:46 am EDT | by Mark Lee
Voter exclusion, now tax-funded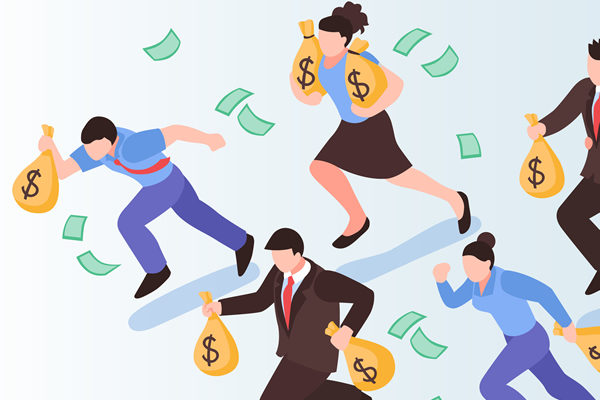 D.C. has begun doling out huge bundles of cash to local political candidates who engage in a new optional campaign public financing scheme. Tallies of tax monies already being distributed to mostly marginal long-shot candidacies are producing jaw-dropping reactions.
Worse is that tax dollars are being spent to perpetuate a system of voter exclusion and proliferate the problem of minority-vote-winners. The taxpayer bill is projected at more than $20 million every four-year election cycle.
District elections are conducted utilizing an outdated "closed primary" system that disenfranchises independents. Only party-registered members are permitted to vote in contests to nominate general election standard-bearers. Non-affiliated voters are simply told to stay away. This increasingly rarefied set-up is a big part of why D.C. elections have national-embarrassment low turnouts and disengaged voters.
Take a peek from three perspectives.
First, let's examine voter affiliations in a high-profile ward-level D.C. Council race.
In center-city Ward 2, home to a large portion of LGBT voters, only 64 percent are registered Democratic. Fully 23 percent, just shy of one-in-four, are independents excluded from the primary in which the general election winner will be decided. Thirteen percent are Republican or a tiny sliver aligned with micro-parties.
The direct cost of these restricted primaries exceeds half-a-million dollars. The fee for this exclusionary private political activity is not paid for by parties but by taxpayers instead, including those prohibited from voting. Yet city officials refuse to reform the process and allow all voters to participate, as elsewhere, in either "open" primaries or a single "top-two" primary announced last week as preferred by a bipartisan group of local LGBT political leaders.
Second, let's look at the funding bonanza in that D.C. Council contest.
In what may be the sole competition not anticipated for incumbent re-election almost without exception the typical outcome, the first five challengers are each going on-the-dole and will receive massive campaign subsidies. Hoping to unseat or replace fellow Democrat Jack Evans, who has not yet announced whether he will seek a new term while awaiting resolution of ethics investigations only partially resolved this month in a settlement with the D.C. Board of Ethics and Government Accountability, the current quintet is expected to collectively reap over a million dollars in tax funds. Depending on whether others enter the race, tax expenditures could shoot far higher.
Here's why: To qualify for public money in a ward-level contest, candidates need only raise $5,000 from 150 residents contributing up to a $50 maximum while harvesting additional non-resident donors. Upon reaching this modest threshold, the government pays out 13-times the amount, or a whopping $65,000. This converts a mere $5,000 in community support into an initial $70,000 bounty.
The city gifts a 5-to-1 match for local contributions, which continues with subsequent donations, plus a lump-sum "start-up" outlay of $40,000 – half immediately disbursed with the balance conveyed as soon as ballot signatures are collected.
Tax monies keep flowing until amassing 110 percent of the candidate category averaged winner spending in two prior elections. The financial sky is high and goes higher.
Third, let's ponder the problem perpetuated, and worsened.
If candidate cash entitlements successfully generate the intended result of encouraging more office-seekers endowed with competitive funding, it will breed a proliferation of candidates and plethora of contenders. With winners determined in the dominant Democratic primary, crowded intramural contests will increasingly produce victors backed by only a minority-plurality of party-limited voters.
D.C.'s current elected officials, who approved this extravagant campaign finance plan without first reforming an archaic election protocol, should be publicly shamed when uttering a single word about "voter suppression" anywhere else or ever again. When city politicians rail against "taxation without representation" in Congress, failing to modernize elections and open participation to all voters is indefensible.
It also represents an astounding tolerance for making a bad system worse.
Mark Lee is a long-time entrepreneur and community business advocate. Follow on Twitter: @MarkLeeDC. Reach him at OurBusinessMatters@gmail.com.