September 5, 2019 at 3:45 pm EDT | by Dana White
Addressing high level of hate violence in D.C.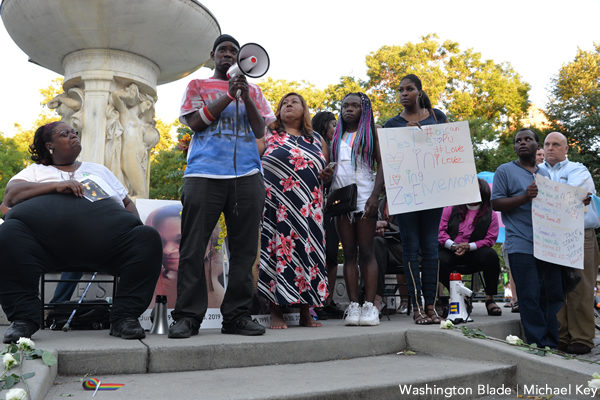 With more anti-LGBTQ attacks investigated here in D.C. in 2018 than in much larger cities like New York and San Francisco, addressing this high level of hate violence requires that we explore all possible solutions. Considering the complex reasons why not everyone in our community views police and court involvement as the effective, right, or even safe option, solutions outside of the criminal justice system must be included in our exploration.
In my two years at SMYAL working directly with LGBTQ+ young people from throughout the District, most of whom live east of the river, several have shared details of either being assaulted or harassed due to their perceived sexual orientation or gender expression. It's happening not just in their schools, but in their neighborhoods. They've expressed needing to be constantly alert and prepared to face street harassment or defend themselves from physical attacks, both from their peers and adult strangers. Most of them have never reported these incidents to police due to distrust.
As we've recently seen, it's not just adults who are committing these acts of violence. In the August 2 attack of Alicia Love, a Black trans woman who works as a manager at the D.C. Eagle, several teenagers followed and ultimately assaulted her in a gas station in Northeast. The young assailants were captured on camera and at least one, 17 years old, has since been arrested.
In a city where Black, trans, young, undocumented, and sex working members of our community have experienced violence both from the community as well as under the abused power of police, there's arguably a responsibility for all of us to leverage community expertise to inform processes in which there's accountability for harm, uncompromised safety and healing for those harmed, as well as prevention.
One seemingly underutilized approach to preventing violence against LGBTQ+ individuals in the District is widespread and ongoing education about marginalized identities and their intersections. It's an education in empathy and acceptance, with the intent of eliminating the bias from which violence stems, which should begin at an early age. When we integrate empathy and compassion into every interaction we have with young people, we are building the foundation for a more equitable and empowered generation
It's through work in schools and community-based youth programs that we intentionally reach young people. At SMYAL, we've dedicated ourselves to working directly with school administrators, teachers, and students in facilitating that education, building policies and practices for accountability, and fostering support for LGBTQ+ youth in public and charter schools throughout the DMV. This means ensuring that students have heard from their queer counterparts about everything from what it means to be trans, to why pronouns are important. It looks like ensuring that teachers have the language to demonstrate cultural competency in the classroom, and that they know why it's critical for them to stop anti-LGBTQ bullying, even if it just seems like a "harmless" joke.
Additionally, exploring partnerships with organizations like CASS, Collective Action for Safe Spaces, which is a D.C.-based grassroots organization, will help us empower queer and trans young people and their allies with skills to intervene as bystanders or legally defend themselves when other efforts have not been a deterrent and avoidance is not possible.
"It is imperative for D.C. to invest in non-carceral solutions to addressing violence and holding harm-doers accountable. Many survivors want solutions that take place within communities, not in courtrooms," says alicia sanchez gill, outgoing Interim Executive Director at CASS. By equipping community members with the tools to respond to abuse and prevent future harm, CASS aims to break the cycle of violence.
SMYAL Executive Director Sultan Shakir says, "In responding to hate crimes, it is imperative that we utilize multiple approaches to keeping our community safe and supporting members of our community who are disproportionately affected. At SMYAL, we take a holistic approach to supporting and empowering youth, and we also take a holistic approach to addressing the challenges they face."
For more information about becoming involved with programs at SMYAL as an LGBTQ youth seeking an affirming space and empowerment, as a volunteer, or as a potential partner organization, contact programs@smyal.org. To learn more about the work CASS is doing to eliminate public gendered street harassment, visit collectiveactiondc.org. Both organizations are committed to continuing this conversation and creating community solutions to prevent and heal from violence.
Dana White is a programs manager at SMYAL.