September 13, 2019 at 3:02 pm EDT | by Scott Stiffler
Fasten your seat belts: Airhostess Pam Ann poised to be a D.C. woman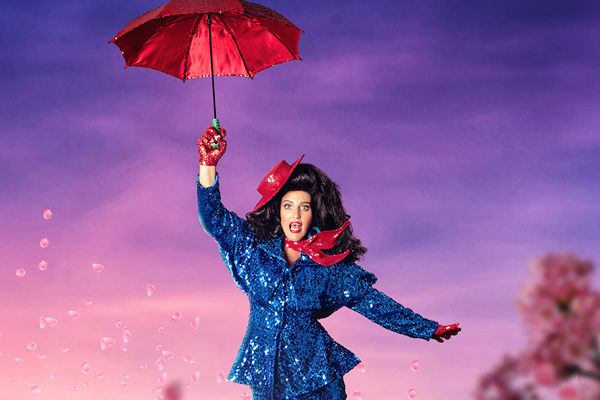 'Pam Ann Returns'
Saturday, Sept. 14
7 p.m.
The Howard Theatre
620 T St., N.W.
Tickets: $49 in advance; $52 day of
If people racked up frequent flyer miles every time they made another person laugh, Pam Ann could cash in for a trip to the moon and back and still have credit left to spend the rest of her life traveling the world in top-tier accommodations.
"Putting me in economy, with those inbreds," she says in defiance, to her inferior superior, in an infamous video. "What the fuck did you do to secure first class?… Listen closely bitch, first class is my territory."
And so it goes, for the gay-friendly, gutter-mouth alter ego of Melbourne-born comedian-writer-producer Caroline Reid.
Aussie airhostess Pam Ann has flown 23,005 trips over the past two decades, touring the world 12 times. This jet-setting jokester with an affinity for coke, cock and initiating passengers into the Mile-High Club delights audiences with ribald tales of what goes on in those winged hunks of flying metal, observations about the current cultural climate and a series of videos that insert her into iconic films, including "Superman," "Titanic" and "The Sound of Music."
Much more than the sum of those much-loved parodies, it's Pam's acerbic wit, impossibly high standards, low tolerance for human folly and predilection for backdoor lovin' that have endeared her to queer audiences, making her a regular at Bear Week in Provincetown and on gay-themed Atlantis cruises.
Pam Ann brings her latest show to Washington this weekend with a Sept. 14 appearance at The Howard.
"I'm thrilled to be flying back to North America," says Pam Ann, in a press release for "Pam Ann Returns," the apt title of her current tour. "So much has gone down since my last time there. I've been super busy painting the MAX off my Boeing 737's. Notre Dame is now known as Notre Vuitton and as of this week, I'm the official nanny to Megs and Harry's bundle of joy. I hate kids but this little bugger is a First Class Royal so I will make an acceptance."
Pam Ann conduit Reid recently spoke to the Blade.
"I was in Provincetown recently, and (in the audience, there were) all these families, and it just freaked me out. It was, 'OK, but it's a tough thing,'" she says. With gay audiences, Reid notes, "They know your vibe and your comedy, so you can have this confidence that they're going to be with you. But if there are families, you think, 'Oh, god, they've got kids with them.' " Showing a vulnerability Pam Ann would never put on display, Reid admits, "With (families), there's this barrier that goes up. You're only human. It's weird."
But all's well that ends well, notes Reid, who recalls, upon spying a dad, daughter and son in the audience of that Ptown gig, "I almost shut down a little bit. That, or you go harder."
So, of course, Pam got hard. "And they really enjoyed it. A lot of these people come and they want to be entertained. … If there weren't any gay people in the audience, that's OK. But it's kind of my comfort zone. It's like a big hug, like, now we can really get the party started."
The party is in full effect at her upcoming D.C. gig, which offers a turbulent flight of fancy built around a "Mary Poppins" aesthetic.
"Her take on the world of airlines and aircrew may require a spoonful of sugar, a Xanax and some Mary Poppers, but Pam Ann is sure to delight in the most hysterically fucked up way," promises the press release. And if you think that's hyperbole, you're supercalifragilistically, extra queeny, just plain wrong.
"Pan Ann is going to be in the original 'Mary Poppins' movie," says Reid, who was poised to shoot the parody video when she spoke with us. "The show will have a Mary Poppins premise, but with a Pam Ann edge. We'll use it as a theme, and the show itself will be improvised. The comedy will be very much in tune with what's going on … and it's very interactive."
Of the character, Reid says, "I'd say she is the voice of flight attendants. She says what she thinks to everybody. Pam is quite ferocious, a little bit cruel. That's what Madonna called her (Madge deemed her, "cruelly funny"). She's very wink and nod. It's not mean, although the character is very elitist in a way, and only flies first class. She's a girl who started off at the regional airports, and climbed her way from economy to first class — and she doesn't want to go back there. So she resonates."