September 11, 2019 at 10:01 am EDT | by Joey DiGuglielmo
QUEERY: Jordan L. Costen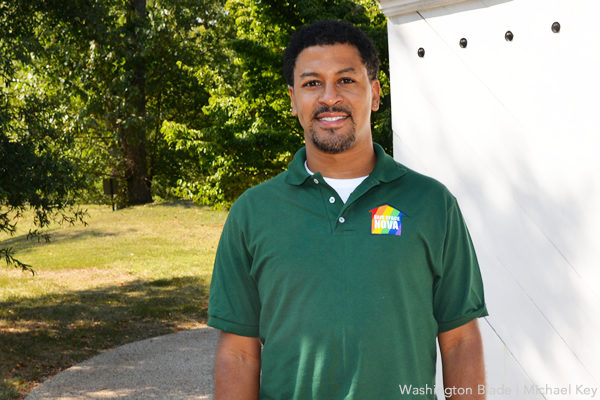 Jordan L. Costen has a heart for LGBT youth.
"I once endured a lot of bullying as an LGBT youth," he says. "I know what it's like to not have anyone to turn to when it comes to dealing with issues and coming out."
That concern led him to found Safe Space NOVA in early 2016, a place where queer youth can socialize outside of school, get to know other LGBT teens, have adult mentors and find temporary drop-in space if needed.
"Safe Space NOVA was created to combat bullying and ridicule while fostering a safe, accepting and supportive environment with other youth that are experiencing challenges along with adults who identify as LGBT," the 34-year-old Atlanta native says. "It was founded so that LGBT youth have a place to participate in social activities that are inviting, fun and most of all safe."
The first-ever Safe Space NOVA 2019 Brunch Fundraiser is Saturday, Sept. 14 from noon-4 p.m. at The Garden (5380 Eisenhower Ave., Suite C, Alexandria, Va.). Tickets are $50 on eventbrite.com. Find out more about Safe Space at safespacenova.org.
Proceeds — their goal is $5,000 — from the event will go to expand Safe Space NOVA's mission. Its five staff members, all volunteers, want to increase programming and have more permanent drop-in space. To date, the organization has hosted numerous events such as movie socials, laser tag, miniature golf, dances and more. Safe Space volunteers work with regional GSAs to find teens who may need resources. A student ambassador assists with outreach.
Costen came to the region 16 years ago for college at Howard. He works by day as an IT account manager and lives with spouse Charles Sumpter, Jr. in Alexandria.
Costen enjoys watching scary movies and reading in his free time.
How long have you been out and who was the hardest person to tell?
I have been out for 14 years. The hardest person to tell was my mom.
Who's your LGBTQ hero?
Harvey Milk
What LGBTQ stereotype most annoys you?
That gay men are feminine.
What's your proudest professional achievement?
Founding Safe Space NOVA
What terrifies you?
Being alone.
What's something trashy or vapid you love?
Gossip blogs.
What's your greatest domestic skill?
Cleaning
What's your favorite LGBTQ movie or show?
"Pose"
What's your social media pet peeve?
People who grandstand.
What would the end of the LGBTQ movement look like to you?
The end of discrimination from the straight world.
What's the most overrated social custom?
Cooking
What was your religion, if any, as a child and what is it today?
Baptist. Today I just think of myself as a Christian.
What's D.C.'s best hidden gem?
The Brixton
What's been the most memorable pop culture moment of your lifetime?
"Posed" making it to the small screen.
What celebrity death hit you hardest?
Luther Vandross
If you could redo one moment from your past, what would it be?
How I came out to my family.
What are your obsessions?
Reality TV shows and sweets.
Finish this sentence — It's about damn time:
that we started to ban conversion therapy.
What do you wish you'd known at 18?
I wish I knew that it gets better.
Why Washington?
It's a diverse place to live with a lot of things to do.