September 8, 2019 at 12:20 pm EDT | by Keith Loria
New role for Candace Gingrich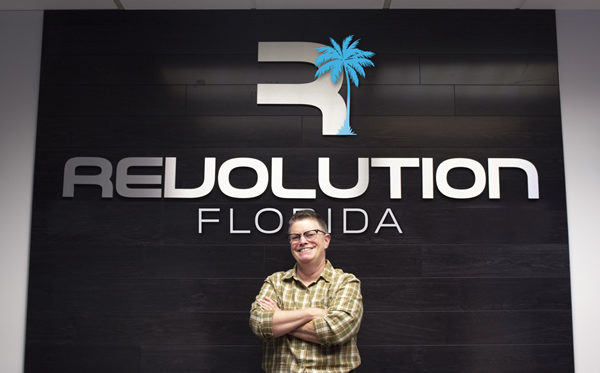 Noted LGBTQ leader Candace Gingrich, who spent 23 years working for the Human Rights Campaign, has a new gig. The long-time advocate was named vice president and head of business development for Revolution Florida, a cannabis operator that's the sister company of Illinois-based Revolution Enterprises.
Working with the Human Rights Campaign, Gingrich traveled throughout the U.S. discussing the importance of coming out, mobilizing the next generation of activists and promoting LGBTQ equity, including health care. Gingrich saw first-hand the barriers LGBTQ people face to medical treatment, including with cannabis.
For that reason, Gingrich — half-sibling of Newt, with whom they're cordial — will also serve as the company's LGBTQ ambassador. In Gingrich's role, organization leaders have plans to establish LGBTQ-focused medical cannabis treatment centers and increase economic opportunities for LGBTQ people.
Gingrich, who is married to Illinois state Rep. Kelly Cassidy (D) — the lead House sponsor of a landmark marijuana legalization measure signed into law this summer, won't be involved in any financial or voting interest in any Illinois-based business license that might be issued to Revolution under the new law for two years. Additionally, Gingrich's business development work will only be focused on non-Illinois markets.
Gingrich recently chatted with the Blade about the position and plans for the future.
WASHINGTON BLADE: What made you interested in this position?
CANDACE GINGRICH: It was a number of things. One was looking at Revolution as as an entity itself and their reputation as a company that not only cares about the bottom line, but cares about the people that are involved — really focusing on social justice, social equity and providing the best science to make the best product for medical cannabis patients. Here is a company that is doing a lot of things well. Plus, I had an opportunity to kind of mesh that with my queer activism, because in a lot of the conversation, we talk about the failed war on drugs and we talk about the importance of bringing black and brown people into the industry to be part of it and to be engaged. But a lot of times, we weren't talking about queer people, which has also been a historically marginalized community. With Florida, it's a purely medical market. All of the dispensaries are a medical cannabis market. And with HRC, I've learned how often queer people have issues interfacing with the health care community and oftentimes they have to work with health care providers that are not culturally competent and are not fully aware of the particular needs of LGBTQ patients. This was a way to kind of combine those two things to be part of a company that's bringing a first-class product to market for patients and also finding a way so that we can bring LGBTQ people into it, as patients and also as a part of the company as well.
BLADE: You talked about a barrier of medical treatment being understanding needs. Are there other barriers as well?
GINGRICH: Well, there's still stigma in using cannabis, even when it is medically called for. I see some parallels to the LGBTQ movement in that there still remains a lot of ignorance and a lot of misconception and stereotypes about cannabis use that we need to kind of get beyond and do the educating on. The studies show that cannabis is a health care product that can vastly improve peoples' lives, but there's still those stereotypes of that dude on the corner selling you a dime bag. We need to get beyond the stigma and help people view cannabis as a medical treatment.

BLADE: As part of this role, you're going to help establish LGBTQ-focused medical treatment centers. What are your plans there?
GINGRICH: We're still figuring that out. Florida is one of our newest markets and we have a vertically integrated license, and we are building a great center—the place where the plants will all be grown and then a processing center where they can be processed. And then we have a license for 35 dispensaries throughout the state of Florida, doing a couple at a time and we will build from there. One of the ideas that we had was why not create a couple of the dispensaries as LGBTQ-focused and LGBTQ forward. That's to provide not only a welcoming place for queer people to go, but an informing place. We really want to bring in queer people, we want to bring in people of color, we want to bring in veterans. Because we're going to have a need for staff at the dispensaries, we're going to have a need for people to work in the growth center, to work in the processing, to do transportation. I see it as not only queer people as patients, but also as a way to provide job opportunities for people that sometimes still face barriers to employment.
BLADE: What are some of your others main responsibilities?
GINGRICH: With every place that we want to put a dispensary, we have local stakeholders that we need to develop relationships with and we're building relationships with. There's still municipalities that are still relying on stereotypes and the misconceptions about what it means to have a medical dispensary. So part of it is getting to know them and building partnership. It's Revolution working with local government, working with the regulators, and making sure that we are good corporate partners. I also see building relationships with the community in general. One of the things that Revolution does in Illinois is really partners with the community. There is an MS walk that we were a cosponsor of. There was a letter writing effort for cancer patients where the community came together, created care packages for people in the community who were going through cancer. That's the kind of thing that drew me to Revolution — it is about doing good business, but it's also about doing good, period.
BLADE: What's the future look like for Revolution?
GINGRICH: Just that Florida is one of the newest markets and we're looking to expand around the country. We've got a growth site in Arkansas. We are going to be opening a medical dispensary in Maryland. Looking at what we're going to do in Florida over the next six months to a year, I'm hopeful that the LGBTQ-focused-facing work will help us create a template so no matter what state Revolution is in, we're able to engage those communities and replicate it.
BLADE: You've said in other interviews, you and Newt are cordial and don't see each other often. Is that still how you would characterize your relationship?
GINGRICH: We are cordial and we see each other from time to time.
BLADE: Is cannabis a Republican vs. Democrat issue?
GINGRICH: It's non-partisan. Two-thirds of Americans now support legalizing cannabis. Anyone running for office who ignores a strong majority of their potential constituents by opposing cannabis legalization is not likely to be successful. Especially with medical cannabis, this is about what's in the best interests of the public.
BLADE: What else are you excited about in your life?
GINGRICH: I'm excited to be living in Chicago and being here full-time with my family. We have a 5-month-old Mastiff puppy named Jack who is ridiculously fun. And I'm always excited about the Chicago Cubs.