October 3, 2019 at 10:06 pm EDT | by Chris Johnson
Grenell tapped as U.S. envoy for Serbia-Kosovo peace negotiations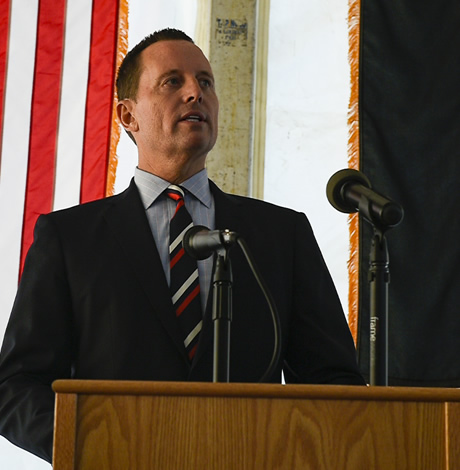 President Trump has named U.S. Ambassador to Germany Richard Grenell, the highest-ranking openly gay person in his administration, to become the new point person for the U.S. government in Serbia-Kosovo peace negotiations.
The White House announced late Thursday in a statement Trump would tap Grenell for the role in addition to keeping him at his position as U.S. ambassador to Germany.
Although most Americans were probably last aware of the conflict between Serbia-Kosovo during U.S. involvement in war between the two in the Clinton administration, those tensions have been renewed.
In May, the Associated Press reported tensions flared after Kosovo's police raided Serb-dominated areas in the region's north and arrested "scores of people."
"There have been clashes between Kosovo's police and local Serbs, with several people injured, and two U.N. personnel were detained, including a Russian," the AP reported. "Serbia raised its combat readiness and warned it won't stand by if Serbs in Kosovo are attacked."
A White House official said Grenell won't need Senate confirmation to assume his new role.
Grenell has served as point person for the Trump administration in its global initiative to decriminalize homosexuality. President Trump brought up the initiative during his speech last month before the United Nations just before tensions grew with Congress as a result of the impeachment inquiry launched by House Speaker Nancy Pelosi (D-Calif.).
It wasn't immediately clear whether Grenell would retain the role as point person for the global initiative. Neither Grenell nor the White House would immediately respond to the Washington Blade's request to comment to confirm that.
The White House notice indicates Grenell would "serve concurrently" as U.S. envoy in the Serbia-Kosovo negotiations and U.S. ambassador to Germany, suggesting his current role will remain unchanged.
Grenell was reportedly in consideration to become Trump's national security adviser in the aftermath of the termination of John Bolton, but Trump ended up going with Robert O'Brien, who also serves as special presidential envoy for hostage affairs.
At the time, several reporters said Trump was, in fact, considering Grenell for another position role of national security adviser. It may well have been the Serbia-Kosovo position for which he was nominated Thursday.
Charles Moran, managing director for Log Cabin Republicans, said he's "glad to see this appointment come through, and it isn't any huge surprise."
"Both presidents of Serbia and Kosovo have already established a dialogue with Ambassador Grenell through the close proximity to Berlin, and the Trump administration has been using Ric to speak to them for a while now," Moran said. "Ric is President Trump's guy in Europe — now might just be the tipping point to establish a lasting peace accord in the region."