Trump brings up global initiative to decriminalize homosexuality at U.N.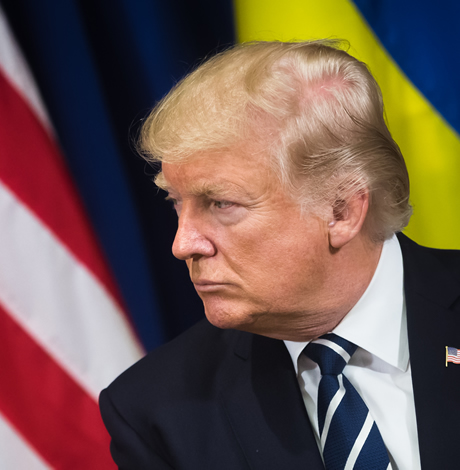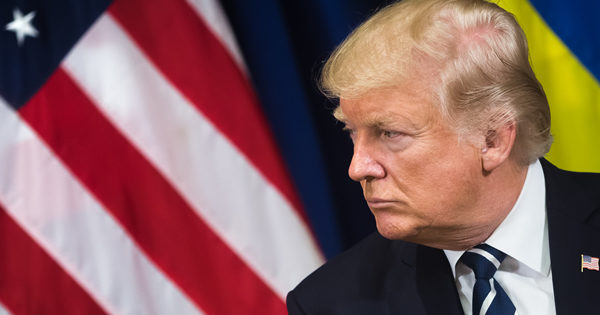 In a surprise move, President Trump included in his speech before the United Nations on Tuesday his administration's global initiative to decriminalize homosexuality in the more than 70 countries where it remains illegal.
"My administration is working with other nations to stop criminalizing of homosexuality," Trump said. "And we stand in solidarity with LGBT people who live in countries that punish, jail and execute people based upon sexual orientation."
The remarks mark the first time ever outside of Twitter Trump has acknowledged the global initiative, which is being spearheaded by U.S. Ambassador to Germany Richard Grenell, the highest-ranking openly gay person in the Trump administration.
.@POTUS @realDonaldTrump at #UNGA: "My administration is working with other nations to stop criminalizing of homosexuality and we stand in solidarity with LGBTQ people who live in countries that punish, jail or execute individuals based upon sexual orientation." pic.twitter.com/U3q8Ojvlam

— Gregory T. Angelo (@gregorytangelo) September 24, 2019
White House Deputy Press Secretary Judd Deere echoed the President's message in response to the Washington Blade's request seeking background on the decision-making that led to the inclusion of those words in Trump's speech and what comes next.
"It was an opportunity to deliver an important message to world leaders and a global audience that the U.S. will not stand for the criminalizing of homosexuality," Deere said.
It's not the first time a U.S. president has brought up LGBT rights in a speech before the United Nations. That distinction belongs to President Obama, who included gays and lesbians in a speech addressing the General Assembly in 2011.
"No country should deny people their rights to freedom of speech and freedom of religion, but also no country should deny people their rights because of who they love, which is why we must stand up for the rights of gays and lesbians everywhere," Obama said.
In 2011, Hillary Clinton gave an entire speech before United Nations delegates in Geneva devoted to U.S. solidarity with LGBT people across the globe. A notable line in the speech was Clinton saying, "Gay rights are human rights, and human rights are gay rights."
Trump's speech, however, was likely the first time a U.S. president has explicitly brought up the decriminalization of homosexuality in remarks before the United Nations.
The inclusion of the LGBT initiative in Trump's speech was one component of more than 30-minute speech before the 74th Session of the United Nations General Assembly, which heavily focused on nationalism, denouncing socialism, and criticizing Iran and China.
"Wise leaders always put the good of their own people and their own country first," Trump said. "The future does not belong to the globalists; the future belongs to the patriots."
Charles Moran, managing director of Log Cabin Republicans, heaped praised on Trump for including the global initiative in his speech.
"President Trump is fulfilling on his initiative to decriminalize homosexuality across the globe," Moran said. "We are thankful that he will use this moment while addressing the world to call for the end of senseless persecution of LGBTQ individuals. President Trump is keeping his promises to the the LGBTQ community, and for standing up for American values."
Echoing that praise at Log Cabin was board chair Bob Kabel, who said Trump "challenged the world to do better concerning LGBTQ protections." Log Cabin endorsed Trump last month.
"In over 71 countries, it is still illegal to be gay. President Trump's leadership on this issue is heartening during a time when our LGBTQ brothers and sisters abroad still face life-threatening discrimination," Kabel said. "We are looking forward to working with the administration to promote policies that will project America's leadership on this issue.
Trump includes the remarks in speech as LGBT groups have criticizing him building an anti-LGBT record. Among other things, the Trump administration has implemented a transgender military ban, excluded LGBT people from enforcement of civil rights laws and sought to enable anti-LGBT discrimination in the name of religious freedom.
Just last month, the Trump administration submitted legal briefs before the Supreme Court arguing Title VII of the Civil Rights Act of 1964, which bans discrimination on the basis of sex, doesn't apply to cases of anti-LGBT discrimination. The Supreme Court is set to hear oral argument in the landmark case Oct. 8.
Moreover, a growing number of Democrats are calling for the impeachment of Trump over recent reporting that suggests he threatened to withhold aid to Ukraine unless the country investigated Democratic presidential candidate Joseph Biden, Trump's potential opponent in the 2020 election.

David Stacy, government affairs director for the Human Rights Campaign, said in a statement Trump including the administration's global initiative to decriminalize same-sex relations in his speech pales in comparison to the rest of his record.
"Trump has no credibility to speak about LGBTQ human rights abroad when he has done so much to damage them here at home, from banning trans people from the military to proposing that medical providers can deny care to LGBTQ patients and permitting federal contractors to fire employees for being LGBTQ," Stacy said.
Jessica Stern, executive director of OutRight International, noted Trump's emphasis on nationalism in his speech and said he can't have it both ways with a global initiative to decriminalize homosexuality.
"Throwing in a reference to opposing the criminalization of same-sex relations while at the same time stating that the national supersedes the international, and that tradition and culture are sacred, is one more example of President Trump's hypocrisy," Stern said. "LGBTIQ people across the world, including in the U.S., do not feel safe or protected within their borders and are often attacked under the guise of tradition. In all too many places, international standards have been the only avenue for LGBTIQ people to have our rights recognized, to seek remedy for crimes committed against us, and for pushing nations to accept that human rights belong to all, including, explicitly, LGBTIQ people"
Gay man who live-streamed anti-government protests in Cuba detained
Yoan de la Cruz taken into custody on July 23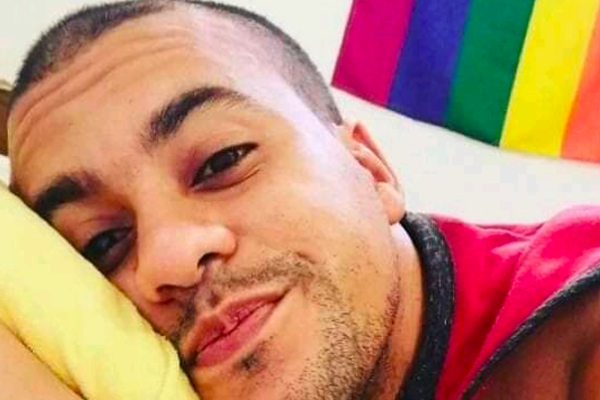 A gay man who live-streamed the first anti-government protest that took place in Cuba on July 11 has been detained.
Luis Ángel Adán Roble, a gay man who was once a member of Cuba's National Assembly, in a July 28 tweet wrote Yoan de la Cruz used Facebook Live to livestream a protest in San Antonio de los Baños, a municipality in Artemisa province that is just outside of Havana.
The San Antonio de los Baños protest was the first of dozens of anti-government demonstrations against mounting food shortages, the government's response to the pandemic, a worsening economic crisis and human rights that took place across Cuba on July 11. Many of those who participated in the protests chanted "libertad" or "freedom."
Cubalex, a U.S.-based Cuban human rights organization, confirms authorities detained De La Cruz on July 23. The Blade has not been able to confirm De La Cruz's current whereabouts.
"Yoan is the man who live-streamed the July 11 protests from San Antonio, nothing else," tweeted Adán. "They took him from his house a few days ago and he is being accused of 'incitement of the masses.' Free Yoan, he did not commit any crime!"
Yoan es un chico que transmitió en vivo las protestas del día #11J de San Antonio, solo eso. Hace unos días se lo llevaron de su casa y esta siendo acusado de "incitación de las masas". Liberen a Yoan, no cometió delito alguno!!!#LGBT #Cuba pic.twitter.com/sWyH5iAM8f

— Luis Angel Adán Roble (@angelDr_adan) July 29, 2021
The Washington Blade has confirmed De La Cruz is gay.
Vida Bohemia, a drag queen who is De La Cruz's friend, also demanded de la Cruz's release.
"If he didn't throw a stone, (if) he didn't break glass, (if) he didn't hit anyone, (if) nobody yelled down below, please let him go," Bohemia told 14ymedio, a website founded by Yoani Sánchez, a journalist who is a vocal critic of the Cuban government. "He has a mother, a grandmother, a family and thousands of friends suffering."
Maykel González Vivero, editor of Tremenda Nota, the Blade's media partner in Cuba, is among the hundreds of people who were arrested during the July 11 protests. The New York Times reports that De La Cruz is among the estimated 700 people who remain in custody.
Thousands Cuban Americans gathered in front of the White House on July 26 to demand the Biden administration do more to support the protesters on the island. They later marched to the Cuban Embassy.
The White House under the Global Magnitsky Act has sanctioned Cuba's National Revolutionary Police (PNR), the Interior Ministry Special Brigade, Defense Minister Álvaro López Miera, PNR Director Oscar Callejas Valcarce and PNR Deputy Director Eddie Sierra Arias for their role in the government's crackdown on the July 11 protests. Yotuel Romero, a Cuban singer who co-wrote "Patria y vida!", a song that has become an anthem for anti-government protesters, is among those who met with President Biden at the White House on July 30.
FBI joins investigation into murder of LGBTQ Atlantan
Atlanta Police continue to search for the suspect in the deadly stabbing of a woman asking that anyone with information to please come forward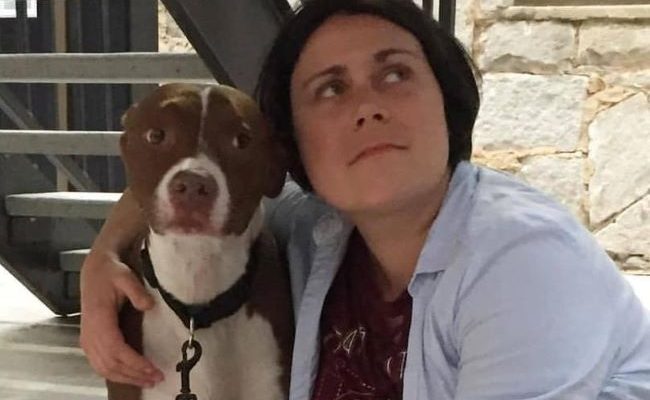 ATLANTA – The Atlanta Police Department's murder investigation into this past Wednesday's stabbing death of 40-year-old Katie Janness and her dog in Piedmont Park, located about 1 mile northeast of downtown between the Midtown and Virginia Highland neighborhoods, has been joined by the Federal Bureau of Investigation, (FBI).
WXIA 11 Alive news reported that the FBI is assisting the Atlanta Police Department, (APD) however a spokesperson for the APD told WXIA the department wouldn't provide any specifics about the FBI's involvement with the investigation, nor did the Atlanta Field Office of the FBI comment.
The Georgia Voice, the local LGBTQ newspaper, reported that Janness, a member of Atlanta's LGBTQ community and a bartender at the LGBTQ-owned Campagnolo, was found stabbed to death in the park on Wednesday (July 28) after walking her dog Bowie, who was also killed.
Janness was found by her partner of six years, Emma Clark, after Clark tracked her with her phone's GPS.
"Today, I lost the love of my life and baby boy," Clark said in a post shared to a GoFundMe page. "It was tragic. She was the most intelligent, kind, humble, and beautiful person I have ever known. I wanted to spend every second with her. [Bowie] was the sweetest, most loyal companion. My heart is so very broken, my world will never be the same."
A vigil was held for Janness on Thursday evening at Piedmont Park.
Atlanta Police continue to search for the suspect in a deadly stabbing of a woman in Piedmont Park
The Atlanta Journal-Constitution reported that Janness' murder is believed to be the first homicide inside the park in 12 years and according to family members of Janness' longtime girlfriend, a security camera at an intersection near the park's entrance captured the last known picture of Katherine Janness and her dog before the two were killed.
But other cameras in the area weren't working, including one facing the entrance. As of Friday the AJC also reported, as of Friday afternoon, Atlanta police had released few details about the murder investigation that has left city residents and parkgoers on edge.
Atlanta Police are asking that anyone with information to please come forward, and tipsters can remain anonymous by contacting Crime Stoppers Atlanta at 404-577-8477, texting information to 274637 or visiting the Crime Stoppers website.
APD detectives are also asking those who live in this area to review footage from their security cameras and contact the police if they find anything that may be pertinent to this investigation. The timeframe for review should be between 10:30 p.m. on Tuesday to 1:30 a.m. on Wednesday.
Out for America; nearly 1,000 elected LGBTQ+ officials but more needed
Lack of representation has consequences, as LGBTQ elected officials are best positioned to defend against anti-LGBTQ legislative attacks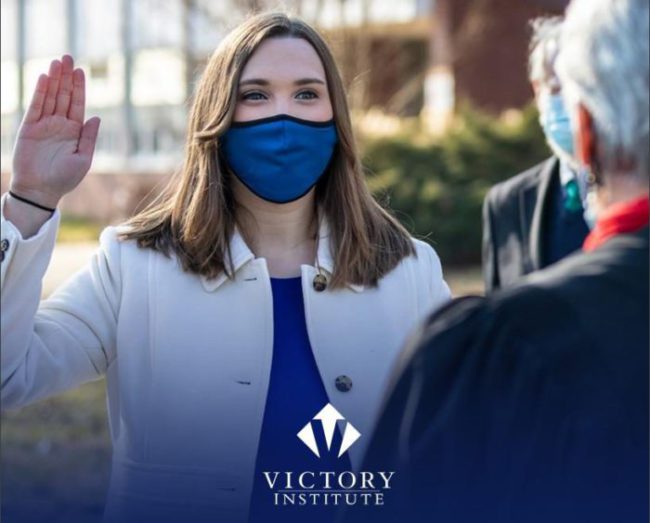 WASHINGTON – In its annual report the Washington D.C. based LGBTQ Victory Institute noted that there had been an increase of 17 percent in the past year of LGBTQ Americans serving as elected officials. According to the data in the Out for America 2021 report released this past week, there are 986 known out LGBTQ elected officials in the United States.
The Victory Institute reported that total included two U.S. senators, nine U.S. representatives, two governors, 189 state legislators, 56 mayors and six statewide executives. While this is considered a large increase, LGBTQ people hold just 0.19 percent of elected positions in the United States, despite making up at least 5.6 percent of the U.S. adult population.
Americans must elect 28,116 more LGBTQ people to public office for LGBTQ people to achieve equitable representation (serving in 5.6 percent of elected positions) the report went on to note.
KEY FINDINGS:
The report found that in the past year (between June 2020 and June 2021):
LGBTQ elected officials of color increased by 51 percent, with Black LGBTQ elected officials growing at the fastest pace (a 75 percent increase);
Trans women elected officials increased by 71 percent (from 21 to 36), yet trans men saw no increase (with just five serving nationwide);
Queer-identified elected officials increased by 83 percent, faster than all other sexual orientations; and
LGBQ cisgender women state legislators surpassed the number of GBQ cisgender men state legislators for the first time.
The report also found that:
LGBTQ elected officials are significantly more racially and ethnically diverse than the overall elected official population, but are less diverse than the U.S. population;
Mississippi is the only state in the nation with zero known out LGBTQ elected officials serving;
23 states have transgender elected officials serving and 29 states have non-cisgender elected officials;
LGBTQ people are equitably represented among mayors of top 100 cities for the first time (with six), but are underrepresented among mayors overall and in all other public positions; and that
84 percent of LGBTQ elected officials are Democrats and just three percent are Republicans.
In an emailed statement, former Houston, Texas Mayor Annise Parker, who currently serves as the President & CEO of LGBTQ Victory Institute reflected, "While LGBTQ elected officials are growing steadily in number, at this pace it will still take decades to come anywhere close to achieving equitable representation in government."
Parker went on to note, "This lack of representation has enormous consequences, because LGBTQ elected officials are best positioned to defend against anti-LGBTQ legislative attacks and to change the hearts and minds of colleagues in supporting inclusive policies. A moonshot effort to increase our numbers is essential to advancing equality at every level of government – and a large part of that is showing LGBTQ people that running for office is our best bet to achieve lasting social change."
In addition to changes in representation over the last year, the report also looks at trends since the first Out for America report was released in November 2017. In that time, LGBTQ elected officials increased by 121 percent (from 448 to 986) overall, and LGBTQ elected officials of color increased by 201 percent (from 92 to 277).
Since November 2017, there is a 296 percent increase in Black LGBTQ elected officials (from 23 to 91), 135 percent increase in Latinx LGBTQ elected officials (from 51 to 120) and a 117 percent increase in Asian American and Pacific Islander elected officials (from 12 to 26). Trans women increased by 800 percent (from four to 36) and bisexual elected officials by 787 percent (from eight to 71).
"LGBTQ elected officials are significantly more diverse than the overall elected official population – so their impact extends beyond LGBTQ equality alone," said Ruben Gonzales, Executive Director of LGBTQ Victory Institute. "LGBTQ elected officials are on the frontlines in legislative efforts to end police brutality, defend voting rights and secure inclusive healthcare reform. LGBTQ people are represented in every community in America and that diversity allows for more thoughtful policy changes when we are in office."
The Out for America report is an annual analysis of LGBTQ elected representation in government based on Victory Institute's LGBTQ elected officials database – the largest and most comprehensive listing available. The interactive Out for America map, updated daily, displays all known LGBTQ elected officials and is available at outforamerica.org.
Read the full Out for America 2021 report at victoryinstitute.org/out-for-america-2021.