October 8, 2019 at 6:41 am EDT | by Michael K. Lavers
Guam lieutenant governor sharply criticizes trans servicemember ban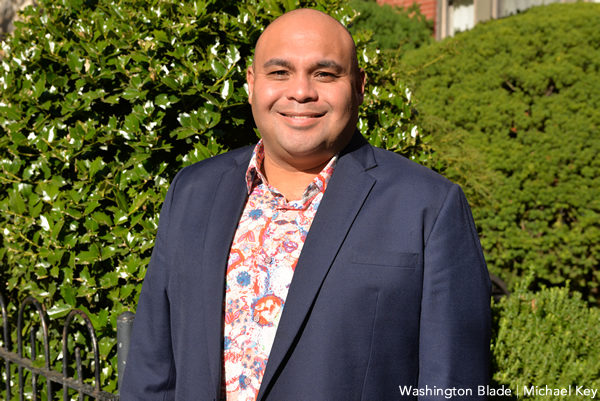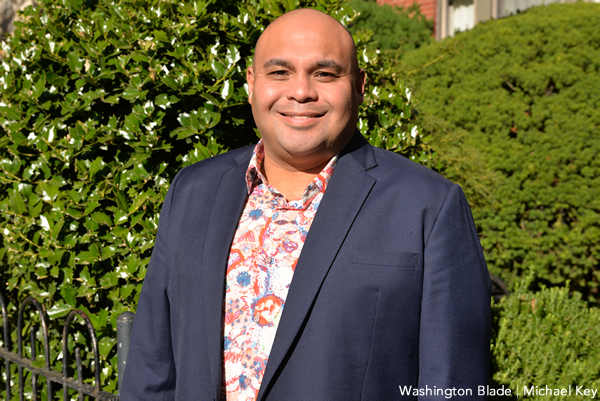 The openly gay lieutenant governor of Guam last week sharply criticized the Trump administration over its ban on openly transgender servicemembers.
"I especially get offended and protective of them because they … have volunteered to place their lives on the line for freedom and they are not going to be protected by our country," Joshua Tenorio told the Washington Blade on Oct. 4 during an interview in Dupont Circle. "It's unacceptable."
"It's opportunistic," added Tenorio. "It was a group that was targeted to maintain a base of support that doesn't tolerate that group of people."
Andersen Air Force Base and Naval Base Guam are located on Guam, a U.S. territory in the western Pacific Ocean that is at the southern end of the Mariana Islands. The Pentagon earlier this year announced it will move roughly 5,000 Marines to Guam from Okinawa in the coming years.
Guam bans employment discrimination based on sexual orientation and gender identity, but Tenorio noted to the Blade these protections don't apply to the island's military bases. Tenorio also said Guam's "pretty active LGBT servicemember community" participates in the territory's annual Pride events.
"Our constitution, including the legislative process, in many ways, protects the rights of the minority to express their view points," he said in reference to the trans service ban and the Trump administration's overall LGBT rights record. "In this case it's inconsistent with what the U.S. should be."
Victory Fund endorsed Tenorio in 2018
Tenorio, 45, was born and raised on Guam.
The Chamorro people have lived in the Mariana Islands for thousands of years. Tenorio is among the Guamanians who are of Chamorro descent.
Tenorio has previously been director of Guam's Bureau of Statistics and Plans and director of the Guamanian Senate's Judiciary Committee. Tenorio was former Guam Gov. Carl T.C. Gutierrez's deputy chief of staff and an administrator of the territory's court system.
The LGBTQ Victory Fund in 2018 endorsed Tenorio.
He, along with Gov. Lou Leon Guerrero, took office in January. Tenorio is the first openly gay man elected to executive office in Guam and the first out person to become lieutenant governor in the U.S.
"It's humbling," Tenorio told the Blade. "At least for my community, I'm hoping that this kind of achievement, parents will look at and help support their kids a bit more."
'US is not supposed to have colonies'
Tenorio told the Blade national security, health care, crime reduction, self-determination for the Chamorro people, climate change and the island's political status within the U.S. are among the myriad issues facing Guam's more than 160,000 residents.
"It's complicated in this town because we don't have a vote to trade," he said. "The United States is not supposed to have colonies and they don't know quite how to handle it."
Tenorio before he arrived in D.C. on Sept. 29 spoke to the U.N. Special Committee on Decolonization. Tenorio is also scheduled to speak about climate change at the U.N. on Tuesday before returning to Guam.
Tenorio's trip to D.C. coincided with the impeachment inquiry against Trump after he urged Ukrainian President Volodymyr Zelenskiy to investigate former Vice President Biden and his son, Hunter Biden. Tenorio told the Blade he supports 'the process" that has been launched against Trump.
"I've been a protector of due process and I've been in charge of an institution where people are presumed innocent until proven guilty," said Tenorio. "That's part of my essence, but people in places of authority that have access to the information and have authority over getting the facts … have to respond to their constitutional responsibilities."
"They owe that to the entire body politic, including the body politic in Guam or in D.C. that is not as enfranchised as they should," he added. "I want to see what's going on. I want to know … no matter who is in front of this system, despite the nature of their personality and despite how offensive they may be to you, this system needs to treat people the same way."