October 20, 2019 at 5:36 pm EDT | by Bob Witeck
Born to be gay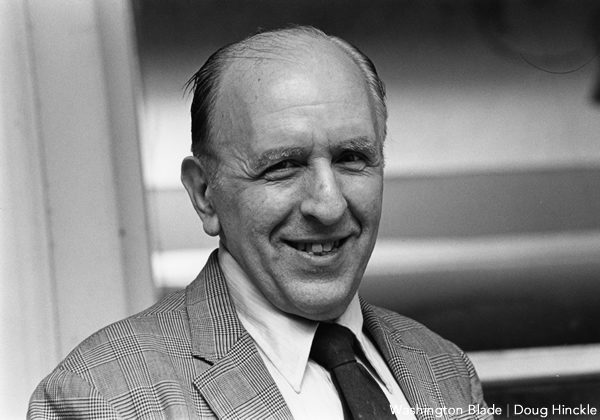 Growing up in Arlington, Va., in the 1960s, thinking about another boy felt like a one-way ticket to lifelong shame and confusion. I never even heard the words gay or homosexual until I was in high school.
By high school, my fears were as real as my secret attractions. With each day I felt the need to read more and talk safely with someone else about my feelings. In the public library, I quietly found the three or four books that described homosexuality in a clinical way, or worse, as a social pathology.
Still, no matter what bookshelf I searched, and I looked often, I never stumbled upon so much as a leaflet to suggest there were normal, and happy, healthy boys who also were attracted to other boys. I never imagined meeting anyone who felt as I did.
But as luck had it, when I was 16, I read a newspaper story about a group in Washington, D.C., that advocated for homosexual rights called the Mattachine Society. I discovered the names of brave individuals like Dr. Franklin Kameny and Lilli Vincenz. I was amazed.
I looked up the group in the phone book, and there it was, plain as day. I wrote down the telephone number and hid it in my wallet since I could not risk anyone might discover it. I kept it buried away for months until I could steel my courage.
One afternoon, with the phone number in my wallet and a dime in my pocket, I walked a few blocks to an out-of-the-way phone booth. The number of the Mattachine Society was still scrawled on a bit of paper.
A man answered politely. He was honest and direct. He was also sensitive to each question I asked. I really hoped to find other teens like me, however during our brief talk, it became plain that the Mattachine Society was a group for adults. He mentioned the names of several gay bars in the city, but they would be off-limits because of my age. I also could not imagine the courage to meet strange men in a bar and trying to meet someone with whom to form a friendship, or even to date. Like many of us, I wanted it both ways—to find real friends while also keeping my attractions and identity secret.
That brave phone call changed my life forever. It was the very first time an adult had ever spoken to me honestly and intelligently about who I was, and about who I hoped to become. It helped me conquer a small part of the fears I held and that I would not be doomed to self-hate and rejection by everyone.
Most important to me, he urged me to start by reading the Blade and the Advocate, new publications by, for, and about homosexuals and he told me how I could get my hands on them. I was thrilled to discover not only that there were many others like me, but that we had a powerful ally in print to connect with the community, form real friendships and maybe meet someone to fall in love with.
Since that moment 50 years ago, the Washington Blade has been our lifeline and voice. It is still the trusted, indispensable platform for a diverse community serving not only the Nation's Capital but all of the nation.
Fortunately, the man on the other end of my first phone call was Dr. Frank Kameny, the civil rights pioneer who struggled for decades to help us achieve respect, inclusion and equality under the law. Over the decades, the Blade gave me courage, confidence and connections that I could never find anywhere else and all that began with the best advice possible from Dr. Kameny.
Bob Witeck is president of Witeck Communications, Inc., based in Washington, D.C. He and his husband, Bob Connelly, Jr. live in Arlington.