November 5, 2019 at 7:24 pm EST | by Richard J. Rosendall
The boos of October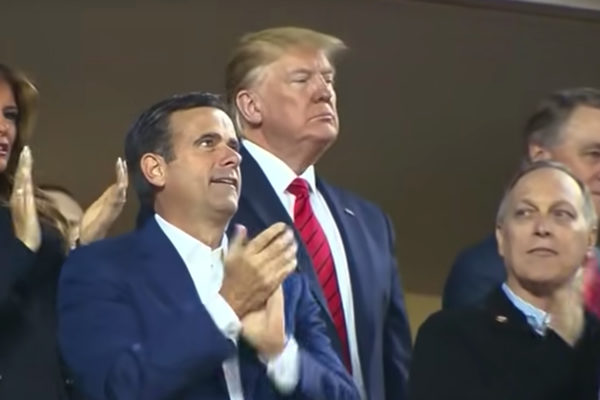 The improbable World Series victory of the Washington Nationals over the Houston Astros was a captivating story of an underdog that finally conquered its demons, rewarding loyal fans whose hopes exceeded their expectations.
The most memorable moment of the series, however, happened not on the field but in the stands: the loud booing that erupted in Nationals Park during Game 5 when Donald Trump appeared on the Jumbotron. For once, the sea of red hats the president faced bore not his MAGA slogan but the home team's curly Ws.
Observers like MSNBC's Joe Scarborough and Mika Brzezinski deplored the booing and chants of "Lock him up!" Democratic Senator Chris Coons high-mindedly scolded, "We're better than this." Faced with Trump shredding the Constitution, the senator issues a stern memorandum.
Our president was overdue for a taste of the real America outside his bubble. Granted, the liberal enclave of Washington is no Trump stronghold to begin with; but the booing was a salutary contrast to his staged rallies.
The notion that liberals should avoid unpleasant confrontations strikes me as ill-suited to our situation. We have a nasty fight on our hands to wrest our country from Trump's gang of vandals in 2020, and we cannot avoid it. Trump's stalking of Hillary Clinton around the stage at one 2016 debate is a demon in need of exorcising.
Enough hand-wringing. We need to fight back, not display refinement while America is trashed.
A friend suggested that being booed so lustily would let Trump portray himself as a victim yet again. But the way his face fell during the incident made it clear he was not welcoming it. This is a president who likes to say "everyone knows" all sorts of things that are not true. He thinks his lies alter reality. A ballgame crowd's spontaneous booing doesn't fit his narrative, so they must all be Deep Staters.
Instead of scolding a crowd for its honesty, we should embrace honesty ourselves by exposing Trump as a dangerous fraud who needs to be removed before he can do further damage. We should show that his tribalist incitements conceal his real tribal sympathies for robber barons, and that stoking division at home while betraying allies and empowering despots abroad is a path to diminished influence and lost markets. We should level with people that setting us at one another's throats is the opposite of leadership, that our only path forward is through cooperation.
I was struck by a passing observation by Ben Reiter of Sports Illustrated about the Astros locker room after Game 7: "José Altuve, Alex Bregman, and Carlos Correa—the Astros' three star infielders—sat together…. They murmured softly to each other in the Spanish that Altuve and Correa grew up speaking, and Bregman has worked hard to learn."
This captures something that the immigrant-bashing Trump ignores: how well we navigate our linguistic diversity. On 17th Street in D.C. where the pre-Halloween High Heel Race is held, I have seen the owners of an Italian restaurant converse in Farsi while their bartenders talked in Urdu and their kitchen staff spoke in Spanish. Two Ghanaian workers at a liquor store spoke to each other in Twi. Taxi drivers talked to each other in Amharic. All spoke English with their customers.
We are a better nation than Trump and his fearful mob can conceive. Just as he is not draining the swamp but repopulating it, his talk of the Wall and other provocations may drive a wedge, but cannot erase who we are.
Nats reliever Sean Doolittle explained why he declined to join his teammates at the White House on November 4: "People say you should go because it's about respecting the office of the president. And I think over the course of his time in office he's done a lot of things that maybe don't respect the office."
Doolittle's wife has two mothers. "I want to show support for them. I think that's an important part of allyship, and I don't want to turn my back on them."
Reconnecting with our values and reaching across our differences are the keys to victory. Take a lesson from the District of Champions.
Richard J. Rosendall is a writer and activist. He can be reached at [email protected].
Copyright © 2019 by Richard J. Rosendall. All rights reserved.