October 29, 2019 at 11:39 am EDT | by Peter Rosenstein
It's a primary — calling out your opponents is fair game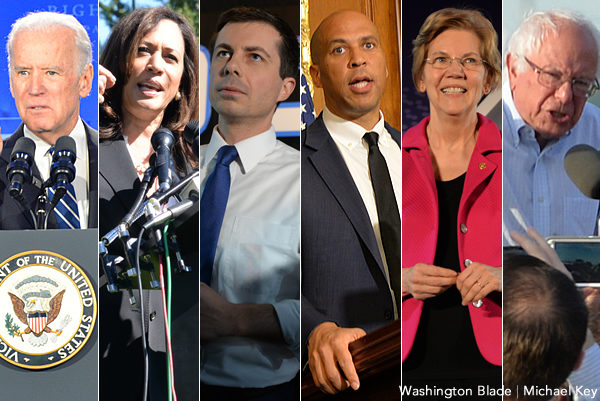 It is amazing how many candidates' supporters think criticizing their candidate should be out of bounds. Every time someone criticizes their candidate they shout foul suggesting the person doing it is using Republican talking points and they exclaim "You're hurting Democrats."
It's time to grow up and recognize we are in a primary fight the winner of which will become the Democratic nominee for president. In 2020, that is a prize worth fighting for as there is a good chance the nominee will become the next president of the United States. Even beyond that despite Donald Trump squandering our country's reputation the next president can reclaim her/his position as the leader of the free world. Politics is not an easy profession these days — maybe rougher than it's ever been before. While the candidates appear to understand that many of their supporters apparently don't.
While not endorsing any candidate yet, I don't think anyone over 70 should be on the ticket. At the same time, I have been clear about my wholehearted support for whomever is the eventual nominee. But that doesn't mean I or anyone else shouldn't feel free to criticize the policies, vision and statements of any of the candidates we disagree with. In today's political world where every statement, or misstatement, is highlighted on social media and where mainstream media look for clickbait headlines we have a right to call out candidates who aren't careful with their words and statements. It is then the responsibility of the candidate and their campaign to either justify their policies or comments or explain themselves putting out accurate versions of what they said if they feel they were misrepresented.
This is even more crucial today when Mark Zuckerberg and Facebook, as well as other media, are willing to take money from candidates and post their ads even when they know they are blatant, proven lies. When the media won't monitor themselves it is up to the public to monitor them. But at the same time it can't be an excuse to tell any of the candidates in the Democratic primary or their supporters not to call each other out when there are definite disagreements on policy or vision.
It is eminently fair to question Sen. Elizabeth Warren on how she will pay for Medicare-for-All or even how she thinks it can pass the Congress. It is fair to ask Sen. Bernie Sanders and Warren how they will pay for any of their programs, which they now say will be paid for with a wealth tax when it is a far reach to think even a Democratic Congress would pass such a tax. It is fair to call out Mayor Pete Buttigieg when he suggests, even in context of changing the court, he would look to appoint Supreme Court Justices like Anthony Kennedy. It is fair to call out Joe Biden for not remembering facts and refusing to apologize for some of the things he did that are part of his 50-year record of service.
We can look at primaries of the past to see the rough and tumble that occurs. This is not a new phenomenon. While in 2016 many of Sanders's supporters cried foul every time Sanders was attacked, this year we are seeing it from supporters of most of the candidates. Just look at the back and forth on Facebook or Twitter to see this happening. Maybe it is time to recognize no attack against one of the Democratic candidates is something the Republican Party doesn't already know about and isn't preparing to use with their billion dollar budget. Allowing candidates to prepare to handle these attacks when they occur in a primary will only make the eventual winner more able to fend them off during the general election.
What I would like to see happen is supporters of each of the candidates as well as the candidates themselves couple any attacks with a commitment to fully and wholeheartedly support the eventual winner. That is how Democrats will come together at the end of a divisive primary and clearly that is important if we are to beat Trump and Republicans up and down the ballot.
Peter Rosenstein is a longtime LGBT rights and Democratic Party activist. He writes regularly for the Blade.