November 7, 2019 at 11:32 am EST | by Kathi Wolfe
Edie Windsor's 'Wild and Precious Life'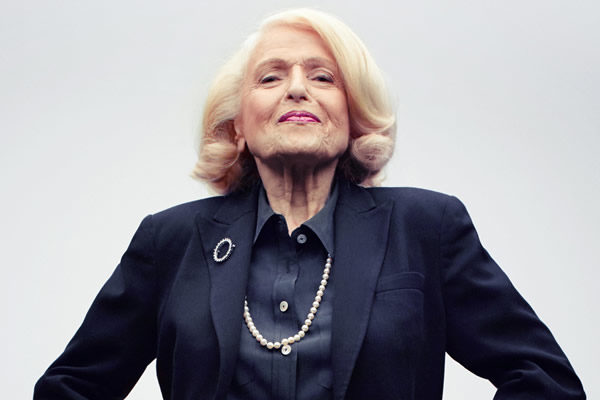 "Tell me, what else should I have done?/Doesn't everything die at last, and too soon?" queer poet Mary Oliver wrote in her poem "The Summer Day."
"Tell me, what is it you plan to do/with your one wild and precious life?"
More than half of LGBTQ people in the United States can be fired from their jobs because of their sexual orientation or gender identity. Then there's the increase of anti-queer hate crimes and the Trump administration push for "religious freedom." If you're queer, it can feel scary or hopeless to make plans for your life.
Sometimes, like the Cowardly Lion in "The Wizard of Oz," you need some courage and hope. A new posthumous memoir, "A Wild and Precious Life" by gay rights icon Edith (a.k.a. Edie) Windsor with journalist Joshua Lyon, has arrived just in time. Windsor, who died at age 88 in 2017, wasn't cowed by fear or despair. She did more with her life than most of us would do if we had 10 lives.
Often, our icons are venerable, heroic, historic gods, but, not quite human. And their memoirs are often worthy, but dull. This isn't the case with Windsor or her memoir. "A Wild and Precious Life," her illuminating, smoking hot memoir, brings the renowned LGBTQ activist vividly to life.
Reading it, we're not only with Windsor as she stands on the steps of the Supreme Court after its historic United States v. Windsor ruling. It gets up close and personal when she picks up lovers in bars and counts cards in casinos.
Lyon worked with Windsor to compile and craft the memoir. After her death (she died before the work was finished), he added to the "memoir/biography hybrid." Lyon contributes much to the volume – from information about queer history to insights about Windsor gleamed from interviews with her family and friends.
Windsor's heroic role in the struggle for marriage equality can never be overstated. In 1963, Windsor fell in love with psychologist Thea Spyer. The couple were together until Spyer, who had multiple sclerosis, died in 2009. In 1996, former President Bill Clinton signed the Defense of Marriage Act. This infamous law (for which Clinton later apologized) defined marriage as being only between a man and a woman.
In 2007, Spyer and Windsor married in Canada. But, Windsor had to pay $363,053 in inheritance taxes because the U.S. government didn't recognize their marriage. Windsor successfully sued the U.S. government. It's hard to imagine anyone in the queer community who hasn't felt the impact of DOMA being struck down.
In the preface to "A Wild and Precious Love," Lyon speaks for many of us who are thankful for what Windsor did for marriage equality. One day, Windsor interviewed him to see if she wanted to work with him on her memoir. The day of the meeting, "happened to be the eighth anniversary of the day I'd met my husband," Lyon writes, "so I went in with the attitude that even if I didn't get hired, I was lucky to get a chance to thank the woman who made our marriage possible."
"A Wild and Precious Life" is funny and frank about Windsor. She loved to sing Judy Garland songs and adored the color pink. So much that she decorated the bedroom she shared with Spyer completely in pink from the walls to the sheets on the bed. Windsor "drove like a maniac," Judith Kasen-Windsor, who married Windsor in 2016, told Lyon, "she said stop lights were just a suggestion."
Windsor's bravery, commitment to queer activism and love of life shine through her "A Wild and Precious Life." "Don't postpone joy!" was her motto. In our time, LGBTQ advocacy and joy are needed as never before. Let's do all we can to carry on Windsor's legacy.
Kathi Wolfe, a writer and poet, is a regular contributor to the Blade.