November 7, 2019 at 5:29 pm EST | by James Driscoll
The most insidious virus: stigma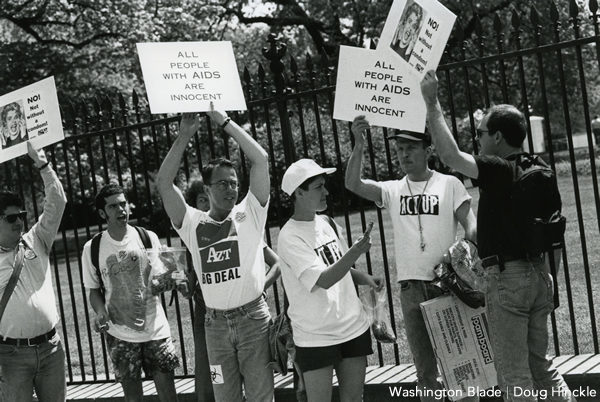 If a man also lie with mankind as he lieth with a woman, both of them have committed an abomination: they shall surely be put to death; their blood shall be upon them. —Leviticus 20:13
Stigma did not create AIDS. Yet it prepared the way and speeded its ravaging course through America and the world. First stigma delayed understanding of the disease: it's a gay cancer, it's a punishment from God, they brought it on themselves, so who cares? Then stigma delayed government action, research, and assistance for the sick and dying. Stigma made people afraid to get tested for HIV and treated. Stigma made people ashamed, isolating and alienating them from friends and family. Stigma cost people jobs, professional standing, housing, a seat on an airplane or in a dentist's chair. Stigma made many afraid to live, and want to die. But then it began to make some brave people very angry and AIDS activism was born. The activists quickly realized that to end AIDS we must end stigma.
AIDS activism did more to fight the stigma on being gay or having AIDS than any other social force. In this way, AIDS activism, like the civil rights movement, became a great moral movement of our time, defending the innocent, restoring dignity to the violated, giving hope to the desperate, and reviving faith in the disillusioned. AIDS activism gave LGBT people courage, dignity, and power they had never held before.  It inspired many to stand up and proudly proclaim who they are and who they love. Twenty-six of the world's most advanced countries now recognize gay marriage and today a gay man openly married to another man is a prominent candidate for President of the United States.
Gays be damned, earlier this year Karen Pence, wife of the current vice president of the United States, took a teaching job at a school that stigmatizes and discriminates against LGBT people grounding their policies on the afore cited merciless scripture. Of the 31,102 verses in the Bible, Pence's Immanuel School chose to follow that one! Did the Pences ever ask what text Jesus would have chosen to guide policies toward gay people? The focus on the hate-filled verse is telling in light of the little known fact that Karen Pence has been divorced. Jesus in the New Testament repeatedly condemns divorce, but never mentions homosexuality. Ignoring the warning about those who live in glass houses, the Pences have pushed gay "conversion therapy," an atrocity from the inquisition, and they dine brazenly on the full menu of homophobia. Yet many LGBT Republicans give the Pences a pass. Of course LGBT Democrats are no better when they defend proponents of Sharia law within the Democratic party.
Stigma is everywhere promoted in the name of religion. The right to stigmatize LGBT people, spread lies and hatred against us, and fill LGBT children with guilt and shame is defended as an expression of "religious freedom" just as slavery, segregation, Apartheid, and anti-Semitism were all defended in the name of obedience to God and the Bible. The largest US Protestant denomination, the Southern Baptist Church once used the curse of Cain to justify slavery. Not till 1995 did this church apologize for its shameful record on slavery and racism.
Among the many costs of continued stigmatizing of LGBTs is a suicide rate among our people under age 30 of 4+ times the rate in the general population. That equates to more than 1,000 excess lives lost to bias and stigma each year.
Opponents to stigmatizing LGBTs do so on sound ethical principles. Their grounds for opposing stigma is not an odd verse in an otherwise disregarded section of the Old Testament. It is the very core of Jesus's message and of the Judeo-Christian ethic: "And as you would that men do to you, do ye also to them likewise." (Luke 6:31) Who wants to suffer discrimination, who likes to be stigmatized? No one!
The Trump administration has a plan "to end AIDS" that increases HIV testing and PrEP availability. At the same time Trump allows Mike Pence to fill HHS with sectarians, like himself and Karen, who promote stigma and believe LGBTs should be treated in the spirit of Leviticus 20:13.
A few, too few, are asking, how can you end AIDS by promoting stigma? You can't. Promoting stigma inhibits HIV testing, treatment, safe sex practices, and everything we do to stop the spread of the virus. If Trump intends to be serious about ending AIDS, he needs to get serious about combating stigma. That will require replacing Pence with a vice president who does not base her/his LGBT policies on a scripture calling for gays to be put to death.
James Driscoll is a longtime AIDS activist and writer whose most recent books are 'The God in Time' and 'Shakespeare's Identities.'