November 14, 2019 at 9:59 pm EST | by Thom Murphy
New Tom Goss album is feathery, atmospheric left turn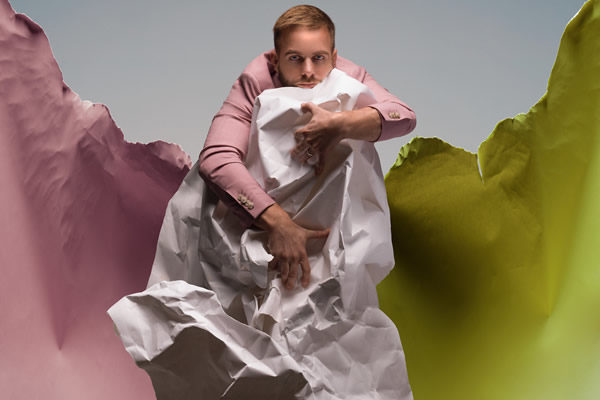 This week saw the release of songwriter Tom Goss' seventh studio album "Territories." Goss, who is best known in the gay music scene, not unlike Steve Grand, could be best identified by his distinctive brand of indie rock, a style he dedicated his previous six albums to perfecting.
Uptempo acoustic guitars and drums, an instrumentation like much of the indie rock music of the mid-2000s (think Augustana), undergirded Goss' storytelling songwriting tendencies. But for Goss' small, devoted following, "Territories" arrives as something of a shock.
Since his emergence on the scene around 2006, his focus has been on the kind of folk rock so conducive to storytelling, and his folksy, even slightly mushy lyrics have been successful in connecting with his gay audience. Although his 2016 "What Doesn't Break" included far more synth and electronic effects, it could still be classified as characteristically indie-pop/indie-rock, even with a slightly harder edge.
The major influences of the new album seem to be ambient music and ASMR (autonomous sensory meridian response). ASMR has emerged in the past couple of years as a fad, which uses repeated, everyday sounds to create pleasurable feelings for listeners. "Territories," produced by Ian Carmichael, capitalizes on the popularity of ASMR, creating tracks that would perhaps more accurately be considered soundscapes than songs.
It's a curious, maybe savvy, move on the part of Goss and his producers, but the songs are effectively stripped of any internal drive. Instead of the music being moved by a palpable sonic tension, one has more the impression of floating along aimlessly. It's ideal music for the bathtub, for intimacy, but is so disconnected from the ordinary rhythms of life that the music is hard to place. It's like sweeping cinematography without the directed action of the plot. Nonetheless, there is a continuity to the wanderings, with many of the songs tied to specific geography ("Berlin," "Quayside," "Quebec," "Amsterdam" and so on). And Goss succeeds in making the listener hear the distinction of each location.
Take for example the single "Berlin," a story about sexual reawakening in the German capital. Of course, the city has been of interest to gay writers and artists, especially in the English-speaking world, since Christopher Isherwood's classic "Goodbye to Berlin" in 1939. The subsequent adaptation of the novel into the 1972 movie "Cabaret," starring Liza Minnelli, Joel Gray and Michael York, permanently cemented Berlin in the gay imagination.
The music video for "Berlin" pays tribute to this aesthetic, with its costumes and back-room-of-a-cabaret setting. It's an interesting, conscious situation of a contemporary gay story in reference to iconic cultural markers. Press materials for the album say the song is inspired by Goss's long-time husband's infidelity and their subsequent decision to have an open relationship, which led Goss to a sexual reawakening.
"Quayside" is the best of the on location tracks — the song is balanced, not lacking in direction like many of the others. If anything, it suffers from an overly redundant chorus, not unlike Goss' hymn to "Berlin."
Despite the washy, vaguely nauseating synth punctuated by ASMR, the album manages a couple of gems despite itself. "Eve" is a fantastically balanced, sexy song that succeeds on every point. There is a delightful Ben Folds-esque quality to it, and rather swimming about without direction, the track takes us somewhere. It's bound to be one of the more popular on the new album. Likewise, "Zedel" is a delightful blues-influenced track, which Goss pulls off deftly. One common feature of these tunes is that both are keyboard driven, which gives the music more structure and Goss a framework in which to shine.
"Territories" is a conceptually interesting album that suffers from a somewhat poor execution. It's neither from a lack of production quality nor talent, but rather the absence of moderation. My bet is that the next album will favor a wholly different concept, and that, by that time, ASMR videos will have disappeared as quickly as they first popped up in our YouTube recommendations.