November 14, 2019 at 12:53 pm EST | by Philip Van Slooten
Re-elected College Park mayor discusses politics, future plans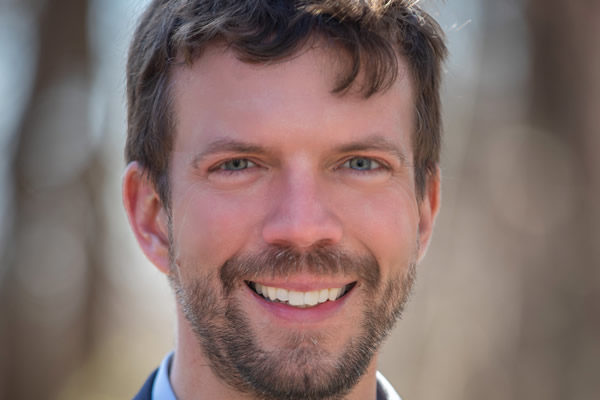 COLLEGE PARK, Md. — Fresh from his landslide victory, the gay mayor of College Park on Monday sat down with the Washington Blade in an artsy coffeehouse near the University of Maryland campus which was recently converted from a liquor store.
Patrick Wojahn said the change represented "a sense of culture we're trying to promote," blending in so well with his full beard and youthful look of which many students who were in the packed venue took little notice.
"We're trying to get away from an alcohol-based culture here in College Park," he said.
Though he grew up in northeastern Wisconsin surrounded by the timber industry and dairy farms, he identified very closely with the students and other residents of this small college town.
"Going to college in Madison enabled me to come out," Wojahn explained. "The university is the first time that a lot of people leave home and are able to explore who they are."
The coming out process began for Wojahn when he traveled to Germany during his junior year in high school. When he returned home, he knew "there was no going back."
"I knew that I would be coming out at some point," he said. "The question was how and when."
The when would be when he was 21 after he traveled to Moscow his junior year in college. He saw the post-Soviet LGBTQ community emerge as anti-sodomy laws were repealed and other legal protections became enacted.
"Unfortunately, things have very much regressed since then," Wojahn pointed out, but witnessing those early successes helped him see what was possible for the community through political action and determination.
He left Madison for D.C. in 1999 to attend law school at Georgetown. There, at what was once a coffee shop next to a gay club called Badlands, he met his future husband.
"Dave is a little mischievous," Wojahn said with a small smile. "He noticed me checking him out and he allowed this to happen for quite a while, wanting to see how long it would go. I was a little shy back then."
Dave finally came over and the two ended up talking for four hours. They started dating and when things grew serious, they decided to buy a house together in College Park and in the same county where Dave grew up.
"We were excited about the idea of living in a college town," said Wojahn. "So, we looked around and the first house we found in our price range was the one we live in now."
It was not too long after moving to Maryland that Wojahn found himself caught up in the state's battle for LGBTQ rights.
"Shortly after we moved here, I met with Dan Furmansky," Wojahn explained, referring to the one-time executive director of Equality Maryland, which is now FreeState Justice. "He said they were looking for people to tell their stories and how the inability to get married impacted their lives."
"Patrick and Dave were excellent plaintiffs … They were two young men who were so obviously and deeply in love," said Furmansky.
Wojahn and his partner talked about how Dave had brain surgery when he was 18 because a strep infection had reached his brain and became complicated by meningitis. The prognosis wasn't good at the time, but he managed to pull through.
"He survived without any serious long-term consequences, but there was still uncertainty about what would happen to his health long term," Wojahn said.
The two of them felt marriage would protect their relationship and enable Wojahn to better care for Dave if he became sick. They became engaged and agreed to join in the lawsuit.
The two of them became one of the faces of the lawsuit in Maryland and press coverage of them grew from local to national. During a 2004 CNN interview, Dave ended up coming out to his extended family. Initially, their efforts were successful.
"We won in the Circuit Court. It was appealed and was immediately taken up in the Maryland Court of Appeals where we lost by one vote. In the meantime, I had gotten involved in the community," said Wojahn.
Wojahn elected to College Park City Council in 2007
He first ran for and was elected to the City Council in 2007 where tried unsuccessfully to get College Park to pass a resolution supporting the Marriage Equality Act. However, in 2015 when the U.S. Supreme Court struck down all state bans on same-sex marriage, the success motivated him much as the post-Soviet LGBTQ successes had years before. That same year he ran for College Park mayor and won.
"I really think the fight for LGBTQ equality brought a lot of us into the halls of power to fight for our rights for the first time," Wojahn said. "I think it even started with the HIV/AIDS movement."
But he said the fight for marriage equality and the resulting success was significant because it mobilized the "white middle class" who otherwise could pass and have some level of privilege. Wojahn said this was different from previous struggles, such as with Stonewall, where mostly poor and disenfranchised populations were forced to fight out of necessity.
"So, somebody like me could probably pass and not necessarily be out," he explained. "Except when it came to talking about our relationship. I think it was something that the government might recognize our relationship and that we could fight for equality and actually win."
Pete Buttigieg mentored Wojahn
During his Council elections and his first run as a mayoral candidate, Wojahn knew he had no choice but to run as an openly gay man because of his media prominence with the marriage equality lawsuit.
But being elected as an out gay mayor landed him a fortuitous mentor.
"I actually met Mayor Pete Buttigieg shortly after I was elected mayor in 2015," Wojahn said. "I went to the U.S. Conference of Mayors' Winter Meeting in D.C. in January and he was assigned to be my buddy."
The two continued to talk over the phone and Buttigieg explained the conference to him and what would take place at the meeting. Later, they would both attend a White House reception during the Obama administration where Dave and Chasten (Buttigieg) would meet as well.
Buttigieg continued to mentor Wojahn, advising him on how to get the most out of his participation in the conference.
"I now serve in a leadership role as vice chair of city livability and bicycling in part due to his mentorship."
They also talked about the challenges of being an openly gay mayor with Buttigieg sharing with his mentee the story of his coming out while serving in office.
"We talked about balancing competing interests," Wojahn said, which for him became an issue when he proposed flying the Pride flag from City Hall during Pride month a few years ago.
"Some people raised concerns like does this mean we have to open City Hall to anyone who wants to fly a flag?" He explained. "Like if the Ku Klux Klan wants to fly a flag."
So, he reached out to the City Attorney who advised that it's an example of government speech. When the city council makes a decision to make a certain statement, they do not have the obligation to make the opposite statement.
"Once we say we are an LGBT-friendly community, we don't have to also then say we are not an LGBT-friendly community," Wojahn said. "That's not what free speech is about."
Wojahn acknowledges College Park can enact more LGBTQ-friendly policies
Despite his success with displaying the Pride flag from City Hall, Wojahn noted other challenges College Park faces in terms of LGBTQ inclusivity, as reflected by its Human Rights Campaign Municipality Equality Index rating of 84 out of 100. He said he would like to see the city's cover gender reassignment surgery for trans employees through its health care plan.
"That is one area we fall short on in the MEI report because we don't provide that,"
He pointed out that cost is a barrier to including the surgeries because the local government's insurance trust does not allow them to share the risk in order to ease the burden.
"One thing I actually would like to see is if the state government would mandate that this happen. Then we would share the risk with municipalities all over the state," he said, instead of passing on a burden of hundreds of dollars the first year to city employees.
Another area where College Park fell short is in law enforcement due to a lack of an LGBTQ police liaison or task force. College Park is in Prince George's County where two trans women were murdered earlier this year.
"Prince George's County Police is making progress towards getting an LGBTQ liaison unit," Wojahn said. "Since they are the main policing agent for College Park, I think it is relevant to be able to say there is a unit there."
Potential run for House of Delegates among potential future plans
Wojahn, much like his mentor, has considered running for higher office, particularly for a seat in the Maryland House of Delegates that would help him address local concerns such as spreading the burdens of trans health care costs so more constituents can be covered. But for now, having just won his reelection, he has plenty on his plate for the immediate future.
"Next year we're going to be pursuing our next five-year strategic plan and this provides us an opportunity to discuss where we're going as a city," he said.
Wojahn stated another goal is to introduce a new app where residents can report concerns and issues they would like to see the city address.
But it's not all work for Wojahn and his husband who still find time to relax at a neighborhood coffeehouse and enjoy a life together that has been worth fighting for.