November 22, 2019 at 4:49 pm EST | by Mark Lee
Is Pete 'Hail Mary' Democrats need?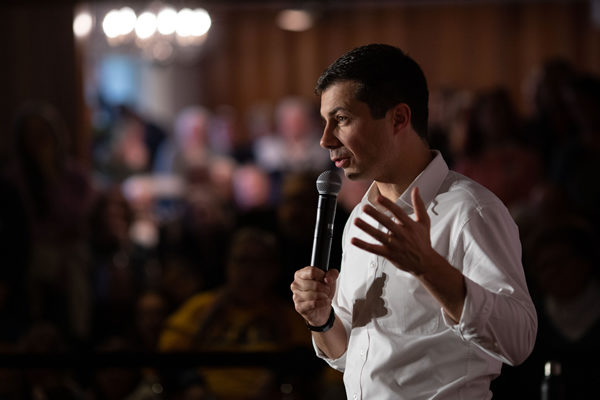 Democratic presidential nomination contender Pete Buttigieg surged to a commanding lead in a poll last week of Iowa party members likely to participate in statewide caucuses on Feb. 3.
The CNN/Des Moines Register/Mediacom survey pegs his support at 25 percent, a 16-point rise in the past two months. The party's national frontrunners – Joe Biden, Elizabeth Warren, and Bernie Sanders – are locked in a tight three-way race for second place with each approximately 10-points behind Buttigieg.
Buttigieg's growth in popularity among Iowa Democrats is compatible with both the demographic composition and political tradition of party loyalists. Democrats in the Hawkeye State are overwhelmingly white and liberal, Buttigieg's core constituencies, and party caucus voters often back up-and-coming underdogs.
The outgoing South Bend mayor from nearby Indiana is a classic choice for Iowa Democrats. Being smart, thoughtful, articulate, humble, and exuding a calm demeanor are Midwest commodities that play well. This columnist expressed skepticism about Pete's prospects in the spring, although not his personal performance, but the glaring general election electoral weaknesses of other candidates may provide him an opportunity to prove competitive in the contest for the party crown.
Coupled with former President Barack Obama's stern warning last Friday that party candidates are swinging too far to the left to be elected, following a similar entreaty from former President Bill Clinton, Iowans might further gravitate toward the liberal-but-center-left Mayor Pete. "The average American doesn't think we have to completely tear down the system to remake it," Obama cautioned in what is widely viewed as a thinly veiled critique of both Sanders and Warren.
With both major political parties each commanding the allegiance of only ever-shrinking slivers of voters and internal policy conflicts causing strife among the few faithful, Obama is seen as attempting to rein-in Democratic extremists. He noted that "voters, including the Democratic voters and certainly persuadable independents or even moderate Republicans, are not driven by the same views that are reflected on certain, you know, left-leaning Twitter feeds."
"There are a lot of persuadable voters and there are lots of Democrats out there who just want to see things make sense. They just don't want to see crazy stuff," Obama advised.
Buttigieg, a perceived "centrist" sufficiently left-leaning to potentially mollify the dominant Democratic far-left cadre, could continue to rise in popularity.
Being able to win next November is what matters most to party members, and the top contenders nationally cause big worries for Iowans by that measure, according to the poll.
Many are beginning to think an "outside-the-box" nominee, more moderate and perhaps not currently in the race, is what will be necessary.
At the moment, however, the query is simple: Is Pete the "Hail Mary" Democrats need?
The White House winner will be determined in only a tiny number of states. In fact, it's possible the Democratic nominee will win the popular vote by many more millions than last time and again lose the Electoral College tally, due to the concentrated geographic clustering of Democrats and those who will vote with them.
An in-depth New York Times/Siena College poll last week indicates that leading contenders Biden, Warren, and Sanders manage to run only even at a statistical tie with President Donald Trump in the competitive "decider" states of Florida, Michigan, Pennsylvania, Wisconsin, North Carolina, and Arizona. While national polls indicate each would beat the incumbent overall, the survey found Trump remains "highly competitive" in all six states almost certain to decide the outcome.
Is Buttigieg better able to win in those places? It will likely take a candidate not currently at the top of polls nationally, as that leaderboard trio is increasingly feared not electable. Whether Pete's the one who is could make for a grand gamble.
The gay guy must convince Democrats desperate to win he's the candidate that can.
Mark Lee is a long-time entrepreneur and community business advocate. Follow on Twitter: @MarkLeeDC. Reach him at OurBusinessMatters@gmail.com.