November 26, 2019 at 9:57 am EST | by Chris Johnson
Sean Patrick Maloney lands in spotlight during impeachment inquiry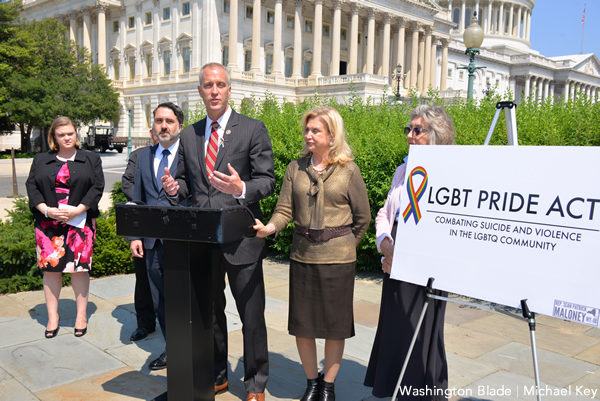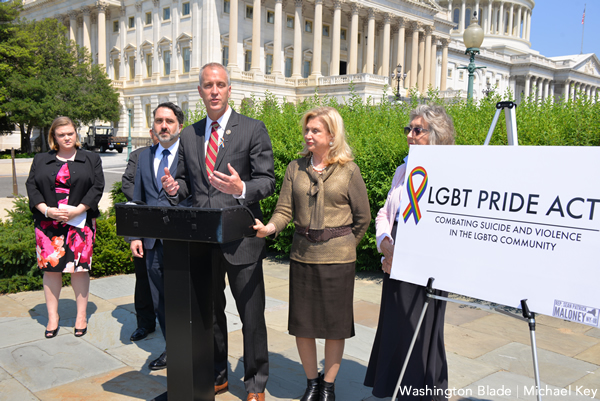 It was the second week of open testimony in the impeachment inquiry against President Trump, and Gordon Sondland — a major Trump donor named U.S. ambassador to the European Union — had just delivered a bombshell confirming U.S. aid was held up in a quid pro quo with Ukraine.
Rep. Sean Patrick Maloney (D-N.Y.), however, didn't think that was enough.
After Sondland under questioning refused to be pinned down any further, an exasperated Maloney — one of seven openly gay members of the U.S. House — went in for the kill with a question that seemed to have an obvious answer.
"Let me ask you something: Who would have benefited from an investigation of the president's political opponents?" Maloney asked.
But Sondland demurred, "I don't want to characterize who would have and who would not have."
"I know you don't want to, sir," Maloney retorted, titling his head in condescension. "That's my question. Would you answer it for me?"
Sondland asked Maloney to restate his question, and the New York Democrat obliged: "Who would benefit from an investigation of the president's political opponent?"
After audibly sniffing into his microphone, Sondland replied, "Well, presumably the person who asked for the investigation."
Pressed further by Maloney, Sondland admitted that person in this hypothetical would be the president.
"Well, it's not a hypothetical, is it, sir?" Maloney said. "We just went around this track, didn't we? The president asked you about an investigation. He was talking about the Bidens. When he asked you about the Biden investigation, who was he seeking to benefit?"
Maloney went on to question Sondland about who would benefit from an investigation of the Biden family. After all, former Vice President Joseph Biden is pursuing the Democratic nomination to run against Trump in 2020. Sondland initially balked at having to answer, but Maloney wouldn't let up.
"I assume President Trump would benefit," Sondland said in capitulation.
"There we have it!" Maloney declared in victory to applause in the committee room. "See? Didn't hurt a bit, did it?"
As a member of the House Permanent Select Committee on Intelligence, Maloney, 53, stood out in his impeachment inquiry with his vigorous questioning of Sondland.
It was an exchange that bolstered the profile Maloney has cultivated throughout the impeachment inquiry, which also includes sniping at his Republican colleagues for their continued defense of Trump as evidence of wrongdoing continues to pile up.
Among Maloney's cheerleaders is none other than House Speaker Nancy Pelosi (D-Calif.), who praised his contributions to the impeachment inquiry in a statement to the Washington Blade.
"Congressman Sean Patrick Maloney is a spectacular member of Congress and a trusted voice on the House Intelligence Committee, to whom our caucus looks for his brilliant legal mind, proven strategic wisdom and determined dedication to defending our democracy," Pelosi said. "During this critical time in American history, the House is grateful for the courageous, committed leadership that he consistently brings."
Elected to Congress in 2012, Maloney is the first gay parent to serve in the U.S. House. He and his husband, Randy Florke, whom he married in 2014, have adopted three children.
In the 1990s, Maloney worked for President Bill Clinton as a White House adviser and was one of two delegates the Clinton administration sent to the funeral of gay college student Matthew Shepard in 1996.
As a University of Virginia-educated lawyer who has pursued runs for New York attorney general both before and after his election to Congress, Maloney has made good use of his legal chops as the impeachment inquiry has proceeded.
The capitulation from Sondland that Trump would benefit from an investigation of the Bidens wasn't the last word Maloney had with the Trump appointee.
After admitting Trump would have benefited from an investigation of the Bidens, Sondland tried to push back on where the questioning was headed.
"Mr. Maloney, excuse me, I've been very forthright, and I really resent what you're trying to do," Sondland said.
You could practically see the smoke coming out of Maloney's ears.
"Fair enough," Maloney said. "You've been very forthright? This is your third try to do so, sir. It didn't work so well the first time, did it?"
Maloney pointed out Sondland had to correct his earlier testimony in a closed-door hearing, telling the House Intelligence Committee after the fact the White House was holding up aid for investigations.
"We had a little declaration come in after, remember that?" Maloney said. "And now we're here a third time, and we got a doozy of a statement from you this morning. There's a whole bunch of stuff you don't recall. So with all due respect sir, we appreciate your candor, but let's be really clear on what it took to get it out of you."
Another key moment for Maloney came when another witness, Fiona Hill, spoke before the committee two days after Sondland.
A former official at the White House National Security Council specializing in Russian and European affairs, Hill testified the idea Ukraine meddled in the 2016 election instead of Russia is a fantasy cooked up at the Kremlin.
"Based on questions and statements I have heard, some of you on this committee appear to believe that Russia and its security services did not conduct a campaign against our country and that perhaps, somehow, for some reason, Ukraine did," Hill said. "This is a fictional narrative that has been perpetrated and propagated by the Russian security services themselves."
Challenging Hill during the hearing was Rep. Mike Turner (R-Ohio), who has been a leading Republican skeptic in the impeachment inquiry.
Holding up the House Intelligence Committee report on the 2016 election, Turner pointed to its introduction, which states Russia, in fact, interfered. (It should be noted a central conclusion of the report was "no collusion" between the Russian government and the Trump campaign.)
"A little small effort on your part, Dr. Hill, and you would have known that what you just said is not true, what you had heard, but you felt the need to put into your eight-page statement before you went on to tell us a bunch of other things that you heard about other people, no matter how convinced you were of, also which were not necessarily true," Turner said.
Turner pointed out Hill said Sondland met with Trump's personal lawyer Rudy Giuliani, but Sondland testified he had not met with him other than a brief exchange in which the two shook hands. The Ohio Republican pointed out Giuliani said the two had never met.
"This is the problem with no matter how convinced we are, Dr. Hill, now how much we believe we know that what we've heard is true, is it just still what we have heard," Turner said.
After all that, Turner wouldn't even question Hill, turning his attention to the other witness, David Holmes, a top staffer at the U.S. Embassy in Ukraine. Turner berated him about his statements the Ohio lawmaker said embarrassed the Ukrainian President Volodymyr Zelensky.
Maloney wouldn't take that. When his turn came up for questioning, he accused Turner of "epic mansplaining."
"I want you to know some of us think it's inappropriate," Maloney added. "I appreciate your forbearance."
Maloney, who wrote the Democratic Congressional Campaign Committee's "autopsy" report on the 2016 election, has been eyeing the top leadership position within the House Democratic caucus for some time. Last year, Maloney ran for House Democratic Caucus Chair, but dropped out after coming down with a bacterial infection.
Eric Lesh, executive director of the LGBT Bar Association of New York, said Maloney will be remembered for his contributions to the impeachment inquiry.
"My Representative, Sean Patrick Maloney understands his constitutional role in this process and we are fortunate to have him making the case for the record," Lesh said. "Like any expert lawyer, he cuts through evasion and extracts the elements of truth. He is a credit to the LGBT community, the legal profession, and People's House. History will remember him."
The results of those efforts may come to fruition soon. House Intelligence Committee Chair Adam Schiff (D-Calif.) on Monday sent a "Dear Colleague" letter to House Democrats indicating he will have a report after Thanksgiving to send to the House Judiciary Committee, which has jurisdiction over articles of impeachment.
Media reports have indicated a floor vote on impeachment could come as soon as the end of this year.