November 28, 2019 at 3:06 am EST | by Joey DiGuglielmo
QUEERY: Jeoff Lara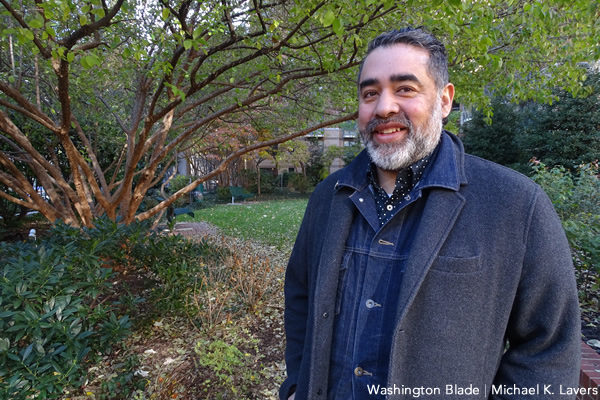 Jeoff Lara isn't a big fan of Black Friday (today) — a cultural megillah (in the U.S. at least) that seems to get more out of control each year. In fact, the West Elm (1728 14th St., N.W.) sales and service manager is taking the day off and celebrating his birthday out of the country.
He says it'll still be a great day at West Elm, the huge 14th Street, home furnishings shop.
"It will be crazy but exciting," the 43-year-old native Washingtonian says. "Customers love a good deal and that's what they will be getting."
Also check out the West Elm Holiday Local Maker Bazaar on Saturday, Dec. 7 from 10 a.m.-8 p.m. Details at westelm.com. Evolve Skin, OhhSoyGoodness and other local vendors will be on hand. Gift wrapping is also available that day.
In general, though, Lara thinks Black Friday shopping madness has gone too far.
"It has gotten out of control with some of the bigger box stores and malls," he says. "I'm not a fan of the 'let's-open-the-mall-on-Thanksgiving' craze because it takes advantage of the retail workforce. It should be a day spent with family, not strangers."
Still Black Friday (West Elm will open at normal time — 10 a.m.) is a "pretty big deal" at the store, he says. It's a good time to take the plunge if you're thinking of buying a large amount of furniture, he says.
Lara enjoys the holidays in general and says he enjoys the decorations and lights but doesn't go overboard with decorating.
"There's always a little bit of stress but the excitement in the air is great," he says. "I love seeing people get in the spirit of the holidays."
Lara is single and lives in Adams Morgan. He enjoys theater, dining, movies, travel and friends in his free time.
How long have you been out and who was the hardest person to tell?
I've been out for 26 years. I was basically forced out of the closet. I had to tell my family before the news got to them and that was the hardest.
Who's your LGBTQ hero?
I have so many but Joe Solmonese has always been someone I looked up to and considered a mentor.
What LGBTQ stereotype most annoys you?
That we all can decorate and have great fashion sense.
What's your proudest professional achievement?
When I worked at HRC, I was able to witness amazing change for the LGBT community and to be a part of it. So that's always been one of my biggest achievements.
What terrifies you?
Death, losing my parents.
What's something trashy or vapid you love?
Gossiping — nothing like a good gossip session with your GFs.
What's your greatest domestic skill?
Cooking
What's your favorite LGBTQ movie or show?
"Schitt's Creek"
What's your social media pet peeve?
Fake news
What would the end of the LGBTQ movement look like to you?
All us being able to live our authentic lives without judgment.
What's the most overrated social custom?
Friending people you don't know.
What was your religion, if any, as a child and what is it today?
Christianity. I don't practice. I take teachings from everything and just try to be a good person.
What's D.C.'s best hidden gem?
Rock Creek Park It's so beautiful, especially in the spring and fall
What's been the most memorable pop culture moment of your lifetime?
Watching Madonna's "Truth or Dare." It was the first time I saw two men kiss and the start of reality TV.
What celebrity death hit you hardest?
Selena. It was hard to see someone from the Latino community taken from us so soon.
If you could redo one moment from your past, what would it be?
That's an interesting question and I don't have an answer for it. Everything has been a learning lesson.
What are your obsessions?
My friends
Finish this sentence — It's about damn time:
I get married and settle down.
What do you wish you'd known at 18?
Take your time and enjoy life. Don't live so fast.
Why Washington?
I think D.C. is a perfect city it isn't too big or too small. You won't get lost in the shuffle.