November 29, 2019 at 7:37 am EST | by Lou Chibbaro Jr.
World AIDS Day events to extend through next week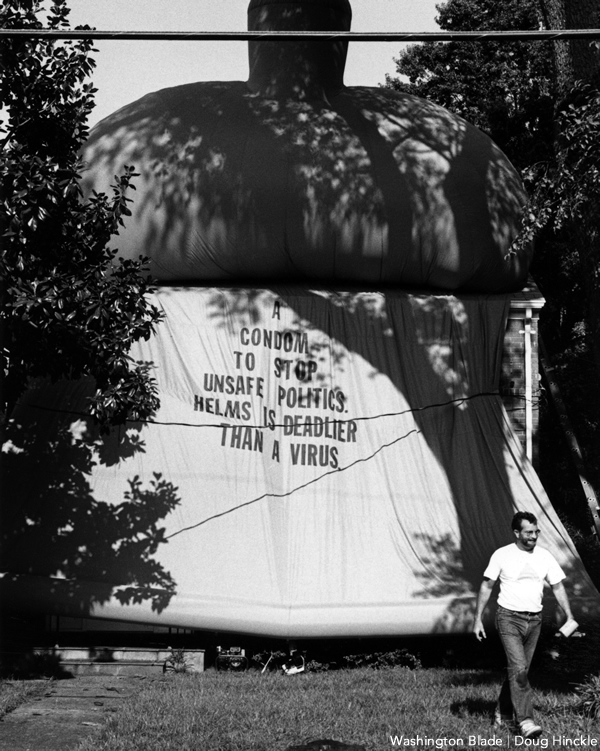 D.C. and Baltimore area events associated with the 2019 annual World AIDS Day, which takes place each year on Dec. 1, will be held this year over a seven-day period from Dec. 1-8, according to organizers of the events.
The Joint United Nations Program on HIV/AIDS, known as UNAIDS, has announced that the theme for the 2019 World AIDS Day is "Communities Make a Difference."
"The commemoration of World AIDS Day, which will take place on Dec. 1, 2019, is an important opportunity to recognize the essential role that communities have played and continue to play in the AIDS response at the international, national and local levels," a UNAIDS statement says.
Among the D.C. World AIDS Day events will be the opening ceremony for the 2019 OUR HEROES photo exhibit in which 50 photos and biographies of "Heroes in the fight to end HIV/AIDS" will be exhibited on Monday, Dec. 2, at the Metropolitan Community Church of Washington at 474 Ridge St., N.W. The ceremony is scheduled to take place from 5:30 to 9:30 p.m. (For more, see special insert in this week's Blade.)
Also scheduled to take place Dec. 2 beginning at 6:45 p.m. at the Smithsonian's National Museum of Natural History in D.C. is a panel presentation by "HIV survivors and those who have cared for and loved ones with HIV/AIDS."
The event, called "Never Silent, Living with HIV," will include presentations by Bruce Richman, founding executive director of the Prevention Access Campaign; Patricia Nalls, founder and executive director of the Women's Collective; and Derrick 'Strawberry' Cox, board member of Whitman-Walker Health.
Another World AIDS Day related panel discussion, organized by NLGJA, the Association of LGBTQ Journalists and led by Whitman-Walker Health's Health Educator, Miguel Mejia, is scheduled to be held Tuesday, Dec. 3, from 6-9 p.m. at the Red Bear Brewery, 209 M St., N.E. The event is entitled, "Ending the HIV & AIDS Epidemic: Community by Community."
The D.C.-based National Minority AIDS Council is co-hosting a Dec. 5 World AIDS Day Congressional Briefing on the highlights of NMAC's 2019 U.S. Conference on AIDS. The event, set to begin 11 a.m. at the Rayburn House Office Building on Capitol Hill, will feature Dr. Anthony Fauci, director of the National Institutes of Allergies and Infectious Diseases, as the lead speaker. The briefing is co-hosted by the Congressional Caucus on HIV/AIDS, the Congressional Black Caucus, the Congressional Hispanic Caucus, the Congressional Asian Pacific American Caucus, and the Congressional LGBT Caucus.
Also set to take place on Thursday, Dec. 5, is a Washington Blade World AIDS Day related photo exhibit and discussion to be held at the University of Maryland's College Park campus Student Center Atrium beginning at 5:30 p.m. The exhibit, entitled "A Photographic History of HIV/AIDS in D.C.," includes photos from the Blade's archives going back to the start of the epidemic in the early 1980s. A Blade news reporter will engage in a conversation with longtime HIV survivor Ron Swanda, who will answer questions from students. The event is sponsored by AIDS Healthcare Foundation.
The AIDS Healthcare Foundation's D.C. and suburban Maryland offices are hosting a free World AIDS Day concert on Sunday, Dec. 8, from 5-9 p.m. at the Saint Yves nightclub, 1220 Connecticut Ave., N.W. near Dupont Circle. The event, which will feature local singer Steve Washington and his band, will honor "our champions, local community members who have made an impact in the movement," a statement released by AHF says.  
AHA official Barbara Chin said AHA will offer free HIV testing in conjunction with World AIDS Day at its D.C. and suburban Maryland offices during the day on Monday, Dec. 2. The offices are located at 2141 K St., N.W., Suite 707; 1647 Benning Rd., N.E., Suite 300; and 4302 Saint Barnabas Rd., Suite D, Temple Hills, Md.
In Baltimore, Chase Brexton Health Care and its community partners are hosting a "Celebration of Perseverance" memorial march through the Mt. Vernon neighborhood and prayer breakfast on World AIDS Day on Sunday, Dec. 1. The two events will "honor those lost to the HIV and AIDS epidemic and rejoice with long-term survivors," organizers of the events said in a statement.
It says the march begins at 10:30 a.m. at Chase Brexton's Mt. Vernon Center at 1111 North Charles St. and travels to 830 Guilford Ave., 'where a reading of names of our loved ones memorialized on the Chase Brexton Wall of Courage will take place, followed by a non-denominational program and a celebratory brunch," which is free of charge.