December 12, 2019 at 5:40 am EST | by Joey DiGuglielmo
QUEERY: Kathi Wolfe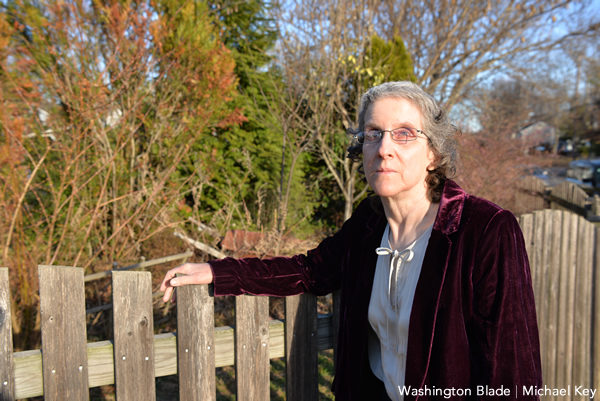 Kathi Wolfe's path to poetry was circuitous. She'd written some poetry in childhood but a poetry workshop in grad school deflated her.
"The teacher, a famous poet, after accepting me as a student, told me I had no talent and no business being there," Wolfe says. "He was right. Then my poetry sucked."
But the death of her partner Anne from cancer at age 46 both devastated Wolfe and got her writing again. She took classes at a writer's center in Bethesda and started going to open mics. Since then, she's identified as a poet. 
"I like the concision and precision of poetry," the Salem, N.J., native says. "Whether you write in form or free verse, writing poems enables you to tell stories. … A good poet in a one-page poem or even a haiku can do what a fab novelist does in a 500-page novel."
"Love and Kumquats," Wolfe's fourth book, was released this fall (it's $17 at  itascabooks.com or Amazon). It features 80 of Wolfe's works.
Wolfe unabashedly weaves being queer into her work. She averages one new poem a week. They're typically a page or a half-page long. 
"My work has a queer sensibility," she says. "It's what informs the pain, humor — being an outsider, passion for justice — that permeates many of my poems." 
In 2020, Wolfe plans a book of poems related to movies, everything from the classics to new stuff streaming on Netflix. She has readings planned at Zed's (8225 George Ave., Silver Spring) on March 6 and at the Clemson University Literary Festival on April 3. 
Wolfe, a Boomer and widow, is single and lives in Falls Church, Va. She came to Washington in 1991 to work at an advocacy center for people with disabilities. She is a long-time Blade columnist. 
Wolfe enjoys following the Nats and old Hollywood movies ("Bette and Joan forever!," she says) in her free time. 
How long have you been out and who was the hardest person to tell?
Since my early 20s. The hardest person to tell was my Aunt Manci. Anne and I visited her in the 1990s. I was worried how she'd take my being queer, but it was great! She said, "She loves you! You're so lucky!"
Who's your LGBTQ hero?
Pauli Murray. She was an African-American lawyer, civil rights advocate and one of the first to be ordained as an Episcopal priest.
What LGBTQ stereotype most annoys you?
The idea that we're out to convert hetero people into being queer. Thankfully, I think this stereotype's dying out.
What's your proudest professional achievement?
A woman who was blind and queer emailed me. She said after reading my poetry, she felt better able to deal with homophobia and ableism.
What terrifies you?
Being unable to write. Hate crimes against queers, people of color, immigrants, disabled folks — any group.
What's something trashy or vapid you love?
I love watching Flintstones cartoons. There's something about Betty and Wilma. Some kinda queer thing going on.
What's your greatest domestic skill?
If you can think of one, let me know! I'm good at washing dishes.
What's your favorite LGBTQ movie or show?
"Grace and Frankie"
What's your social media pet peeve?
The humble brag.
What would the end of the LGBTQ movement look like to you?
We wouldn't have to worry about homophobia or transphobia.  "Liberal" hetero people would no longer congratulate themselves on how comfortable they are with queers. 
What's the most overrated social custom?
Having to respond instantly to texts.
What was your religion, if any, as a child?
As a child, Groucho Marx was the saint in our house. My parents were Jewish-agnostic. They loved Pope John 23 and Vatican II. Now, I'm a hopeful agnostic. I pray to God though I'm often angry or disbelieving of Her.
What's D.C.'s best hidden gem?
Tryst at the Phillips in the Vradenburg Cafe at the Phillips.
What's been the most memorable pop culture moment in your lifetime?
Aretha Franklin singing at Obama's 2009 inauguration.
What celebrity death hit you the hardest?
Doris Day
If you could redo one moment from your past, what would it be?
Losing my temper with my grandmother after my mother, who was her child, died. I wish my young self hadn't done that.
What are your obsessions?
"Mrs. Dalloway" by Virginia Woolf, dogs, old Hollywood movies.
Finish this sentence –It's about damn time:
… that people stopped being so prejudiced against those different from them.
What do you wish you'd known at 18?
That I knew so little. That it's often better to be kind than to be right.
Why Washington?
People in the D.C. area are from all over the world. There are museums, restaurants with any type of food you can think of. We have the cherry blossoms!