December 20, 2019 at 3:35 pm EST | by Lou Chibbaro Jr.
D.C. mayor files objection to Trump anti-LGBT rule proposal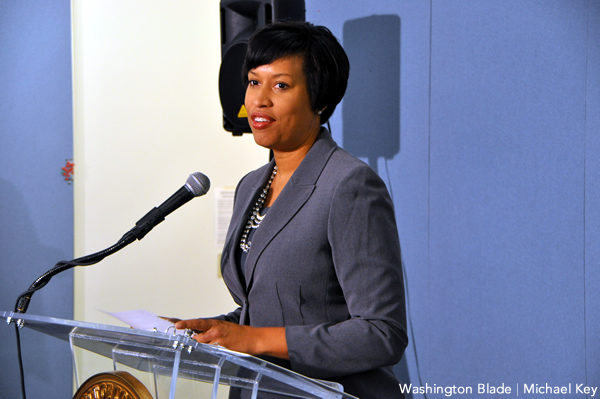 D.C. Mayor Muriel Bowser on Dec. 19 submitted to the U.S. Department of Health and Human Services a letter expressing her strong opposition to a rule proposed by the Trump administration that would allow organizations receiving federal grants, including taxpayer-funded adoption agencies, to discriminate against LGBT people.
The mayor submitted her letter on the last day in which federal rulemaking procedures allowed members of the public to submit comments for or against the proposed HHS rule initiated by the White House. The proposed rule calls for rescinding an Obama administration rule banning discrimination against LGBT people in healthcare related matters governed by HHS.
"My name is Muriel Bowser, and I am Mayor of my hometown, Washington, D.C.," Bowser said in her letter. "I am writing regarding the proposed rule published by the Department of Health and Human Services, RIN 0991-AC16," she said.
"If approved, this rule appears to give HHS programs the ability to discriminate against Lesbian, Gay, Bisexual, Transgender, and Questioning (LGBTQ) and other marginalized groups with taxpayer funds," Bowser states in her letter. "Such discrimination is fundamentally wrong and goes against everything we stand for in Washington, D.C."
Bowser cited arguments by experts in the field of public health, including representatives of LGBT rights and AIDS advocacy groups, that the proposed rule could allow discrimination against LGBT people, religious minorities, and women through federally funded private organizations that carry out adoption and foster care programs, HIV and other sexually transmitted disease prevention programs, refugee resettlement and elder care programs.
Days before Bowser submitted her letter Democratic members of the U.S. House and Senate, civil rights advocates, and at least five AIDS groups submitted their own statements to HHS opposing the proposed rule.
The Blade learned that HHS introduced its proposed rule in November reportedly under pressure from conservative groups, including Catholic adoption agencies that claim placing children in LGBT homes, which they say the Obama version of the rule would require them to do, violates their religious beliefs.
LGBT rights advocates say the HHS proposed rule would allow discrimination based on the religious exemption claim to organizations receiving federal grants to deny LGBT people other services, including medical care and access to homeless shelters.
"Today and every day, I call on fellow Washingtonians to stand together in rejecting the actions that seek to divide, and to do more – not less – to support and protect our LGBTQ community, and particularly transgender women of color, LGBT youth, and other vulnerable populations," Bowser said in her letter. "As such, I urge HHS to withdraw this proposed rule immediately."