January 11, 2020 at 4:06 pm EST | by Patrick Folliard
Out actor enjoys 'gossip queen' role in 'My Fair Lady'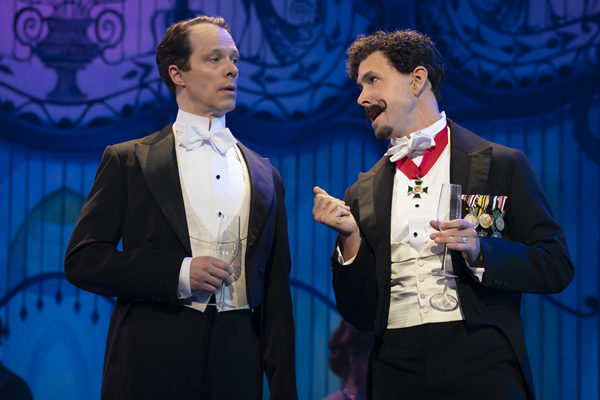 'My Fair Lady'
Through Jan. 19
Kennedy Center
$39-159
202-467-4600
Out actor Wade McCollum was born on the road. His father played in a rock band and the family lived mostly in vans and hotel rooms. These memories are McCollum's earliest and most vivid, more clearly recalled than the comparably conventional parts of his youth spent in Oregon.
So, it's not surprising that hopping from city to city with a big musical is both familiar and comfortable to him. For the next year, the 36-year-old actor is playing Professor Zoltan Karpathy in the national tour of Bartlett Sher's esteemed Broadway production of "My Fair Lady," now at the Kennedy Center Opera House.
Lerner and Loewe's beloved Edwardian London set musical (a hit on stage and screen), adapted from George Bernard's Shaw's play "Pygmalion," is the story of Cockney flower girl Eliza Doolittle who goes to pompous Professor Henry Higgins for elocution lessons. On a whim, Higgins bets that in six months he will not only improve Eliza's speech, but will pass her off as a duchess at an embassy ball. As Higgins' infamous Hungarian rival, Professor Karpathy, McCollum plays a supporting but integral part.
McCollum's bio boasts a kaleidoscope of roles including the title character in off-Broadway's "Ernest Shackleton Loves Me." Among numerous other gigs, he played in "Wicked" (Broadway) and starred as "Tick/Mitzi" in the first national tour of the musical "Priscilla Queen of the Desert."
When not touring, McCollum lives in New York City with his husband, an accomplished artist.
WASHINGTON BLADE: Zoltan is a quite a character, isn't he?
WADE MCCOLLUM: He's a Hungarian dialectician who shows up just when Henry Higgins is presenting a transformed Eliza to society. He's a meddling social climber, more interested in appearance than the reality of the situation. He's a gossip queen, really. In terms of function, Zoltan serves as a threat to the goal of the play which is for Eliza to become a believable member of the upper class. It's a small part but very important to moving the play along. He's an island character in terms of energy and tempo, a one of a kind Hungarian in a sea of mostly Brits.
BLADE: He's wonderfully over the top. Are you having fun with him?
MCCOLLUM: A lot of fun. I like living in that sort of world. It's grounded in his aspiration to be best friends with royalty and aristocrats and know their secrets. He's teaching people how to speak properly and hide their backgrounds. But he blackmails them to climb the social ladder himself.
BLADE: You don't typically play supporting roles, do you?
MCCOLLUM: Not really.For the last four or five years I've been in leading role with various world premieres. I love being the protagonist. But it's been relaxing and community building to not carry the narrative burden and get to hang out with the ensemble and be part of the play in a more tertiary way. And to work with director Bartlett Sher. He's brilliant.
BLADE: "My Fair Lady" is a real musical chestnut, and seemingly quaint in many ways. But recently during the impeachment hearings, Russia expert Fiona Hill, who grew up the daughter of a coalminer in North East England, spoke about America and how in England in the 1980s and 1990s, her working-class accent would have proved a barrier to most professional opportunities.
MCCOLLUM: And that's exactly the play. And I think she was from someplace near Yorkshire which is actually mentioned: "Hear a Yorkshireman, or worse, Hear a Cornishman converse. I'd rather hear a choir singing flat." Class prejudice being specifically about dialect is a very British thing.
BLADE: You came to Washington with the national tour of "Priscilla Queen of the Desert" in 2013. I remember you wearing some intense heels.
MCCOLLUM: Yes. A really fun show. The only time I left the stage was to do quick costume changes. And there were many of them. The costumes were great — a finale dress transformed into the Sydney Opera House. And I really liked taking that particular show into smaller towns. Bringing the glitter and that show's beautiful message of inclusion was a pleasure. And that was before "Drag Race" had taken off and the trans conversation had not yet become ubiquitous. We helped spark those conversations and introduce those ideas in places that hadn't known about them.
BLADE: Were there poignant moments?
MCCOLLUM: Numerous examples. I remember meeting a 12-year-old girl who said to me, "I have a little brother who likes to dress up in girls' clothes and I've been mean to him and made him cry. After seeing the show, I think I should love him exactly the way he is." When this happens, you feel like you're doing something of importance.
BLADE: Did casting agents try to pigeon hole you early on?
MCCOLLUM: Sure, I've encountered some things. I remember a callback for a big pilot in L.A. I'd just finished "Hedwig and the Angry Inch" at Celebration Theatre in Los Angeles on stage. It was a successful show with a long run and I'd received some awards. Casting people knew me as that and I was only getting called in for drag and trans parts. I loved coming in for these parts but I needed them to know that believe it or not, I can play straight guys too. So, at the pilot audition, one of the TV producers piped up and said, "I just have to say you're not being gay enough." Of course, there is no one way to play to gay. I wanted to argue but it wasn't the venue for that. But I did ask, "Would you show me what you mean?"
BLADE: And in New York?
MCCOLLUM: Initially I had trouble with representation in New York. I come across a certain way but they didn't realize that I'm a transformer. That's what I do. They hadn't seen my work, so they were putting me up for queer characters, whom I love and adore, but it was limiting. So, about a year in we had a meeting where I told them I could play all sorts of roles. To prove it, I got a job on my own accord playing a butch, wife-beating logger. The agents came. They all said, "We had no idea."
BLADE: It worked?
MCCOLLUM: Yes. It was a strategy on my part. People don't know until they know. And sometimes it takes a while for people to know your capabilities.
BLADE: Where do you see your career going next?
MCCOLLUM: As an actor, my gifts lie in originating roles and being in the room as rewrites are happening. It's where I'm best and of most service. After "Wicked" on Broadway, I did some large parts in world premieres. After this tour, one of those projects may move forward and hopefully I'll be a part of that.